Applying to university or college can be a long, confusing and expensive process. That is especially true when it comes to ordering transcripts and ensuring they are transferred between organizations.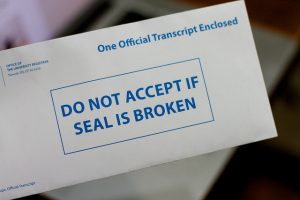 That situation is changing, thanks to BCCampus' electronic transcript transfer pilot program.
When it's complete, every post-secondary institution in the province will adopt a standardized method of issuing transcripts electronically. This method will be secure, less expensive and a whole lot faster for both students and administrators.
The e-transcript pilot program is already making great strides in B.C.
Over the summer, the University of British Columbia and Langara College came on board as "trading partners." There are four other institutions taking part: Douglas College, Kwantlen Polytechnic University, Simon Fraser University, and University of the Fraser Valley.
Now that phase one of the pilot project is almost complete, stage two will see the service expand to Vancouver Island. By the end of the third, and final, stage the entire province will be taking part.
BCcampus' dream is to eliminate paper transcripts.
"Ultimately, we want to create the ability for B.C. students to order their university and high school transcripts in one fell swoop," says Randy Bruce, BCcampus' director of student and data exchange services. "They should be able to have it instantly transferred to other institutions and track its progress through the system."
Bruce says he would also like students to be able to securely share their transcripts with non-academic organizations, such as employers or certifying bodies.
The idea is already gaining popularity in other jurisdictions.
In September, BCcampus kicked off a project with the Ontario Universities' Application Centre, which would see e-transcript transfers between B.C. and Ontario universities. Bruce is hoping that the program will eventually spread to the U.S. and outside of North America.
e-Transcripts are a great fit with BCcampus' Learning Gateway concept. The gateway would be a "federated approach to service provision," one place where students and parents could access current information (including transcripts) from academic and training institutions, as well as government and provincial partner agencies.
Notable quotes:
This is going to fundamentally change students' ability to access their records. We're really focused at BCcampus on making things better for students and to make things run more efficiently." – Cathy van Soest, client services manager, BCcampus

"Ultimately, we want to create the ability for B.C. students to order their university and high school transcripts in one fell swoop." – Randy Bruce, director of student and data exchange services, BCcampus
Learn more: