Giulia Forsythe uses an iPad, a pogo stylus and AutoDesk Sketchbook Pro to take visual notes of conferences, seminars and meetings. She captures main ideas and turns them into colourful visual summaries.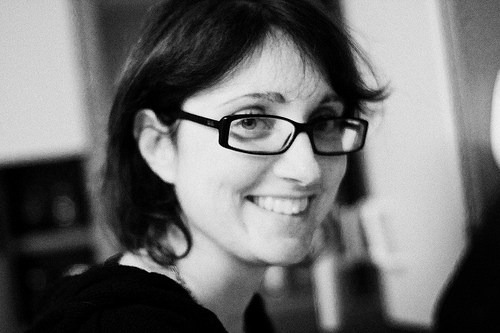 Her visual summaries help people understand and remember key ideas and information, which is a very good thing.  In general, we remember 10 per cent of what we hear, 20 per cent of what we read, and 80 per cent of what we see and do. 
How did you get started in this business?
I've been a closet doodler all my life. In university, I would hide my notes, embarrassed that they weren't linear and organized. It wasn't until 2010 when I saw the work of Nancy White and Rachel Smith, and the International Visual Practitioner's Forum, that I discovered (much to my pleasure) that this was a field. Now I use visual practice in my daily work and I'm always pleased when organizations can think of ways I can help them do theirs.
Why is doodling important?
Doodling is a form of external thought that allows you to visualize the connections you are making while thinking. In the conscious mind, doodling can assist concentration and focus but even in the unconscious mind, while doodling and daydreaming, connections are made. Doodling allows connections to be made between people and ideas. It's the magical space between.
What sort of training do you need to do what you do?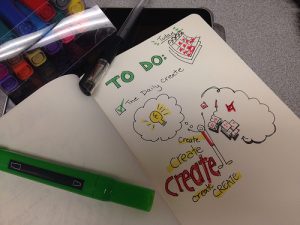 I would not consider myself an amazing artist. The skills I bring are listening and distillation of main points, which is a note taking skill more than artistic. Like most things, practice is the best teacher, but if you have the opportunity to attend a workshop like the one held by Nancy White and Michelle Laurie last month at UBC, I highly encourage it! After that, there are some great videos online, like David Gray's visual literacy or Rachel Smith's visual notes on an iPad.
How does your work help organizations?
I think organizations benefit from visual notes because it gives everyone another way of looking at an issue or problem. It's an overview and big picture (literally) but also allows some finer points to be communicated much more quickly than a large body of text could.
What role does your work play in education?
In addition to being a visual note-taker, I am a Special Projects Facilitator for the Centre for Pedagogical Innovation at Brock University. In the university setting, I use visual note taking to help do curriculum mapping and for professional development as a reflective exercise for faculty and myself. I also use it to make sense of dense readings, research, articles or really important videos that I want to share key findings. It's my way of communicating and from the responses I get it works well.
What is the future of visual graphic recording?
In my recent TEDx talk, I made a wish that everyone would try to draw more and take visual notes to some extent. For teachers, I wish they would include more visual literacy assignments to allow multiple ways of teaching, learning and communication. It's been great to connect with folks around the world who are inspired to try this. It's my hope that in the future we will see more and more visual notes and no one will be embarrassed about doodling in class!
Notable quotes:
"The art of SketchNoting helps me stay focused and be a better listener." – Giulia Forsythe
"The doodle has never been the nemesis of intellectual thought. In reality it is one of its greatest allies." – Sunni Brown, author, visual thinker, best known for large-scale strategic doodles and for her evangelization of the power and value of doodling.
"Observe Everything. Communicate Well. Draw, Draw, Draw." – Frank Thomas, Disney animator, when asked to give advice to young animators
Learn more:
Giulia Forsythe photo credit Alan Levine
"Daily Create" © 2013 Giulia Forsythe, made available by a Creative Commons attribution-noncommercial-sharealike license.
"Why open education" © 2012 Giulia Forsythe, made available by a Creative Commons attribution-noncommercial-sharealike license.