In general, we remember 10 per cent of what we hear, 20 per cent of what we read, and 80 per cent of what we see and do. It's no surprise that using doodles to record and facilitate meetings and workshops—known as "visual recording" and "visual facilitating"—is changing the way we do meetings.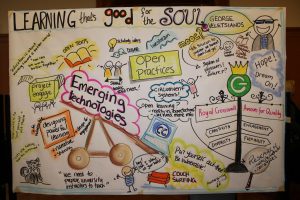 Drawing your meetings creates an organic visual record and participants pay more attention. Not only that, people will provide more input and think more creatively. To that end, BCcampus and its partners host workshops where our post-secondary colleagues learn how to be "visual facilitators."
The term "visual practitioners" refers to people who are graphic recorders and/or graphic facilitators. They are experts in the use of visual methods to convey meaning, enhance collaboration and improve dialogue for more effective learning and communication.
The most recent workshop on visual facilitation was held last fall at the University of British Columbia, and was taught by two leaders in the field— Nancy White from Seattle and Michelle Laurie from Rossland.
Twenty-nine people from B.C.'s post-secondary sector, the provincial government, and private industry attended the two-day event. Some came from as far away as Alberta and Minnesota. They learned the basic practices of visual facilitation and recording, and how to work collaboratively.
Learn one, do one, teach one
Experienced practitioners like Sylvia Currie (who is also BCcampus' senior manager of professional learning) are helping create a community of practice where people meet to draw, share and practice their skills. This new community had its first meeting last month at Simon Fraser University.
The next visual facilitation workshop will be part of the 2014 Canadian Network for Innovation in Education Conference at Thompson Rivers University on May 13. Training is also available at Michelle Laurie's 5th annual graphic facilitation workshop in Rossland from July 17-18.
Learn more
"ETUG Fall Workshop #45" © 2013 BCcampus News, made available by a Creative Commons attribution-ShareAlike license.