The 2014 Canadian Network for Innovation in Education Conference takes place on May 13 – 16 at Thompson Rivers University in Kamloops, B.C. The theme for this year's conference: Confluences –  Spaces, Place and Cultures for Innovative Learning.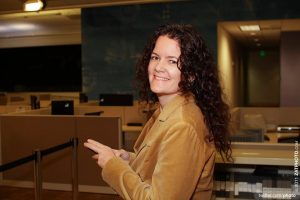 Last week, we previewed Brian Lamb. Today we're shining the spotlight on Audrey Watters who, in her own words, is an education writer, rabble-rouser and recovering academic.
Audrey Watters has worked in the education field for the past 15 years: as a graduate student, college instructor, and program manager for an ed-tech non-profit.  Audrey's work has appeared in The Atlantic, Edutopia, MindShift, Fast Company, Inside Higher Ed, The School Library Journal, O'Reilly Radar, ReadWriteWeb, Campus Technology, and The Huffington Post, in addition to her own blog Hack Education. She is currently working on a book called Teaching Machines, due out in 2014.
When BCcampus interviewed Audrey to ask what's been on her mind, she pointed us to this blog post: The Myth and the Millennialism of Disruptive Innovation.
Audrey has been thinking about how we define "Innovation" both within the education system and, collectively, as a society. Watters will be using her time at the podium to explore how the term has been co-opted by Silicon Valley, the political sphere and the business community. According to Watters, "there's a persistent myth that schools are broken and technology will fix them."
As the opening speaker of the conference, Watters will ask us all to consider:
How our educational technology choices are increasingly coloured by the tech and business sector definitions?
How does an app or product make our education system innovative?
What are the political, economic and cultural implications for choosing one type of ed-tech innovation over another?
How can we reclaim "innovation" in the classroom and align it with best practices, teaching and learning?
Notable Quotes:
Helping to enhance its mythic status, the storytelling around "disruptive innovation" has taken on another, broader and looser dimension as well, as the term is now frequently invoked in many quarters to mean things quite different from Christensen's original arguments in The Innovator's Dilemma. ~ Audrey Watters
Many cultures (and Silicon Valley is, despite its embrace of science and technology, no different here) tell a story that predicts some sort of cataclysmic event(s) that will bring about a radical cultural (economic, political) transformation and, eventually, some sort of paradise. ~ Audrey Watters
Here are a couple of (education-related) end-times predictions from Clayton Christensen:

Disruptive innovation will be, as Techcrunch is happy to profess, the end of school as we know it. ~ Audrey Watters
We can probably debate whether or not the Google products pushed on schools are really that innovative. And perhaps — and sadly — that's what we've come to expect from ed-tech: it is acceptably behind-the-curve. ~ Audrey Watters
Learn more: