Here's the scenario: you've been a cook for years and you want a better job, but you're not Red Seal certified, so where do you start? Take time off work to go back to school and start from scratch? That seems like a waste of time, because obviously you have some skills and experience already. You'd like to brush up on a few things to prepare for the written and practical exams, but there doesn't seem to be an easy way to do that. So, you decide to give it a shot and take the exams. You don't pass. Now what?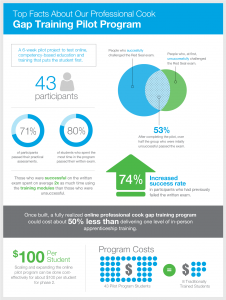 BCcampus and go2hr recently completed a limited pilot for the Professional Cook gap-training project. They broke down the professional cook curriculum into separate, specific competencies linked to the course material. They then chose cooks who had gained most of their experience on the job, but were either unsuccessful in challenging the Red Seal exam or practical assessment (like our fictional cook above), or who had been identified as having substantial gaps in prior learning during the application process.
Over half the cooks in the limited pilot program achieved their Red Seal using this process. So, the pilot is being extended, and BCcampus and go2hr are testing a model that can expand to other sectors and other trades.
That means not only our professional cook (from our example above) could go online, use a self-assessment tool to identify exactly where their gaps are, and then link to the training they need to get certified. The model could, if extended, apply to other trades or sectors. Health care is a good example. Instead of starting again from day one, a health-care aide (or baker, or carpenter, etc) need only get training on those particular skills identified as gaps.
The Professional Cook Gap Training Pilot Program has successfully pointed the way towards broad competency-based education and training models that put the student first.
Notable Quotes:
"This pilot is important because it supports people who would like to pursue certification, job entry, and career advancement. We have the technology that allows us not only to offer online self- assessment, and flexible, individualized learning — but also to create competency libraries and common curriculum repositories for a variety of trades and skills training." Michelle Glubke, Collaborative Services Manager, BCcampus
"This was an expedited pilot, but we are really pleased with the results. We only gave the participants 6 weeks to access the site for the pilot, so that definitely is something I am taking into consideration when looking at the outcomes. For the next phase, we are allowing them access for as long as they want to prepare for the assessments, since they have a year to complete once approved." – Dennis Green, Senior Manager, Industry Training, go2hr
"The cooks are working on both theory and practical skills, and the program is designed to deliver theory but also identify and track the practical tasks they should be completing with a mentor, employer, or instructor. This has huge potential to support those working in the industry who are wondering how to get to the next step in their career." – Dennis Green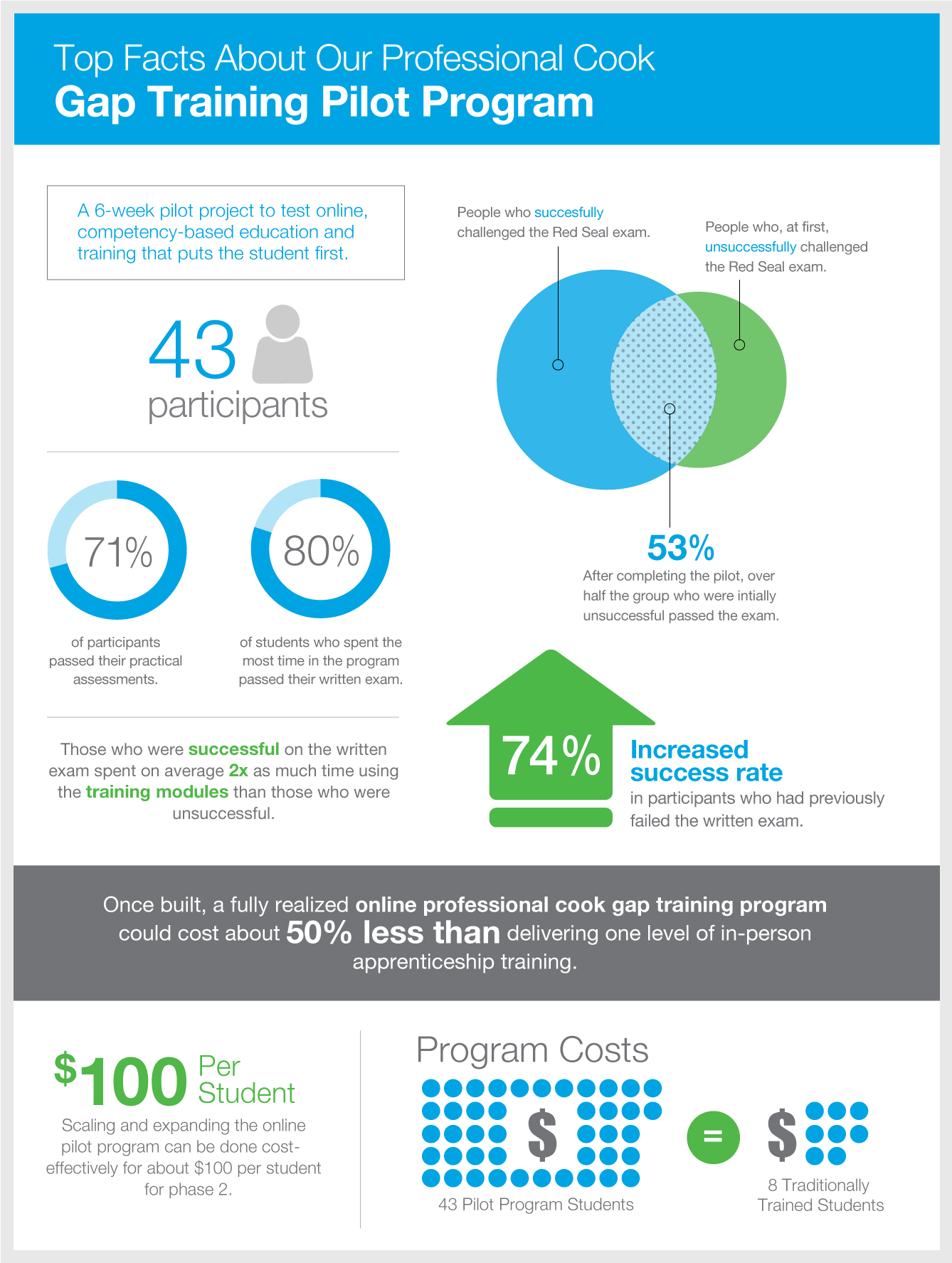 To learn more about the professional cook gap-training pilot, or how a similar blended learning model could work in your industry, please contact Michelle Glubke.