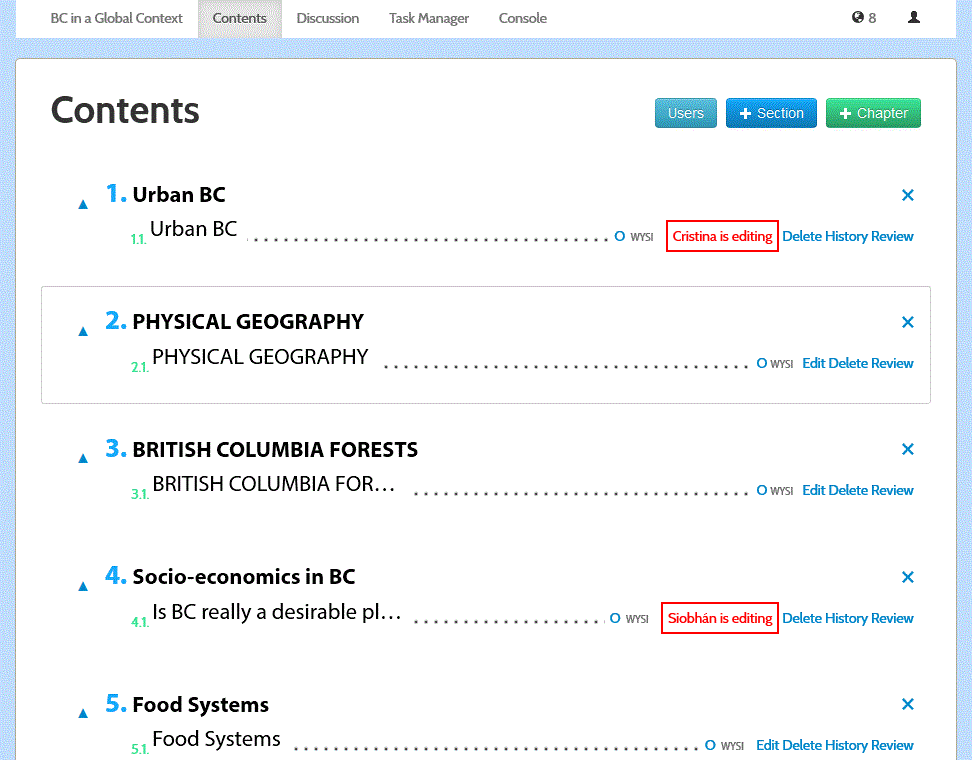 We are well into the afternoon of day 1 of the Geography open textbook sprint and it has been quite amazing to see how much work has been done in such a short amount of time.
Full marks to our authors, Britta Ricker (SFU), Arthur "Gill" Green (Okanagan), Cristina Temenos (SFU), Siobhan McPhee (UBC) and Aviv Ettya (UFV) for jumping into the process with both feet. Barbara Ruehling (BookSprints) is a skilled facilitator and has done a masterful job of defining the tasks and keeping everyone moving forward. I am also extremely grateful that Jon Strang from the UBC library has been able to join us for the first couple of days of the sprint as his expertise and advice (and knowledge of the UBC wireless networks) has been invaluable.
As we scoped out the book this morning, there were a number of really encouraging ideas brought forward by the group. First, Gill brought up the topic of service learning and, after a quick discussion, the group decided to make service learning a feature of the book & are hoping to incorporate a number of service learning suggestions in the book.
Second, the scope of the book will be broad. Like many disciplines, Geography has a number of different specialties and sub-disciplines; Human, Environmental, Physical, Regional (although there was some discussion about whether or not regional was a dated method of teaching Geography). The group decided to try to create something that would straddle the different areas of Geography and incorporate bits of all of it, providing a "sampler" of Geography, which seems very appropriate given the first year target audience of the book.
I was very happy to hear talk early on of modularization of the book & thinking of future reuses potential. One of the ways that this modularity is being baked into the book is through the case studies. The book will be built around BC-specific case studies, which will add a level of relevance for the students. But they will be written so that these case studies can be swapped out by someone who wanted to keep the core content, but replace it with their own local case studies.
The group also decided that suggested exercises were important pedagogical pieces, and I was ecstatic when Cristina suggested that there might be a way to have students contribute to Wikipedia as a project, so we are now considering how we could do that in the exercises. I had a chance to draw some attention to the Wikipedia Canadian Educator program. Doing a Wikimedia project takes some work, but we are thinking of at least suggesting this in the textbook with a referral to the educator program for those faculty adopters of the book who might be interested in following up with the suggested exercise.
Right now a silence has descended upon the room as the writers are in the zone. After this first round of solo writing, the authors will begin to swap content and go into a round of peer review and editing.