For this week's blog post, BCcampus caught up with Sybil Harrison, the Director of Learning Services at Camosun's College Centre of Excellence for Teaching and Learning (CETL). According to the college's website, CETL "aims to inspire and promote innovation and excellence in all aspects of teaching and learning." And, we were curious to find out how.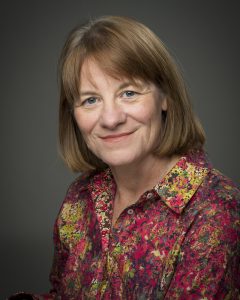 1. Can you tell us more about your role and how your team is structured?
I report to the VP, Academic and in addition to CETL, I am responsible for the Library and Learning Commons, Copyright compliance, the Writing Centre and Learning Skills. There are three units within CETL (for a total of 13 staff members) who focus on faculty development, program review and renewal, and distributed education. I have officially been in my role since 2012.
2. What are some of the significant changes you've experienced at Camosun as part of CETL?
In 2010, the centre moved into the recently renovated Library and Learning Commons. The college had a vision to see faculty accessing a range of services in the learning commons, in the say way students do. This is somewhat unique. This one location provides faculty access to librarians, audio-visual and IT support, a copyright advisor, instructional designers, and faculty development facilitators.
The physical space provides a drop in area for faculty separate from the main library with a lounge area, small library of education related materials, training room and access to the multipurpose room for larger events. We've learned that physical proximity enables cross -divisional collaboration.
Our 2011 strategic plan identified the centre as focus for strategic investment and attention. The next year the centre opened a second physical location at the Interurban Campus. The Interurban space includes a small training lab. The focus of the work at the interurban space is on online development and educational technology.
Traditionally partners have been the college schools but more recently all areas of the college including Human Resources, Aboriginal Education, Office of Sustainability, Business Development, Camosun International seek to work with CETL. Relationship and community building are the heart of the work we do.
3. How has the nature of your work changed?
While the three units have been together since 2004, our work has significantly changed, and the prominence of the service to the college has grown. For example, the Program Review and Renewal group is now more actively involved in new course/program development and provides just-in-time curriculum development support. Distributed education growth has mirrored the growth in online and blended delivery of education. We have grown from just one instructional designer to a team of five. Our faculty development facilitators continue to host learning events and Instructional Skill Workshops (ISW), but are moving into supporting communities of practice and supporting leadership development.
4. What are some of the highlights of activity in the past year for CETL?
Our team was really involved in all aspects of college life. Highlights include hosting the 2014 Walls Optional Conference. This year our keynote speaker was John Baker CEO of Desire2Learn.
As well, the Program Review unit mounted an online "open" Course on developing a course for faculty.
This online open course adds to our existing online delivery of trade education classes, with projects in culinary arts, shipbuilding, and pipes trades.
And finally, the Camosun faculty development unit worked on a number of international ISW projects—delivering instructional skills workshops to Tanzanian, Brazilian and Chinese educators.
Most of the work of the centre is achieved in partnership—the primary role of the centre is to facilitate connections and collaboration across the college.  We provide support to faculty so they can pursue innovation and excellence and let the magic happen in classrooms both virtual and in person.
5. We hear you're a fan of Anne of Green Gables. How does this apply to what you do?
I was recently awarded Colleges and Institutes Canada Silver Leadership Excellence Award (June 2014).  In the interview for the award I shared a quote from Anne of Green Gables.  Anne said: "Isn't it splendid to think of all the things there are to find out about? It just makes me feel glad to be alive–it's such an interesting world."
The world of teaching and learning centres is such an interesting world. The work we do helps animate the learning experience for students. We are continually inspired by the great work our faculty do, and delight in using our strengths and expertise to help the college community provide life-changing learning experiences for our students.
Notable Quotes:
Most of the work of the centre is achieved in partnership—the primary role of the centre is to facilitate connections and collaboration across the college.  We provide support to faculty so they can pursue innovation and excellence and let the magic happen in classrooms both virtual and in person. ~ Sybil Harrison, Director Learning Services
The world of teaching and learning centres is such an interesting world. The work we do helps animate the learning experience for students. We are continually inspired by the great work our faculty do, and delight in using our strengths and expertise to help the college community provide life-changing learning experiences for our students. ~ Sybil Harrison, Director of Learning Services
Learn more: