Patricia Cia is the newly-minted (as of July 1) Director of Academic Innovation, a new position at Langara that brings together library services, program development, and educational technology. Reporting to the VP Academic & Provost, this position oversees Library & Learning Commons, CAPER-BC, Educational Technology and Teaching & Curriculum Development Centre (TCDC).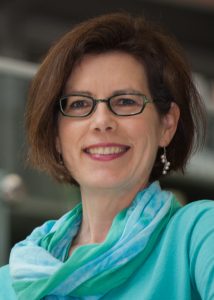 What's the career path that led you to the Director of Academic Innovation position?
Before coming to Langara in 2005, I worked in several corporate libraries. I spent nine years with Langara in the library – mostly at the back end doing technical services. Until three years ago I had various positions, including coordinator of technical services, then I became department chair. Upon the departure of the Library Director in January 2012, I took on additional roles as Interim Head of Library Services. Since 2012, I've led the Library through a strategic visioning process and other projects such as redefining copyright management at Langara.
TCDC is a new entity for Langara – what is the new focus?
We're starting to do program reviews as well as curriculum consultation – that's new to Langara. There is a more formal relationship between the three areas: educational technology, program development/renewal, and library services. They've all been in existence before, but they all have one focus: to support teaching and learning. By having them report to the Director Academic Innovation, they can serve the academy without being tied to single faculty or discipline.
Our focus is to provide faculty with access to resources such as peer expertise and mentoring, pedagogical and course design resources, as well as University, Career, and Continuing Studies programming review supports.
What's it like going from the "hands-on" work to an administrator role?
Still under development! It's pretty exciting – I still do like playing with new technologies and keeping an eye on new things (like 3d printers) except now it's through a different lens: "How is this technology going to be used in the classroom? How can we take advantage of technology and still support faculty and students? How do you make it work so that it enhances teaching and learning rather than just being another tool?"
What happens if you get a piece of technology and say: just go use it? Some faculty members take it and run with it, and it works out great. But some are focused on their curriculum and their students and they don't always know how to incorporate those tools (particularly in the learning management system – Desire2Learn) into their practice. That's where we want to support them.
What is the library's role?
The library's role working with TCDC is being involved at the front end with their department liaison to help them through program review process and see what kind of resources we can offer, which varies depending on the subject. Librarians work directly with faculty and are involved in the curriculum, teaching information literacy, how to use databases. They help test drive assignments, and are responsible for copyright and help faulty by getting permissions for course pack materials and other resources. Some develop online courses within D2L that faculty can link to, for example, the basics on how to do research.
What's your biggest challenge?
One obvious one will be staffing levels. We have only 1.5 FTE positions and a challenging wish list. The biggest challenge will be taking that mile-high view of the whole academy. I wasn't involved right from the start in setting up the TCDC, so it's new to me – especially the academic side.
We want to take all these areas, which have different life cycles, and bring them to the next level: help with program review and make sure people have the support they need.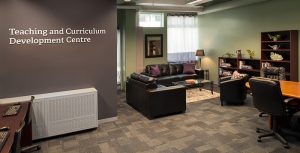 Bonus round 1: Just look at this space!
Ms. Cia provided the accompanying photo of the new CTDC space, saying: "Janet Douglas and Sarah Bowers did a fantastic job creating a welcoming space on a very strict budget. It's used for meetings, social gatherings, workshops and brownbag sessions. We're very proud of our new facility."
Bonus round 2: Leadership Award
In April 2014, Patricia Cia was recognized by her colleagues and the College with the 2013/2014 Leadership Excellence Award "for her outstanding contributions in a leadership role within Library Services at Langara College. In her time with the organization, Patricia has been committed to fostering community connections both on campus and externally. She is widely recognized as an expert in her field, and is often sought out to provide guidance and mentorship. Patricia catalyzes creative solutions to cope with complex issues and limited resources. She is a quiet leader who deserves loud appreciation for her leadership and dedication to the Langara community."
Learn more: