Three instructors from each of three B.C. Institutions have joined the BCcampus Open Textbook team as "Faculty Fellows" in order to encourage more instructor and faculty uptake of the open textbooks in our collection.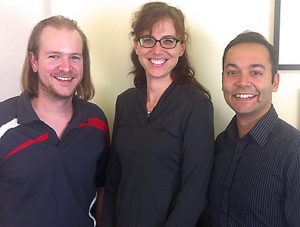 Dr. Jessie Key, a chemistry professor at Vancouver Island University, Dr. Rajiv Jhangiani, a psychology instructor at Kwantlen Polytechnic University, and Dr. Christina Hendricks, a senior instructor of philosophy at University of British Columbia, all started their terms this week.
"Involving faculty more closely in our project will bring more legitimacy to our work in the teaching community," said BCcampus' Mary Burgess. "It will also give us a conduit to share project developments, and will give us a view into the classroom we do not currently have."
The Faculty Fellows will be busy during their one-year term. They will:
Engage in research that determines the efficacy of open textbook use in B.C. institutions.
Provide mentorship to faculty new to open textbooks through presentations and consultation.
Conduct outreach activities and provide feedback to the BCcampus Open Textbook team to ensure continual improvement of our collection.
Dr. Christina Hendricks, Senior Instructor, Philosophy, UBC
"I've been doing some workshops here at UBC about open education, but I noticed that most of the people who attend are those who already know about and are interested in open education. There aren't many who attend who are new to the whole idea. This is such an important issue; we need to get the word out.
I applied to be a Faculty Fellow because I want to get some ideas on how to get new people involved. I want to get more information about open textbooks, about what other people are doing in terms of creating and using open textbooks, and also in terms of strategies for advocacy, information that I can bring back to my university.
I'm not using open textbooks per se because there aren't very many available in Philosophy, and I haven't found any that suit my particular courses… Instead of assigning a textbook, I've found a lot of free resources online (including podcasts and readings, but not necessarily open) and I assign those. One of my goals for this year is to organize and facilitate a textbook sprint to create an open textbook for introductory philosophy courses."
I have two main messages about the benefits of open textbooks:
Students – they have the clearest benefit because they don't have to go into debt so much to pay for their education. And you're not sacrificing quality by using open resources, so students still get very good materials for their courses.
2Faculty themselves – the benefit is the ability to revise them, make them more your own, and fit them to your class. It's much easier to teach with a resource you've managed on your own."
Dr. Rajiv Jhangiani, Instructor, Psychology, KPU
"Over the last year I have interacted with BCcampus on this open textbook project in so many ways – as a reviewer, open textbook reviser, as a test bank sprint organizer and participant – I applied to be a Faculty Fellow because it's a logical extension of my advocacy work.
During my term, I hope to try and get faculty to consider looking differently at openness in education. I want to encourage them to look at it as an extension of their practice in research and scholarship in terms of transparency, replication, and access. I hope to lead them to switch from asking themselves 'Why openness in education?' to 'Why NOT openness in education?'
I want my colleagues to question their partnership in the status quo, which is unsustainable for students, but also restrictive and stifling for pedagogical creativity.
I see my role as threefold:
Advocacy: holding workshops – engaging in outreach.
Research: collecting reliable qualitative data about the impact of open textbook adoption from faculty and student perspectives, as well as looking at institutional outcomes in retention and completion.
Feedback: Provide feedback on what the BCcampus OER team is doing – to provide a faculty voice at the table, and bounce ideas off one another."
Dr. Jessie Key, Professor, Chemistry, VIU
"I've been involved with the project already – I reviewed and contributed an adaptation of an introductory chemistry textbook. The more support they [open textbooks] have, the farther they'll go.
I look forward to the research aspect: investigating how we can better utilize textbooks for students in B.C. Open textbooks are more work and more involvement for faculty (as opposed to traditionally-published textbooks). But I think the students would say it's worth it to put in the extra work – because they have an alternative to buying a $200 textbook.
We're kind of at a tipping point right now. The technology and Creative Commons licensing is out there, and we need to put in the effort to getting these open resources to the same quality as traditional textbooks. If I had one thing to say to my colleagues, I would ask them to put in a little sweat and effort, and I think we'll see it will pay off in terms of student benefit.
That benefit goes beyond the cost. You can really customize open textbooks for your course and your local setting. If you want to focus on an aspect of the subject matter, you can add it to the resource and emphasize it more; you're flexible with what you can do."
Further reading: