This past Spring BCOER held a hackfest and today we are delighted to share a few good things that have come as a result of some of the hardwork done in May.
Post by Leva Lee, manager, Learning + Teaching, BCcampus
We worked on key ideas for a poster to use as a tool to engage faculty in discussions about Open Education Resources (OER) and open textbooks. Well here it is: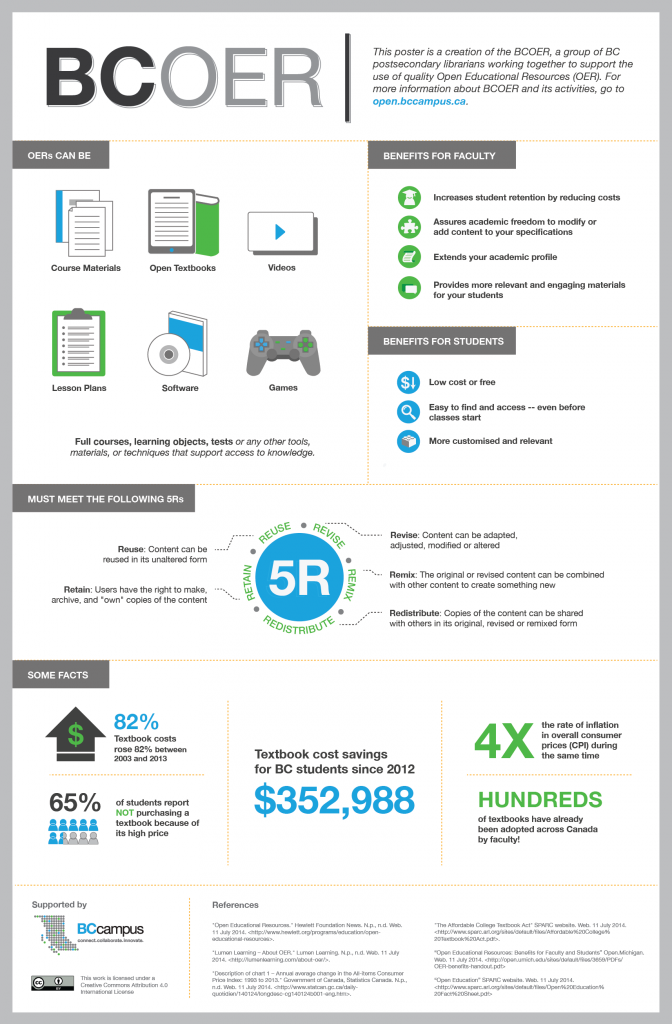 It's an OER so feel free to use this poster and exercise the 5Rs! We will update the statistics cited on it in subsequent versions. There is also a larger version with a horizontal layout available.
Also at our hackfest BCOER discussed hosting an OER awareness event for post secondary librarians. And it's happening next week! This professional learning event will take place on Monday October 27th in recognition of Open Access Week. "Open Education Resources: Librarians, Leadership and Opportunity" has a few spots left, so if you're interested, get more details and register by Monday October 20th.
Lastly, the BCOER is working together to co-promote what's happening in BC during Open Access Week at our respective campuses.
For the future, we'll be working on a web space where we can more formally share our work: the tools, subject guides, posters and professional learning events to support the use of quality OER . For now, find out more information about BCOER at our wiki working space bcoerguides.wikispaces.com or contact leva.lee@bccampus.ca.