Targeting skills and trades training for the second round of Open Textbooks Project funding has meant collaborating with industry groups and other organizations – expanding our reach beyond the post-secondary institutions.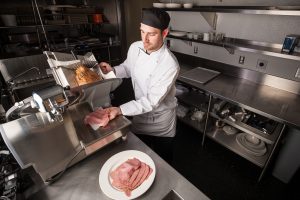 Round two funding, announced last spring, focused on providing at least 20 open textbooks to trades and skills training. "We're doing a lot more partnerships with organizations that form a bridge between industry and post-secondary institutions," said Clint Lalonde, manager for open education at BCcampus.
For instance, BCcampus is partnering with LinkBC, a membership-based organization connecting tourism programs to industry, to work on post-secondary resources to enhance professionalism specific to the B.C. tourism industry. Also involved in that textbook creation are authors from Royal Roads University, Capilano University, Vancouver Island University, and George Brown College in Ontario. Another project with go2hr has authors from 8 different B.C. institutions developing training resources for use in the Professional Cook, Baker, Meatcutter, and Hospitality Management programs.
There is also a collaborative project on health care training between BCcampus, Athabasca University, Douglas College, Grant MacEwan University in Alberta, and Brandon University in Manitoba to create a nursing training manual focusing on mental illness. This is one of the first projects BCcampus is doing in collaboration with another western province, and is the first to fall under the recent Memorandum of Understanding on collaboration on open educational resources signed by B.C., Alberta and Saskatchewan.
"Tourism and health care are high impact projects for us," said Mr. Lalonde. "They are more complicated than our academic textbooks have been, because they involve many more institutions and partners, but they may also have a greater impact on more students."
One of the larger projects, headed by Camosun College, and in partnership with the Industry Training Authority, involves creating six new textbooks for the trades training common core, a project that will also have a significant impact on a large number of B.C. students. Another at BCIT will affect students in their print and graphic design program.
Learn more:
Photo provided by go2hr – B.C.'s tourism human resource association