A workshop at the recent Teaching and Learning Symposium presented a compelling way to introduce mindfulness to learners and educators: finger labyrinths that reduce stress and anxiety while increasing focus.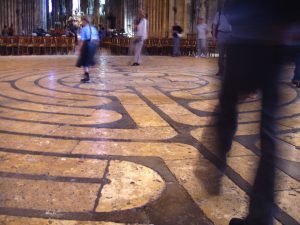 In the Symposium on Scholarly Inquiry into Teaching and Learning Practice held in November at SFU Harbour Centre, one of the sessions looked at a new application of a very old concept: using printed labyrinths to facilitate mindfulness.
Nina Johnson, a lecturer at Thompson Rivers University in the department of English and Modern Languages, presented a workshop to examine the effects of contemplative practice on anxiety, concentration, and creativity; a topic she's currently researching at TRU. The workshop explores mindfulness: the therapeutic practice of focusing on the present moment while acknowledging and accepting one's thoughts and emotions.
What is a Labyrinth?
Labyrinths can be traced back to ancient times, with the earliest examples being found in Neolithic tombs. There are examples of labyrinths on coins, walls, and structures around the world, dating back to 2000 BCE.
Labyrinths are often confused with mazes, but the differences help explain why this can be an effective tool for mindfulness. While mazes are designed as games, challenging the user to find the right path while obscuring the goal with hedges or walls, labyrinths provide a clear line of sight to the centre, with a single path and no dead-ends or barriers.
"A mindfulness practice like the labyrinth enables you to enter a relaxed, receptive state," shared Ms. Johnson, "where metaphoric and associative thinking can flourish."
Ms. Johnson was certified by Veriditas, a non-profit organization based out of California and led by Lauren Artress, dedicated to inspiring change through the labyrinth experience. The organization trains and supports labyrinth facilitators around the world.
Researching the Labyrinth
"In what ways might contemplative practices using the finger labyrinth reduce anxiety, improve concentration, enhance creativity, and support student learning?"
This was the question Ms. Johnson proposed to gain a better understanding of the possible benefits of labyrinths, and to discover the answer she conducted a research study on the students in a creative writing class at TRU. The study involved 32 students and took place over 13 weeks.
Journaling was a component of the program, and prior to each journaling session, students were invited to use a finger labyrinth: a printed labyrinth they could trace with their finger as needed. To begin the program, students were asked to complete a self-assessment survey followed by a bi-weekly assessment during their course. The participants were also invited to use the finger labyrinth while completing a test designed to measure their recall and application of basic concepts.
The results of the study are interesting: with 40% – 72% of participating students reporting reduced anxiety after using the finger labyrinth, as well as slight to significant improvements (as noted by students) after using the labyrinth for 1-2 minutes per day, 3-4 times per week.
Creating a labyrinth
Ms. Johnson's first labyrinth was constructed with spray paint on the grass of her backyard for her children, but a classical labyrinth can be created by following this guide, constructed with whatever materials are available. There are simple labyrinths created in the snow, on the beach, or with a collection of rocks, and more complex labyrinths created through intricate tiling and masonry. The only requirement is to have a single path for the user to follow.
A finger labyrinth is designed to be printed for use as needed. Ms. Johnston has provided this downloadable file from the Veriditas organization for anyone wishing to try their hand at finding mindfulness.
Notable Quotes
"The labyrinth asks you to slow down and experience the moment, which then opens up opportunities to reflect in a very deep way and make connections." ~Nina Johnson, TRU
"It's important to find your own pace. People do stop on the labyrinth. People also crawl, people skip, people dance. I try to use the word "walk" generically." ~ Lauren Artress, Veriditas
Learn More