The Wharton School of Business Reimagine Education Awards recognized North Island College with a pair of awards for their innovative remote laboratory and ability to provide real-time access to distance learners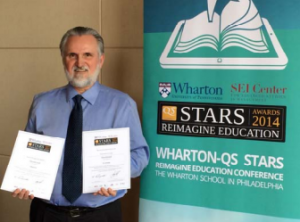 A project created by a local institution to provide students with an Internet connection real-time access to hands-on lab experiments has been recently recognized as one of the top online innovations in the world.
For deploying and refining an innovative Remote Web-Based Science Lab (RWSL), North Island College earned second place in the Natural Sciences category at Wharton's School of Business' Reimagine Education Awards. The competition featured submissions from 427 institutions in 43 countries, and the 21 awards were judged by a panel of 25 international experts.
In addition to the Discipline Award, NIC was one of the top 12 finalists for an e-Learning award. Only two institutions in Canada were shortlisted for this honor: North Island College and the McMaster University's Honours Integrated Science program. The overall award for this competition included a prize fund of $50,000, and was split between two institutions for their projects: the National Taiwan University for PaGamO, a multi-student social gaming platform and the world's first Chinese-language MOOC, and the University of Colorado, Boulder for their PhET Interactive Simulations to provide fundamental principles of science and math.
Enabled through distance
The RWSL was invented and implemented by Ron Evans and Albert Balbon, chief architect for the North American Network of Science Labs Online (NANSLO), over a decade ago to provide remote access to astronomy students in isolated Bella Bella, off B.C.'s west coast. Today, the RWSL provides students and educators with virtual access to high quality online labs, enabling them to complete their studies from anywhere in the world with internet access.
"Our students have told us they are more engaged and able to focus on what is happening," said Mr. Balbon. "They realize their control in the experiment actually affects what they're seeing, just like in a real lab."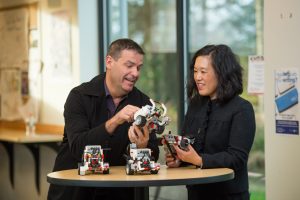 Equipped for success
Students use the equipment to collect real-time data online to complete one of 25 available labs. The RWSL is currently equipped with lasers, spectrometers, electromagnetic apparatus, robots, Nikon microscopes, and more to meet existing curriculum requirements. NIC plans to continue adding equipment and opportunities for remote students to test and explore science concepts and creations.
Funding
BCcampus was proud to be an early contributor to the RWSL, providing over $500K in funding through three rounds in the Online Program Development Fund. To date, the RWSL has received over $1.3 million in grants from international organizations interested in providing remote access to students across North America. Funds for this program have been received from the U.S. Department of Labor, the Bill and Melinda Gates Foundation, Next Generation Learning Challenges, and the William and Flora Hewlett Foundation.
Notable Quotes
"Distance students would never be able to do the E/M lab without the RWSL. Now, they can fire it up, modify the accelerating voltage, change the current for the magnetic field, and see the path of the electrons change." ~ Michael Willers, Physics Instructor, North Island College
"We recently had a team of students from Alaska scheduled to work on a lab together through the RWSL. Unbeknownst to our team, two of the students had been deployed to different parts of the world, one in Texas and the other in South Korea. The group was able to complete their lab project together, despite being on different continents in separate hemispheres." ~Albert Balbon, RWSL Architect, North Island College
"In the classroom, the RWSL ensures students see what I am seeing. I can put my finger on the image and say, it's this part right here." ~Dr. Takashi Sato, Physics Professor, Kwantlen Polytechnic University
Learn More