There's no question that Professional Development is important, but not all organizations can afford it. Once the costs for registration, travel, accommodations, meals and time away from work are factored in, many organizations simply don't have the funds.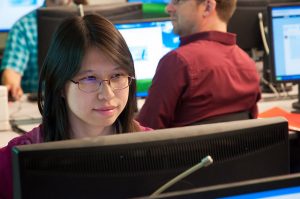 The benefits of attending a conference in person include networking opportunities, participating in round table discussions and gaining new insights. The long-term value of these learning experiences can outweigh the costs but if there is simply no money or free time, virtual conference attendance could be the answer, especially if the remote participant has a Tech-Buddy physically at the conference.
Tech-Buddies to the rescue
In our December 9 blog post, "Cultivating a culture of experimentation through 'Tech Buddies'", Tracy Kelly, Manager of Professional Learning at BCcampus spoke about the new Tech-Buddy initiative that allows remote participants to have a more interactive experience by having a volunteer attendee physically at the conference, asking questions and networking on their behalf. Tracy said, "We're in the business of intentional designed use of technology to support learning. As technology invites faculty to reflect on their practice, this experiment gave us the invitation to reflect on the participant experience of events and consider ways to make it better."
Leva Lee, Manager of Professional Learning at BCcampus says of the Tech-Buddy initiative, "As we move forward, we're trying to make the online experience equal – if not better – than being there."
We've researched some of the most relevant, education related conferences worldwide and found that although the technology for synchronized access is being used, it's not available everywhere. Only a few conferences offer access in real time. The majority offers post conference access to videos, podcasts and webinars.
Here are a few Pro D opportunities worth looking into:
If you missed out on going to the 2015 Summit for Online Leadership and Strategy at the Grand Hyatt in San Antonio Texas you can still buy a pass for on-demand viewing of the conference sessions and you and your entire institution can take advantage of the Summit's workshops and lectures. Similarly, the Online Learning Consortium offers over 50 webinars with the purchase of an online pass.
EDUCAUSE From one hour webinars to multi-day conferences—delivered anywhere in the world—online conferences and events bring you timely and relevant information. EDUCAUSE Live! is a series of free, hour-long interactive webinars on critical information technology topics in higher education. EDUCAUSE includes information about technical requirements for participation
BCcampus Instructional Skills Workshop – Offers help with the online learning experience and on how to facilitate well.
Peer to Peer University: Adopting Open Textbooks Online
Here is a great free online opportunity coming up that is hosted by BCcampus/etug on creating slides
A list of 30 global open science/education events includes one that could be of particular interest to BCcampus readers: The Future for Open Access and the move towards Open Data.
ICDE the International Council for Open and Distance Education has many interesting and relevant open education resource sessions planned for 2015.
Educators can tap into a rich source of learning opportunities from the Web 2.0 Labs and the Learning Revolution Project offers free professional development and partner events podcasts.
Classroom 2.0 is a portal into a wide variety of discussions, podcasts, resources and events for all levels of education.
The E Learn Hub is worth looking at for its comprehensive listing of worldwide education and technology conferences January to June 2015.
Conal Conference Alerts lists 153 events and does indicate which conferences are accessible online.
The Education in the Digital Era conference took place in December 2014 in Brussels, Belgium. One of the three key themes is Addressing Inequalities Through Access and speaks to the question: Are long-distance and technology-based modes of education possible pathways or solutions? The conference materials and video recordings are available free, online
For free texts, movies, courses, MOOCs and audio books, nothing beats Open Culture.
Although you won't be sipping coffee in a Belgian café, or enjoying the luxury of the Grand Hyatt and the warm Texas sun, you can still experience hours of learning in the comfort of your own office or living room.
Learn more links: