Our Professional Learning team plans and facilitates many wonderful events and workshops for educators, leaders and professional staff in B.C., and two of the most popular are our Facilitating Learning Online (FLO) and Facilitator Development Online (FDO) workshops.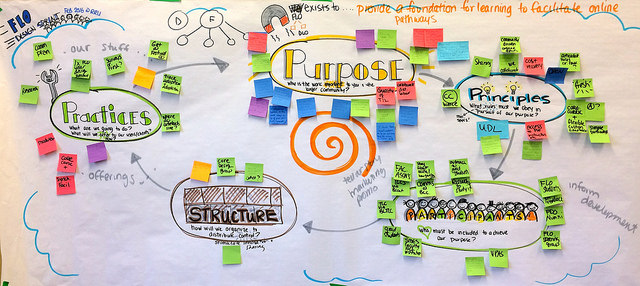 Back in September 2013, BCcampus began offering the Facilitating Learning Online (FLO) workshop, our very first cohort-based and password protected online course. FLO is five weeks long, and introduces research-based adult and online learning concepts, principles and strategies that can make online facilitating fun and effective. This course is designed to help participants enhance the skills needed to confidently and effectively facilitate learning online.
In March of 2014, we began offering Facilitator Development Online (FDO) which teaches participants how to facilitate the FLO by spending two weeks in a community of supportive peers, reviewing and planning for their first FLO facilitation experience.
Co-creating workshops through collaborative partnerships
The FLO workshop (then the Instructional Skills Workshop Online (ISWO)) was developed in 2013 as a collaborative effort between BCcampus and Royal Roads University (RRU) with the aid of the BCcampus Program Development Fund. BCcampus adopted the resulting open course for province-wide implementation. RRU and BCcampus continue to compare facilitation notes, coordinate the schedule of offerings to maximize opportunities for all faculty in B.C., and jointly maintain the core curriculum for both facilitating and designing learning online workshops.
Since its inception, FLO has been offered 10 times, resulting in 80+ graduates, and representing 18 institutions throughout British Columbia. Of these FLO grads, 25 have gone on to complete the FDO workshop in preparation to facilitate FLO.
It is definitely worth noting that participants have found FLO to be a lot of work and those who are new to learning online will find it to be a steep learning curve, but the outcome is a wonderfully rich and rewarding experience.
Cohort after cohort, the positive testimonials just keep rolling in – here's a small sampling of the incredible comments from our FLO alumni:
"It was the most helpful course I have had so far on facilitating online learning. It was the first time in my experiences, when the instructors modeled the facilitation techniques they were teaching! Thanks for that!"
"This was a good course. I learned a great deal in 5 weeks. Sometimes you take interesting courses, but never actually use much of it afterwards. I will definitely be using what I learned in FLO. Thanks for this opportunity."
"This was a rich experience. You did so many things well, and I will take the examples into my professional life, facilitating learning online. Thank you!"
"I really enjoyed "observing" your own facilitation strategies. This was helpful to see how and when you participated. I never felt a lack of teaching presence."
Upcoming FLO and FDO workshops
Join us on April 4 – May 6, 2016 for our next Facilitating Learning Online (FLO) workshop, where you will:
facilitate, or co-facilitate, a learning activity on a pre-assigned topic,
integrate adult and online learning theories and principles into activities you facilitate,
experiment with a variety of learning-facilitation techniques and strategies,
give and receive constructive feedback,
work in online teams, and
reflect on, and plan how to apply, what you have learned to other courses and contexts.
Find out more or register for the next FLO workshop.
Our next Facilitator Development Online (FDO) workshop is being offered from May 9 – 20, 2016. In this course, you will:
explore the architecture of the FLO from a facilitator's perspective,
learn about the "behind the scenes" work and preparation required to facilitate the FLO,
participate in a variety of activities designed to get you thinking and preparing for teaching the FLO, and
have an opportunity to do some of your own FLO facilitator preparation.
Find out more register for the next FDO workshop.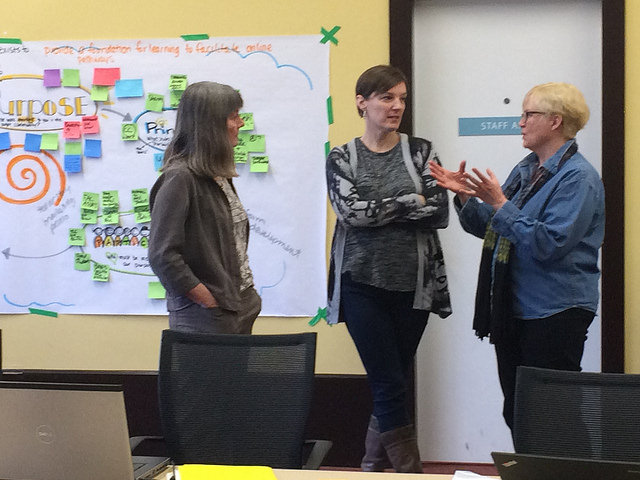 FLO Design Sprint
What happens when you put a group of experienced, energetic facilitators in a room for a couple days? They whip together a curriculum plan for the future of Facilitating Learning Online (FLO) workshops! Find out more
The future of FLO
For now, they're calling themselves the FLO Steering Committee, but this charter group of FLO facilitators should more aptly be called the FLO Enthusiasts. This group is committed to making sure FLO flows in the right direction. In addition to workshop (re)design and implementation, the group is:
considering future "going deeper" modules/mini-workshops,
exploring ways to author, organize and share FLO OER, and
making plans to support facilitators in other ways.
Notable quotes
"FLO provides you with an immersive learning experience. You explore important issues related to the needs of the increasingly diverse learner audience you will be teaching online and you're constantly observing, discussing and trying different facilitation strategies with your peers." – Sylvia Riessner, Educational Consultant
"I love facilitating the FLO. It's somewhat a different course every time, not only because of the participants who are in it and the way the conversations diverge and converge around the topics but because of the design and tool choices that teams make when facilitating the activities." – Beth Cougler Blom, Med, Facilitator & Learning Designer 
Learn more:
---
Join us at an upcoming event:
---
Stay informed with BCcampus by signing up for our newsletter, visiting our calendar and following @BCcampus on Twitter.
---