We're working with CAPER-BC to develop a resource for OER creators to ensure current and future open textbooks are accessible for everyone, including students with print disabilities.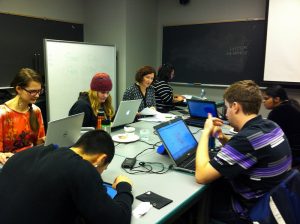 We've frequently celebrated Universal Design for Learning – the set of principles for curriculum development that strives to provide students a variety of tools to fit their specific learning needs – as well as the B.C. Open Textbook project's focus on making higher education more accessible by reducing the cost of reading materials, so from the beginning, it was important to us that the open textbooks be accessible to all learners across the province, including those with print disabilities, who historically haven't been able to make use of the new tools and delivery methods at the same time they're available for other learners.
"The goal of this project was to see if the open textbooks are open and accessible for all students," said Amanda Coolidge, BCcampus Manager, Open Education. "The intention of open textbooks is to provide access to education at low or no cost, but if those materials aren't fully accessible for every student, we aren't truly fulfilling that mandate."
End-User Feedback
Working with the Centre for Accessible Post-secondary Education Resources B.C. (CAPER-BC), we contacted the Disability Services Coordinators at our partner institutions to find student participants with print disabilities to evaluate our open textbooks. "In addition to the wealth of research that has been done on accessibility, we wanted to get feedback from students," said Ms. Coolidge.
The participants were asked to evaluate five chapters from the open textbook library and provide their evaluation on each chapter. They were asked to access the materials in their preferred layout, such as web format, ePub, or PDF, and then provide written feedback about their experience. This model worked well, but we decided to take this further and invited the participants to join us for a half-day focus group, where we had the opportunity to understand why they responded to the questions – or didn't respond – to see how they were reading and accessing the materials on their different devices. Based on student feedback, we were able to create a series of tasks to make our own textbooks more accessible.
Creating an accessibility toolkit
Working with Tara Robertson from CAPER-BC, and Sue Doner, an instructional designer from Camosun College who has been working with universal design and creating accessibility guides for instructors, we have developed an accessibility toolkit that will be released at the end of February. The toolkit was designed to provide content creators, publishers, authors, and creators of OER a set of guidelines for use in the creation of additional open textbooks and other OER.
The accessibility toolkit outlines Best Practices for structuring content, including:
Images/Charts/Graphs/Maps
Weblinks
Tables
Video
Formulas (math and scientific)
Font size
Colour contrast
The toolkit is now available as an open resource on the BCcampus Open Education website, for others to use and adapt for their own needs.
"At CAPER-BC, we digitize print material to make it accessible for students with print disabilities. It's exciting to work with BCcampus and students with disabilities to figure out how to ensure the open textbooks in B.C. are accessible from the start," said Tara Robertson, Accessibility Librarian, CAPER-BC. "Leveraging the principles of universal design means students with print disabilities won't have to wait for us to make these textbooks accessible, and all students will benefit from the better-designed resources."
30th Annual International Technology and Persons with Disabilities Conference
Next month, Ms. Coolidge, Ms. Robertson, and Ms. Doner will be presenting the accessibility toolkit at the 30th Annual International Technology and Persons with Disabilities conference in San Diego. This conference is the largest disability and technology conference in the world.
Notable Quotes
"Please continue to consult with the students who are using these books." ~ focus group participant feedback
"Thank you again – it is really a privilege to be a part of this. You all did an excellent job – the facilitation, the bits and pieces of logistics, the questions and feedback – great job to all of you! ~ Student focus group participant
Learn More
---
---