For the next installment of our '5 Questions With' articles, we interviewed Stan Chung about the current and future state of open education, as well as other considerations that influence culture at the College of the Rockies.
What is your current role, and what do you do for the College of the Rockies?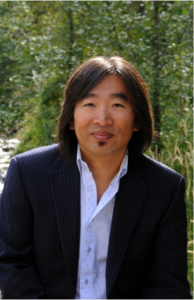 I've been at the College of the Rockies since December 1st, 2014. My role is Vice President of Education and Applied Research. I have a joint responsibility for the culture of our institution, working with our teams to ensure our values and objectives have high engagement with students and staff.
We've launched a new strategic plan that's very exciting and filled with partnership, applied research, and high quality educational experiences. We're eager to implement the strategic plan in a way that engages our community, students, and employees.
Most institutions know of the research that says 'you're only as strong as your leadership', but it's very difficult and challenging to evoke the shared leadership style in a way that builds trust through every level of the organization. It's not unusual for people to talk about this style of leadership, but it's harder to 'be it and live it', and do what needs to be done to earn trust. We're very explicit about how important this is for the College of the Rockies.
One of the ways to understand the strength of your team is to examine how you deal with conflict. Do you retreat into silos or try to be loyal to the team and resolve conflict by being honest, careful, and respectful of different perspectives? Are you always striving to be accountable for a meaningful relationship?
One of the things that's refreshing about working with the College of the Rockies is there's a lot of shared accountability for our culture, based on the principle of trust and explicit clarity.
We've learned from the Ktunaxa Nation: they respect the land and, perhaps more importantly, have a profound respect for relationships. That's one way that, as a college, we can learn from the aboriginal communities and recognize how much better and more effective we can be when we focus on healthy relationships.
What is an open learning environment for your institution?
Open means a lot to us at the College of the Rockies.
We live in a pretty complicated and complex world, especially in terms of intercultural education. We don't have homogenous classrooms; we have cultures from everywhere come to our classrooms. So when we use the word open, it means a lot of things.
Open has a specific meaning when you're talking about licensing and online learning, but it also circles around the idea of being a community that is inherently accepting of divergent viewpoints. We don't accept the idea that one dominant culture can silence another; we're truly open to differences in opinions, culture, perspective, and world view. When I think about the term open, I think of it as a very progressive stance on an intercultural view of learning.
We have to do more than just speak the words of diversity. Just because you have a diverse classroom doesn't mean everyone in the class feels a sense of inclusion. This is why we use the word open to also talk about creating that climate of inclusion, so everyone feels they belong to that community.
How is faculty development promoted at the College of the Rockies?
Traditionally, faculty certainly have the right to direct their own professional development. We trust our faculty as self-directed learners, figuring out for themselves where they need to grow and develop, but at the same time we emphasize a team that works collaboratively, and so professional development is often seen through the lens of the department. Where, as a department, do we need to grow? Where, as a faculty or college department, do we need to develop? What are our collective needs?
We're very lucky to have people who are sensitive to the needs of our communities.
What is the biggest challenge facing open education for 2015 and beyond?
The biggest challenge right now is aligning three groups:
The curriculum – The overall training instruction
The jobs – The competencies required for the next step in education
The sector – The unique requirements for the various business markets
For example, in the field of mining, does the mining sector's view of its own workforce development match the jobs that the mines are advertising and the competencies they need? Does that match the curriculum being developed by our institutions? The big challenge for us is to line up those competencies so the sector, the employer, the college, and the student are increasing their chances of being part of a vibrant, growing economy.
The smarter jurisdictions are taking a sectorial approach to ensure the three groups are aligned, which will lead to economic growth and social stability.
What is the future for Tuition-Free Adult Basic Education, and how can other institutions learn from this model?
The current model of Adult Basic Education (ABE) is under threat right now in terms of the free tuition aspect. The government has given institutions the opportunity to add tuition. The College of the Rockies is reviewing the issue, as we think it's worthy of consultation, analysis, and study to ensure we don't do harm to a fragile population that sees tuition-free ABE as one of the transformational and important tools to achieving wellbeing and integration into our social economic system.
We are responding to the opportunity to add tuition, perhaps a bit slower and more methodically than other colleges, because we see it as far more than a funding issue; we plan to study it carefully and respond appropriately.
The best way to understand ABE is that it's provincial curriculum. My recommendation and encouragement to other institutions is to respect the provincial framework that created ABE in the first place, and to help adapt ABE so that it is modern, current, relevant, and valuable for our learners, from a provincial perspective. What we don't want to see is different types of upgrading at different institutions. It would be great to preserve the provincial framework and keep the strengths of that curriculum, but it probably does need to be updated to be more in line with the government Skills for Jobs Blueprint; there's an opportunity for us to work together to improve that system.
Learn More: