In early August, the BCOER Librarians received a nod in the 2nd installment of the NMC Horizon Report: 2015 Library Edition. The NMC Horizon Report: 2015 Library Edition examines key trends, significant challenges, and important developments in technology for their impact on academic and research libraries across the globe.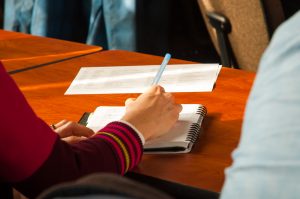 Being referenced in this report, really shows how our small, local efforts have a larger impact on post-secondary education and we are happy to be on the forefront of this growth.
NMC Horizon released its 2nd Library Edition and in it there is a shout out to BCOER within the "Increasing Accessibility of Research Content" section on page 9, under Further Reading.
"It was a wonderful surprise to see that the BCOER was referenced in the 2015 Horizon Report, says Leva Lee, Manager, Open Education Resources at BCcampus. "Librarians are continuing to take the lead on making scholarly research more accessible and now helping to increase awareness and discoverability of high quality open education resources."
Notable quote:
"Open access is gaining traction on a global scale, and scholars in some regions of the world, such as Latin America, have been operating under this philosophy for decades.

As this trend continues to impact the scholarly community at large, there will be more opportunities for libraries to drive and engage in discussions about efficient ways to make access a priority for the long-term." – The NMC Horizon Report: 2015 Library Edition
Find out more about the resources created by the BCOER Librarians:
---
Join us at an upcoming event:
---
---