The 2014-2015 Faculty Fellows Program has come to a close as of October 31, 2015 and we want to express our sincere thanks and gratitude to the three faculty fellows who pioneered our first program.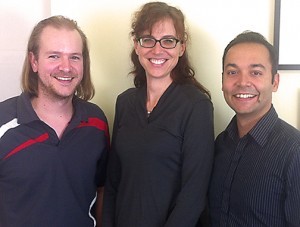 Dr. Jessie Key, a chemistry professor at Vancouver Island University, Dr. Christina Hendricks, a senior instructor of philosophy at University of British Columbia, and Dr. Rajiv Jhangiani, a psychology instructor at Kwantlen Polytechnic University.
With their term coming to completion we asked them to provide a report of their experience in the program.
We had 3 objectives for this report;
to determine the value of the Faculty Fellows program to both the BC post-secondary system, and to the participants in the program, both professionally and personally.
to provide a summative evaluation of the program that can be used to modify and/or improve the BC Open Textbook Faculty Fellows program.
to be used as a tool to better prepare future Faculty Fellows by giving them a base understanding of the expectations, challenges and rewards of participating in the program.
We asked the Faculty Fellows to respond to the following questions in a format of their choosing.
 Coming into the Faculty Fellows (FF)  program, what were your expectations about the FF program. How did you envision the year unfolding? Did the FF program meet those expectations and match the vision you had of the year? Why or why not?
Has the FF program been a worthwhile program for you to participate in? Why or why not? What advice do you have for future FF?
Is there something you were hoping to do more of with the FF program that you were not able to do? Why?
Please provide a synopsis of your activities in 3 areas: Advocacy, Research, Support.
How much time did you devote to FF? Did we ask too much, not enough of your time?
Was $10k adequate compensation for your work?
What resources did you need to do your FF that you did not have?
What kind of orientation do you think is needed for future incoming FF?
Here are the reports:
Christina Hendricks (Blog Format): http://blogs.ubc.ca/chendricks/2015/10/30/report-open-textbooks-faculty-fellow/
Rajiv Jhangiani (Video Format)

Jessie Key (Word Doc Format): Faculty Fellows Final Report
In addition, congratulations to both Christina Hendricks and Rajiv Jhangiani who were selected to be OER Research Fellows with the Open Education Group.
---

We hope to continue the Faculty Fellows program into 2015-2016. For updates on the extension of the Faculty Fellows program please consider signing up for our newsletter to stay informed.