On March 31 and April 1, 2016, the BCcampus Open Education team brought together two faculty members, two librarians, and two instructional designers from across the province to co-develop an Adoption Workshop toolkit.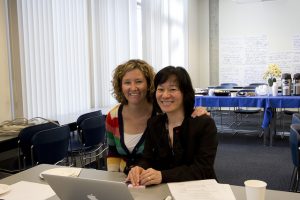 The Adoption Workship toolkit contains:
A complete PPT slide deck (over 70 slides) that highlight the what, why and how of open education. The slide deck includes informative notes to provide context to each slide, and as you will see we have provided a few examples of each slide topic so the facilitator can choose the best slide given the audience. These slides are CC BY which means that all of the slides can be used, remixed, revised, and redistributed for your use at your institution.
A one-page handout on How to Adopt an Open Textbook – this can be reused, revised, remixed, and redistributed.
A one-page handout on OER Repositories which provides a listing of various repositories available to search for OER.
Special thanks to Farhad Dastur (KPU), David Harper (UFV), Caroline Daniels (KPU), Inba Kehoe (UVIC), Gail Morong (TRU), and Lucas Wright (UBC) for being participants and co-developers at the two-day Adoption Workshop Sprint.
If you are interested in having one of the developers above or a BCcampus Open Education team representative present at your institution, about adopting OER the Why, What, and How; we are more than happy to work with you to schedule a time that works best for you and your Institution.
"The Adopting and Adapting OER workshop design sprint was a very productive way to spend two working days. It was wonderful to meet and collaborate with like-minded OER champions and advocates who work in various areas of their educational institutions. We shared resources and ideas and even practiced presenting parts of the workshop. I think the final product will be very useful especially since it was made in a mix and match format…facilitators can simply adapt the content to suit various audiences and time constraints." – Gail Morong, Senior Learning Designer at Thompson Rivers University, Open Learning

"The sprint approach and format was an incredible opportunity to both learn about approaches to engaging and supporting faculty adopt and adapt open textbooks and collaborate on the development of resources for the community. I feel that I left this two-day session with a much more grounded understanding of open textbooks adoption and adaption in general and with a resource, I can share at the University of British Columbia." – Lucas Wright, Educational Consultant/Open Educational Strategist, Centre for Teaching, Learning and Technology, UBC
Want to find out more about adopting and adapting open educational resources?
Join us for a 
1.5-hour workshop
 at the
Festival of Learning
and learn how to adapt OER and open textbooks. This will be a hands-on workshop, please bring your laptop. The workshop will walk participants through the ways in which one can adapt open textbooks from our
B.C. Open Textbook Collection
. We will show participants how to adapt using three methods of adaptation and provide an opportunity for discussion on challenges, benefits, and lessons learned.
This is session is limited to 40 participants so make sure you get there early to secure a seat. 
Presenters:
Amanda Coolidge, Senior Manager, Open Education, BCcampus
Lauri Aesoph, Manager, Open Education, BCcampus
Register for the Festival of Learning. 
Learn more: