BCcampus is a strong advocate for creating accessible teaching and learning materials for students and teachers in B.C. Align this with the work that our Open Education team is doing to make higher education more accessible, flexible and affordable for all learners across the province and you've got a winning combination.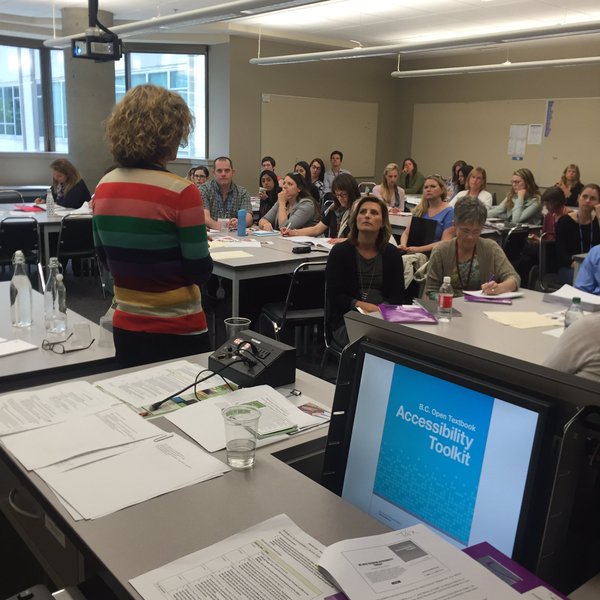 New open educational resources
In the fall of 2015, we released 23 newly adopted Common Core Trades textbooks for B.C.'s Trades Apprenticeship Programs, in partnership with Open School BC and Camosun College, which to date have been made available in PDF, ePub and HTML formats. As of this month, we've adapted and added 23 MP3 audio files created by Centre for Accessible Post-Secondary Education Resources BC (CAPER-BC) to the listing of resources available with these modules, making these materials better accessible to all students in B.C.
B.C. Open Textbook Accessibility Toolkit
The B.C. Open Textbook Accessibility Toolkit is a collaboration between BCcampus, CAPER-BC, and Camosun College. The Centre for Accessible Post-Secondary Education Resources of British Columbia (CAPER-BC) provides accessible learning and teaching materials to students and instructors who cannot use conventional print because of disabilities.
The toolkit is available in a variety of downloadable formats (PDF, EPUB, MOBI, XHTML, and WordPress XML). Within the toolkit you will find information on how to make content accessible, with specifics on:
Images/charts/graphs/maps
Links
Tables
Multimedia
Formulas (math and scientific)
Font size
Colour contrast
Award winning
Amanda Coolidge, BCcampus, Tara Robertson, CAPER-BC, and Sue Doner, Camosun College are the proud recipients of the 2016 Open Education Excellence Award for Creative Innovation from the Open Education Consortium for their work and development of the  B.C. Open Textbook Accessibility Toolkit.
Notable quote
"Access to educational materials is extremely important to BCcampus. We believe that every student should have equal access to education and the Accessibility Toolkit is one initiative that enables faculty to make suggested changes to content to ensure that students with print disabilities are able to access their learning materials." – Amanda Coolidge, Senior Manager, Open Education, BCcampus
Want to find out more about Accessibility and Universal Design for Learning? Join the session at the Festival of Learning.
Wednesday, June 8  – 9:00am – 12:00pm – An Introduction to Universal Design for Learning and Accessibility Practices
This three-hour workshop is an introductory workshop to the concepts of Universal Design for Learning (UDL) and Accessibility Practices.
In addition to introducing the three main principles, this session offers participants concrete examples about incorporating UDL into their teaching and design practices, as well as "take away" promising practices and additional resources for further exploration.
We will use a set of activities/questions to engage the participants in asking and answering questions around their institutional and departmental priorities, individual goals in the path of universal design and accessibility in their course design, teaching, technology integration, optimizing student engagement.
The activities are designed to promote critical thinking on the key questions on the what, how and why of UDL and Accessibility.
Seating is limited, so please be sure to get there early to secure your spot.
Learn more:
---
Join us at an upcoming event:
---
Stay informed with BCcampus by signing up for our newsletter, visiting our calendar and following @BCcampus on Twitter.
---