We are less than a week away from welcoming 400+ attendees to the Festival of Learning on June 6-9, 2016. For all of you that are attending, here is a list of items to help you get ready for the Festival. If you are still hoping to join us, there will be a limited amount of passes available on-site while supplies last.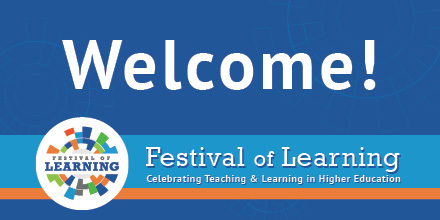 Registration
Your festival pass includes access to sessions (first-come, first-serve), workshops (require pre-registration to gain admittance), meals (breakfast, lunch & refreshment breaks), and select social events. We are accepting walk-in registrations at the door for 1, 2, 3 or all 4 days (until we reach capacity).
Location
The Festival of Learning will take place at the Delta Burnaby Hotel & Conference Centre, 4331 Dominion Street, Burnaby, B.C. Parking is free. Here's a map, directions & parking info.
Check out the "Getting There" page for more details about travel by plane, SkyTrain (including a free shuttle from select stations) and automobile.
Accommodation
There are still a few rooms left at the inn! Contact the Delta Burnaby Hotel & Conference Centre  (Toll-free: 1‑888‑890‑3222).
Registration & Information Desk – 2nd floor by the elevators
Need help? We've got you covered daily from 7:30 am – 5:00 pm at the Registration & Information Desk – just come and ask. Wayfinding signs and volunteers (indicated with bright yellow nametags) will be positioned to help you locate the Desk from the hotel lobby and parking. Be sure to stop by to pick up your name tag!
This will also be the central location for any questions, concerns, comments, lost and found items and area for presenters to seek any additional support. It is also the spot to purchase any additional or new ticket(s) to the Night Carnival.
Festival Program & Schedule
You may want to get a head start on planning your schedule – there are 130 sessions being facilitated by 219 presenters! There is so much to choose from. We also have a highly subscribed conference and so sessions will be filled with participants.
View the complete schedule here and download or print the PDF. We use sched.org and encourage you to use the mobile options of the Festival schedule and customize your own Festival experience. Plan ahead by accessing the online descriptions of sessions, learn who is facilitating the session and what might be of interest. Consider "filtering" the sessions by clicking on the coloured dots on the schedule that will show you only that strand (e.g., orange dot = Scholarly Teaching and Learning session or green dot = Educational Technology session).
A limited number of print copies (of just the schedule overview) will also be available at the Registration Desk.
Sessions
All sessions at the Festival are open for any registrant to attend; no pre-registration required. It will be a first-come, first-seated situation until we reach room capacity. You are best to arrive early to get a seat.
Note: If you used the sched.org app to 'indicate attendance' for a session, please note that this is not a formal registration system but rather a social media application to share your interest in a session, connect with others and build your own personal schedule. Please still arrive in time to get your first-come, first-seat spot.
Workshops
Eight of the Festival offerings are called "workshops" and require pre-registration to gain admittance. You would have booked the workshops through the registration system on the Festival of Learning website, part of the process when paying, and not through the sched.org website. If there are seats available on the day, walk-ins will be welcome.
Meals
Breakfast, lunch, and breaks will be provided daily in the area outside of Grand Villa Ballrooms 1 & 3. You are welcome to enjoy your meal sitting down at the tables in Ballrooms 1 and 3. The rooms are used for morning sessions starting at 9:00 am and afternoon sessions starting at 1:00 pm so please vacate 10 minutes or so prior to allow for set up:
Breakfast:  7:30 am – 9:00 am
Morning Break: 10:30 – 11:00 am (please note that some sessions start at 10:45 am)
Lunch – 12:00 pm – 1:00 pm
Afternoon Break: 2:30 – 3:00 pm (please note that some sessions start at 2:45 pm) 
Social Activities
Monday – Dine in or out, there is no pre-planned social activity. Try one of the seven restaurants on site (in the hotel and casino) or take the free shuttle to Metrotown Mall for more options. Additionally, check out Yelp for several other restaurant options in Burnaby.
Tuesday – Pub night (and trivia!) at Personas in the hotel (no host), starting at 5:00pm. Over 100 of you indicated you will be coming to pub night, so it should be a great time! If you haven't RSVPd by now, no worries – there is still room. Just show up, unwind and network with the other conference attendees.  Thanks to gold sponsor Turning Technologies Canada for bringing the trivia fun! There will be prizes, folks!
Wednesday – Night Carnival from 5:00 pm in the Grand Villa Ballroom at the Delta Burnaby Hotel & Conference Centre. This is not your typical conference social! Tickets required and on sale at the Festival Registration and Information Desk. Many thanks to platinum sponsor Kwantlen Polytechnic University for their support for this very fun and exciting event!
Social Media
If you are tweeting or taking pictures, please use the #FoL16 hashtag. Also, if you have questions, please tweet them to @BCcampus, using the #FoL16 hashtag.
Photos
Photographs, video and audio recordings will be taken at the Festival of Learning and shared on BCcampus websites and other materials, under the Creative Commons Attribution 4.0 International (CC BY 4.0) License. At the time of registration, you would have indicated whether or not you give permission to publish materials you may appear in. If you did not give permission at that time, or if you did and have since changed your mind, there will be red nametag lanyards available to indicate to our photographer and others that you do not wish to have your photo taken. Just pick one up at the registration desk and switch it out for the black one.
Thanks to Sponsors of the Festival of Learning!
Last but not least, we would like to thank all Festival of Learning sponsors for helping to make this event a success!

---
Stay informed with BCcampus by signing up for our newsletter, visiting our calendar and following @BCcampus on Twitter.
---