BCcampus wants to get more feedback from our community. Your community. To do so, we have established a committee to help guide us on institutional needs and those of the system as a whole.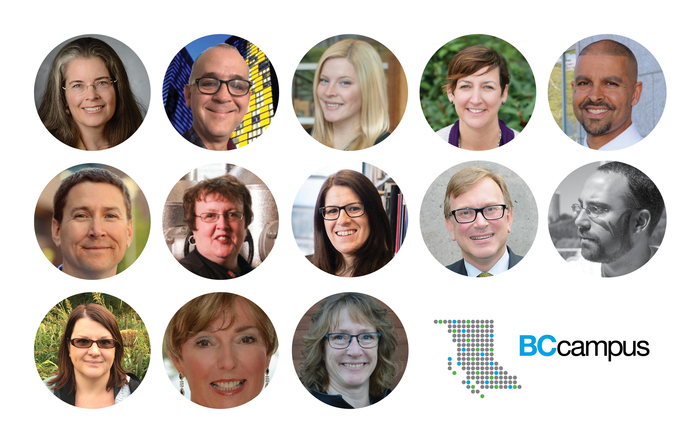 Back in December, we put a call out for nominations and proposals for the BCcampus Advisory Group and were blown away by the positive reaction from the applicants that put their hands up to be a part of this inaugural group – All of which were excited and inspired to inform the work that we do across the B.C. post-secondary sector.
To be considered for this group, we searched for people who work in one of B.C.'s post-secondary institutions in a role that interacts with and has knowledge of BCcampus initiatives.
It was difficult to pare down the group, having such an impressive list of educators interested in the role, but in the end, we chose 12 members to join Mary Burgess, Executive Director in the formation of the BCcampus Advisory Group. They are:
Farhad Dastur, Faculty Member, Dept. of Psychology, Kwantlen Polytechnic University
"My involvement with BCcampus involves our mutual interest in promoting the open education movement. Open education takes the spirit of sharing, giving, collaboration, and transparency and leverages those ideals with the Internet's flattening capabilities, mobile computing, and the wider freedoms of flexible copyright and 'copyleft.'
Ross McKerlich, Education Technology Coordinator, Okanagan College
Mariel Miller, Education Technology Manager, Technology Integrated Learning, University of Victoria
Suzanne Rackover, University Librarian, Emily Carr University of Art + Design
"I feel that as a library professional it is necessary to be actively engaged with other members of the educational community as well as give my time to serve that community.  As a librarian I am particularly interested in seeing the wider use of open educational resources, open textbooks and the wider sharing of digital course resources to mitigate the strain caused by the rising costs of educational resources."
James Gifford, Associate Professor of English, Director of the University Core, Fairleigh Dickinson University
Marianne Gianacopoulos, Instructor, Langara School of Management, Educational Technology Advisor, Educational Technology department, Langara College
"I like challenge and I like change. Today's education landscape is full of both and I want to be part of this movement in a positive and open way. I bring energy, ideas, and a desire to help move teaching and learning to a place where being open to new avenues for delivery of content, instruction and student engagement becomes the norm and focus across all teaching departments, subjects and institutions."
Sanja Boskovic, Department Head, Teaching Involved in BC Open Text Book Project, BCIT
"For me education is a value that has to be passed to the future generation and being the member of this advisory group could give me the opportunity to accomplish that. I have 25 years of experience in education. My educational background has connection with education from different countries and that could give opportunity to approach certain educational goals from different prospective."
Tracy McIntyre, Educational Advisor, Northwest Community College        
"I am passionate about education as a foothold to improve the social-economy of individuals and families and thereby neighbourhoods and communities."
Mary-Anne Neal, Associate Faculty, Royal Roads University (also contracted with UVic and Camosun College)                       
"I am currently working with 5 Dene communities in the Sahtu region of the NWT. Their experience with the education system has been primarily negative, and the band leaders have asked me to reimagine education in their communities. Over the next few years, I plan to implement principles of 21st Century Learning, including technology-enhanced learning. Sitting on the advisory group will connect me with people who can help the Dene Nation. The educational challenges facing these communities are similar to challenges faced in other parts of Canada and the world."
Stephen O'Connor, Chief Information Officer, Capilano University
Peter Arthur, Tenured Faculty Member – Faculty of Education, University of British Columbia Okanagan. Past Founding Director of the Centre for Teaching and Learning
"I would like to draw on my experience of working with many provincial counterparts to make a strong contribution to the great work BCcampus is doing to strengthen education in B.C."
Claire Hay, Associate Professor of Geography and the Environment, University of the Fraser Valley
"I am also committed to the post-secondary education sector and see student success as an integral part of what we do at the various universities and colleges in B.C.  I believe I can help BCcampus achieve that through supporting teaching and learning initiatives."
The BCcampus Advisory Group is chaired by Mary Burgess, Executive Director, BCcampus and will be co-chaired by a nominated member of the group. Stay tuned for more on this.
In addition to the BCcampus Advisory Group, we've also established more formal feedback relationships with several other existing groups; the Stewardship Committee for ETUG (SCETUG), British Columbia Teaching & Learning Council (BCTLC), BC Colleges, BC Association of Institutes and Universities (BCAIU) and Research Universities' Council of British Columbia (RUCBC). We will be meeting regularly with these groups to discuss our plans and are looking forward to being better informed about institutional and system needs from the diverse roles represented through these groups.
Notable quote
"We see our relationship with the BCcampus Advisory and other partner groups as a concrete way of ensuring we hear regularly from a variety of stakeholders about what matters to them. We want to help drive learning innovation and powerful practices in BC. To do that, we need to be able to ask specific questions, get feedback, and implement ideas in measurable ways we can report back on. We are so excited to build these connections and share the benefits of them with the whole system." Mary Burgess, Executive Director, BCcampus
Learn more:
---
Join us at an upcoming event:
---
To stay informed with BCcampus by signing up for our newsletter, visiting our calendar and following @BCcampus on Twitter.
---