BCcampus is leading the collaborative revision of the openly licensed 2011 Practical Nursing (PN) Program Curriculum Guide and Access to Practical Nursing (APN) Program Curriculum Guide on behalf of the Ministry of Advanced Education, Skills and Training (AEST).
Post by BCcampus' editorial team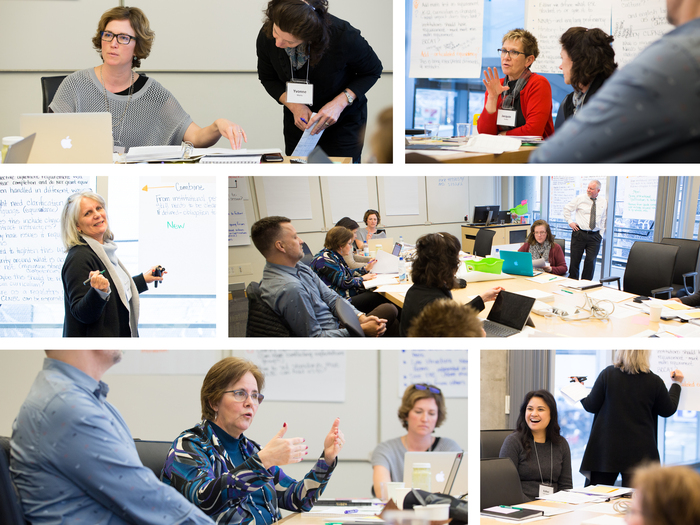 Through the snowy Winter of 2016 and Spring of 2017, a 10-member Steering Committee representing B.C. public and private post-secondary institutions, health authorities, Chief Nursing Officers, Ministry of Advanced Education, Skills and Training, Ministry of Health and the College of Licensed Practical Nurses of British Columbia gathered together to provide guidance and direction on the curriculum guide revisions (see "Proposed Changes to BC Provincial PN Curriculum Guide").
In June 2017, BCcampus and Steering Committee Members led a team of approximately 30 educators from across the province and sector in a two-day open education resource (OER) sprint in Vancouver, BC, addressing each of the recommendations. The revised draft guides include a table up front that highlights all revisions to the curriculum. One significant structural changes is the removal of the Core Program Standards and Teaching and Learning Resources into an associated Supplement. The purpose of creating a Supplement is to house content that is not specific to the program curriculum and provide a document for the more dynamic content, such as the teaching and learning resources.
Until November 15, 2017, BCcampus is inviting stakeholders to complete a survey of the Draft Guides and Supplements.
In addition to revising the PN and APN guides, a request was made to BCcampus by AEST to provide recommendations for two alternate admission pathway scenarios to the Access to Practical Nursing program. The Subcommittee made a primary recommendation to capture evidence through a pilot project that would use a standardized competency-based exam before recommending changes to the current admission pathways. Stakeholders are invited to complete a review of the recommendations in this document.
Notable quote:
 "We are grateful to the many people who have participated in this collaborative effort and appreciate the opportunity to make space in the system for this type of consultative work." – Michelle Glubke, Senior Manager, Collaborative Projects
Learn more:
---
Join us at an upcoming event: