The Early Years Portal Project (EYPD) has just wrapped up the second year of its three-year mandate to support the B.C. Early Years Strategy by hosting, developing, and evaluating a professional development web portal. Engagement was the primary objective and dominant theme that guided the EYPD project during the second year. Factors that influenced engagement were explored through this key question: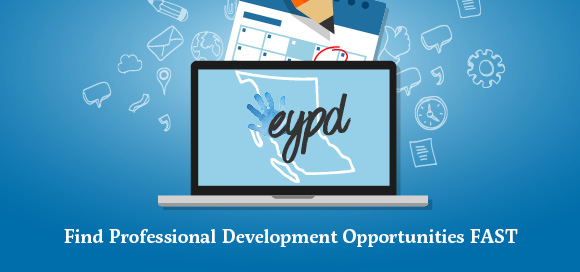 How do we continue to engage a broad spectrum of early years professionals to use the EYPD portal, particularly those in remote, rural, or Indigenous communities?
Post by Kathreen Riel, Project Manager, Early Years Portal Project
Several secondary questions were considered to inform and evaluate our understanding of user engagement:
Who is using EYPD?
What training events are posted on EYPD?
What are the gaps in types of training events posted?
This infographic shows trends and patterns in visits to EYPD and posted training events. For a closer look, please visit: https://earlyyearsbc.ca/eypd-summary-report-for-2017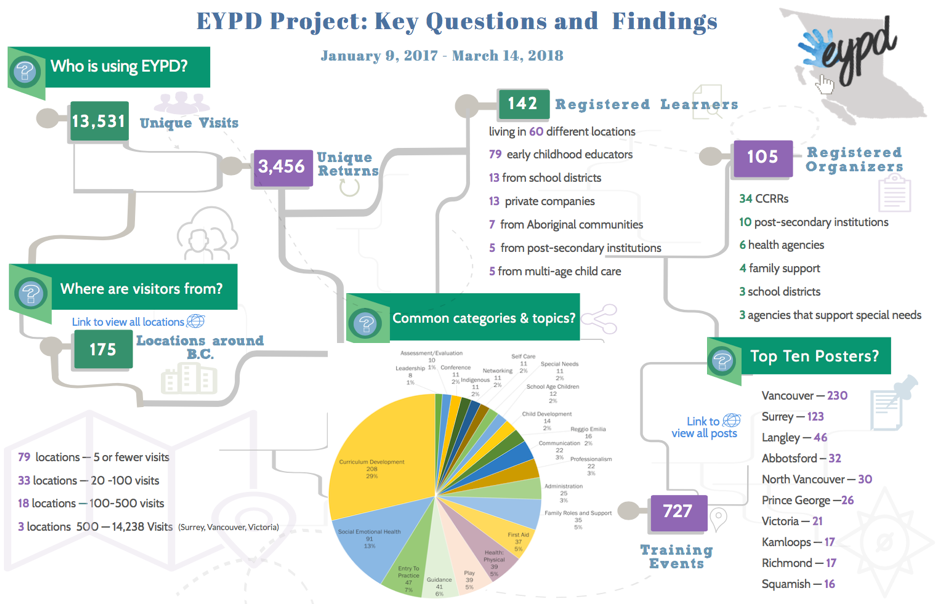 Results show that more people throughout B.C. have visited the EYPD portal, particularly in rural and remote regions, but there is still potential for more visitors to return to EYPD after their initial visit. There has been a significant increase in those who signed up on the EYPD portal as learners. This increase is due in part to coordinated efforts with the Provincial ECE Registry that now encloses an EYPD brochure with licensing certificates. These certificates are sent out to all new and recertified professionals.There was a steady increase in the number of training events posted on EYPD throughout the second year. Many of these training events reflect professional workshops for early care and learning providers. Most training events are in the Metro Vancouver area; however, there was a notable increase in posted events in other parts of B.C. since August 2017.
Process and Products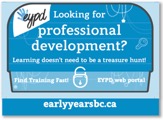 BCcampus continues to collaborate with an advisory group representing key stakeholder groups from early years agencies and services throughout B.C. This collaborative design process informs the iterative development of EYPD. During the first year, development of EYPD focused on supporting early years training providers with the promotion of professional learning opportunities. In year two, EYPD development provided features that would benefit learners – those who seek professional development opportunities on EYPD. The following functions were released with the potential learner in mind.
myEYPD Section
This is an area on the EYPD web portal that provides users with several useful functions:
A count-down clock that indicates how many days left until a user's licence expires.


An online table that allows users to keep track of their professional hours and record training events they have attended
A share function that enables users to publish training events they plan on attending to their personal online calendar.
A training event calendar that appears in the left vertical navigation section that reveals training events on any given day when a user hovers over a specific date on the calendar.
A Re-designed EYPD Homepage
This re-designed homepage aims to clarify the purpose, audience, and scope of the web portal and includes these prominent elements:
A more simplified text search to minimize extraneous fields and quickly reveal the most relevant information for those searching for training events.
Upcoming and Recently Posted sections that show a summary of training events that users may quickly scan through without leaving the homepage.
Sponsorship information illustrated in the header and footer of the website.
A value proposition – words that boldly invite, or inspire: Explore, Learn, Grow
An overview of EYPD illustrated in a short introductory video displayed in the footer of the homepage.
As EYPD embarks on its final year, questions about engagement and new questions investigating impact will be explored in order to offer recommendations to promote quality and support workforce capacity for the early years sector in British Columbia.
Learn more:
---
Join us for an upcoming event:
---
To stay informed with BCcampus by signing up for our newsletter, visiting our calendar and following @BCcampus on Twitter.