Thank you for contributing to the wellness of the world
Now that we've had a few days to reflect on #FoL18, we wanted to share some favourite moments and memories!
Post by BCcampus' editorial team
What made the 2018 Festival of Learning experience so unique?
Was it the keynote speakers, inviting lounge areas, and social events? Maybe it was the brilliant conversations led by educators and innovators from across the province and around the world? Or was it the feeling of inclusion that spread throughout the event – from the day tickets went on sale through to the last of the post-event surveys being submitted? It was all of these, and so much more.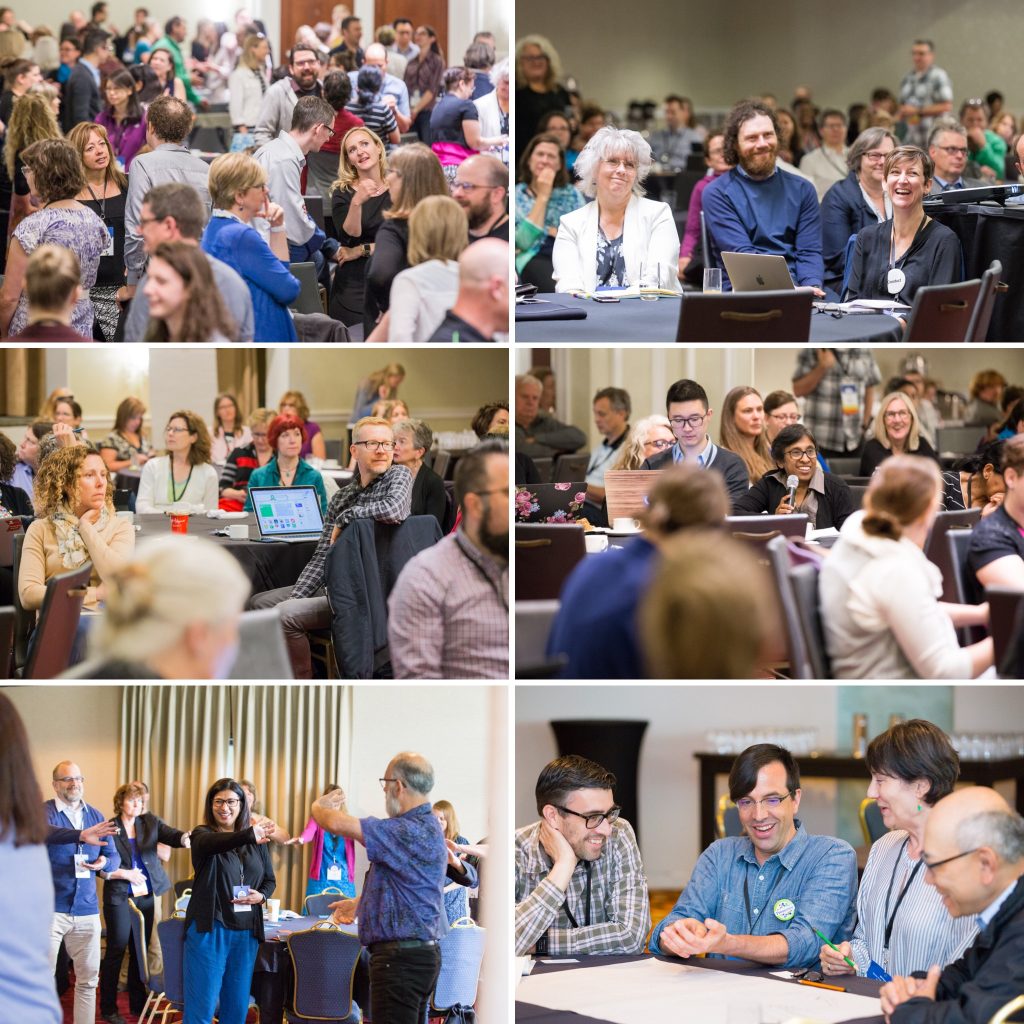 BCcampus Executive Director Mary Burgess explained that, "teaching and learning underpins everything we do. The Festival reinforced that priority, in an accessible, inviting, celebratory, and human way. It was gratifying to see that the work we've been doing, the work the BCTLC and ETUG and B.C.'s open educators have been doing, and the work the institutions have been doing around advancing teaching and learning is taking hold. People are changing their practice to do things differently."
"It was a team effort, and everyone did a fantastic job to make this event a success," shared Mary. "We're incredibly grateful for the direction and dedication that Tracy Roberts and Christy Foote – our event planner – demonstrated before, during, and after the Festival. They are the remarkable drivers who made sure this event was accessible, inclusive, and enjoyable for everyone who attended."
Notes of success
The keynote speakers for #FoL18 contributed so much to the overall tone and feeling of the event.
Jesse Stommel helped us set the mood for the conference on the first day – he was energizing and encouraged us to focus on empathy and compassion, and advocated for a caring approach to working with students.
"As I left today, I told folks organizing #FoL18 this was the best-designed conference I've been to. … Plus, there should be childcare at every single education conference." ~ Jesse Stommel via Twitter
On day two, Jonny Morris moderated a special panel conversation with students and academic leaders. It was powerful to hear the perspectives and stories of the students, with the opportunity to hear from academic leaders as whole people. Jonny was a masterful moderator, elegant and powerfully supportive, and the session was a good reminder of the value of involving our students directly in our committees, programs, and panels, and of having honest conversations about mental health.
On the final day, Monique Gray Smith brought a sense of calm, encouraging us to connect with each other in the moment: being present and reiterating the message of empathy and compassion. Her powerful questions: "What do you want them to learn, and how do you want them to feel in your classroom?" really resonated with the audience and led to stimulating conversations that have carried on beyond the event.
And of course, no one will forget the feeling that overtook the room (especially the standing ovation!) when Monique invited all of us to thank colleagues in the room for 'contributing to the wellness of the world.' From instructors with less than a year of experience to those who have given back to the learning community for over 45 years, her recognition of everyone's contributions was touching and appreciated.
Name others' gifts
Drawing from one of the lessons Monique shared, it's important that we recognize the unique abilities of those who helped create this successful Festival of Learning.
Tracy Roberts, Senior Manager, Learning & Teaching at BCcampus, told us, "The volunteers were magnificent – they were everywhere, working from the wee hours of the morning until late at night, smiling the whole time. So many BCcampus staff members participated, even those whose roles are typically more 'behind-the-scenes.' It was great for our team to see how their work – whether in finance, technical support, administration, or wherever – makes these big events possible and helps BCcampus bring people from across the province and beyond together in service of teaching and learning in B.C. post-secondary education."
Clint Lalonde, Manager, Educational Technology and Development at BCcampus, shared his thoughts on the event: "I can't tell you how immensely proud I felt this week as part of the BCcampus team. It was evident that this conference was built with love, care, and an incredible attention to detail that participants noticed and appreciated."
Organized excellence
It was the little things that made a big difference: tea served in porcelain pots, with real plants and healthy treats on the table; complimentary childcare; all-gender washrooms; and a graffiti wall on the stairwell where conversations evolved, comments were shared, and kind words were offered. Christy's attention to detail and demand for excellence enabled an outstanding participant experience, and we're looking forward to using what we learned through this event to improve our activities in the future.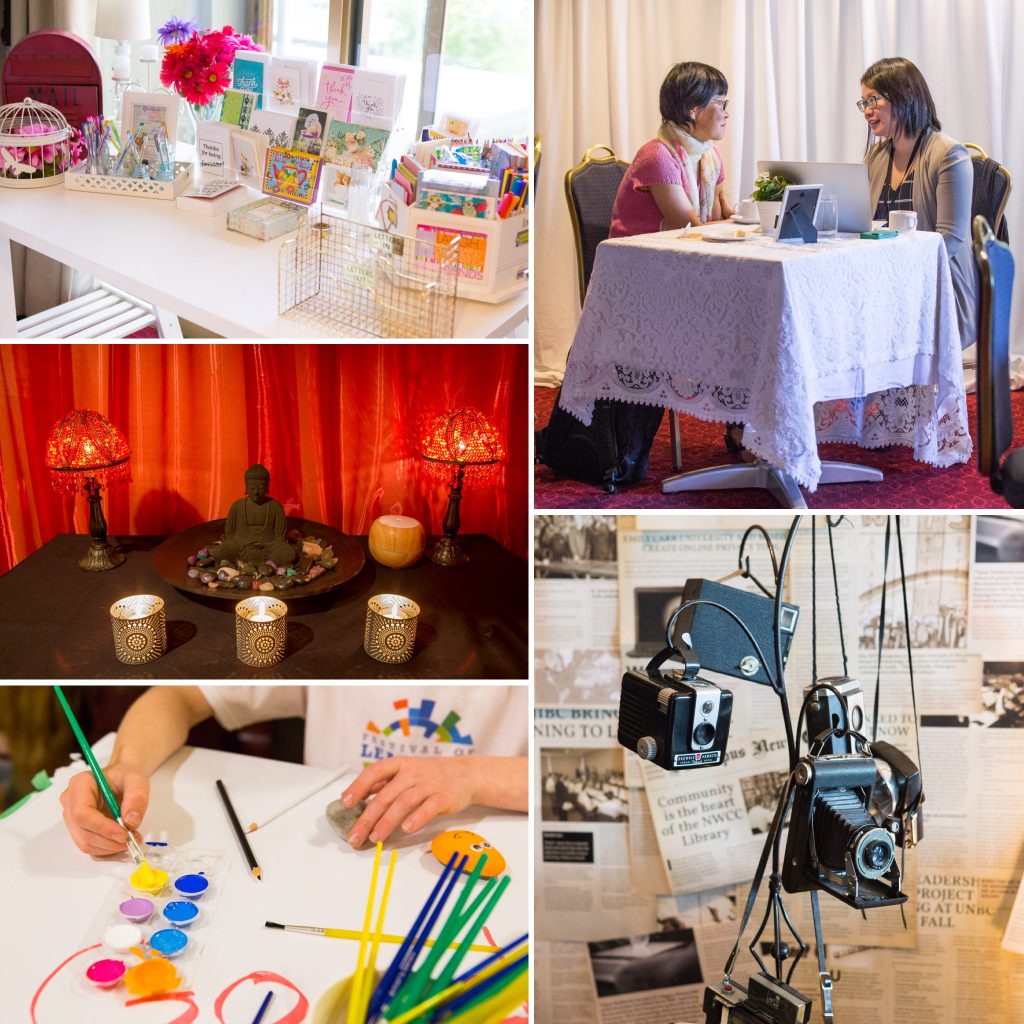 Hashtag brilliance
Clint ran the 2100 tweets tagged with #FoL18 through TAGS, a visualization tool created by Martin Hawksey. He has written a great article to explain how the tool works and how it can be used to propel conversations in the teaching and learning space. Be sure to check out the tool to connect with some of the people you met – or wanted to meet – at #FoL18
Tell us what you think
We've sent a request for feedback to everyone who attended the Festival of Learning and we're looking forward to reading your responses. Early indicators show that you had as much fun as we did, and we're looking closely at the responses to ensure the next event can build on the success of everyone's contributions at #FoL18. If you haven't had a chance to share your thoughts – please hurry. The survey closes on June 14th.
#FoL18 Sponsors
This event was made possible through the generosity of our sponsors and we are grateful for their commitment to teaching and learning in B.C. Please join us in thanking them for their contributions:
Silver Sponsor
Bronze Sponsors
Donors
Notable quotes:
"Gender-neutral bathrooms, child care, and code of conduct supports visibly available at the conference… Amazing work on making this an inclusive and thoughtful conference all! #FoL18" ~ Erin Fields via Twitter
"If there is one thing we can do as educators it should be this – "Your role as an educator is to name the gifts students have @ltldrum #FoL18" ~ Lucas Wright via Twitter
"I feel like it's distinctly Canadian that you don't have professional development, you have a "festival of learning." #FOL18" ~ Robin DeRosa via Twitter
"I can't count how many people thanked me personally. Someone I've never met came up to the registration desk when I was there and said, "I just need to THANK someone – anyone – for how great this is!" ~ Tracy Roberts, BCcampus Senior Manager, Learning & Teaching
"The conversations people were having were about trying to find ways to enable students to bring their whole selves to the classroom; to show up and be seen. It was like a blanket of shame was being lifted from people who want to be themselves in their work, and want students to be themselves, and that's hugely gratifying to me." ~ Mary Burgess, BCcampus Executive Director
Learn more:
---
Join us for an upcoming event:
---
To stay informed with BCcampus by signing up for our newsletter, visiting our calendar and following @BCcampus on Twitter.