These past few months we have collaborated research for the BCcampus Research and Advocacy fellowship on how open pedagogy (OP) can facilitate the growth of critical information literacy (CIL) skills in students.
Post by Erin Fields, UBC Liaison & Flexible Learning Librarian, BCcampus Research & Advocacy Fellow and Adair Harper, Graduate Student Librarian for Xwi7xwa Library at UBC, MLIS Student
In the past, information literacy has focused more on skills development, including accessing information within knowledge systems like databases, catalogues, and indexes. With the introduction of CIL to librarianship, instruction continues to teach how information is created, accessed, and used but also works to make visible the impacts of the social, political, and economic systems that influence what is created, how it is created, and how it is made accessible.
At its core, open pedagogy is teaching practices that facilitate the collaborative and transparent construction of knowledge made openly available through online communities. OP de-centres the instructor from the information expert to a facilitation role that supports student negotiation of ideas and transforms their learning into open knowledge sources (e.g. blogs, wikis, videos, etc.).
OP offers information professionals the ability to teach CIL through engaging in the process of knowledge creation. Through CIL instruction, students can learn about the context of information creation within traditional knowledge systems like the library, and through OP students can actively work to disrupt those systems.
Much of our research has focused on looking at the intersections between OP and CIL in the literature. We are searching for alignments between their goals and ideals with a particular focus on library frameworks for teaching CIL and how OP can provide authentic, inquiry-based instruction on how knowledge is constructed and made accessible in both open systems (e.g. Wikipedia) and closed systems (e.g. libraries).
In addition to the literature review, we have collaborated with Dr. David Gaertner, instructor in the First Nations and Indigenous Studies Program at the University of British Columbia, on a Wikipedia gap analysis assignment in FNIS 220: Representation and Indigenous Cultural Politics. The gap analysis assignment focuses on how knowledge systems like Wikipedia support or fail to provide a space for inclusive representation of Indigenous culture and identity. We offered a workshop in the FNIS 220 class that focused on how knowledge is constructed in traditional (e.g. library) and open knowledge (e.g. Wikipedia) systems, how to critically analyze who is creating information, the context of the creation process, and how information is made accessible in these spaces. In a second workshop, students took those analyses and worked in small groups to edit Wikipedia to improve Indigenous articles.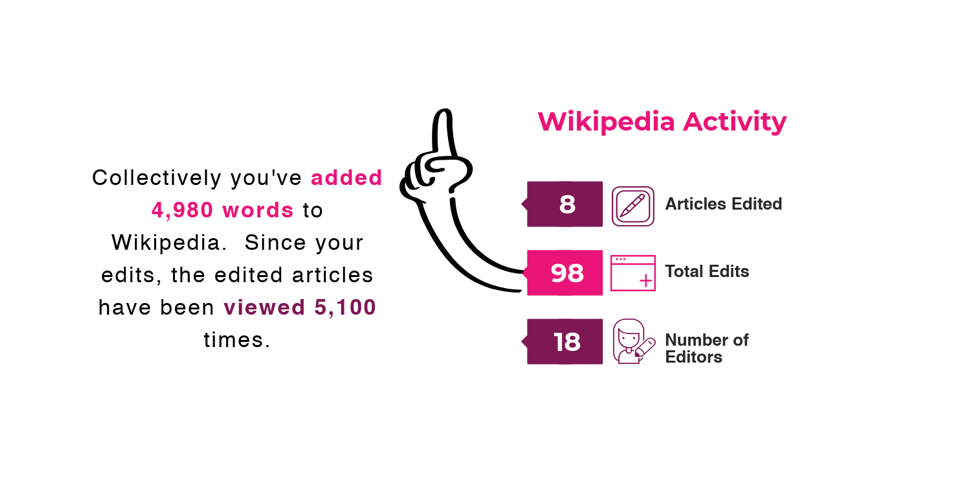 This experience will be used in our research as a case where OP facilitates CIL skill development in students while they actively change and improve what knowledge is made available in Wikipedia.
At the beginning of our research we considered developing an assessment of the FNIS students' work to understand how they were engaging in CIL practices in their gap analysis; however, schedules didn't provide us enough time to engage with the students about the study and allow for considered and thoughtful discussion. We wanted the students to have as much autonomy as possible to consent or not consent to be a part of a study. We recognize that students have intellectual rights over their work and the classroom needs to be a safe and supportive space.
Initial Reflection
While we are in the process of analyzing the literature and unpacking the instruction sessions and student interaction, there are some initial ideas coming together:
While there are a number of similarities between OP and CIL, they also have unique areas of focus. OP focuses on the practice of teaching and the ways to structure practice so that it supports student-centred knowledge creation in an education environment that has a large community impact. On the other hand, CIL in librarianship, as conceptualized in the ACRL IL Framework, encourages learners to develop a practice of critical self-reflection that allows them to better understand and question the political, economic, and social structures of information systems. While encouraging dialogue and reflection is a focus for CIL in the library framework, this is a relatively new shift for librarianship and there remains some difficulty in moving away from past practices focusing on objectives and standards.
While OP and CIL are unique, they also have the potential to be complementary in practice. Issues of information privilege, authority, and unpacking the social construction of knowledge and knowledge systems are important to both OP and CIL as they heavily draw upon critical education pedagogy literature and critical consciousness.
Through OP, CIL has the potential to move student-centred action forward by changing the information and structure of open information systems. As with our example of the Wikipedia-based assignment, students were able to unpack both the open Wikipedia system and the closed library system while having the opportunity to create, change, modify, and improve representation and inclusion within the open system.
Although not necessarily a part of our research question, the investigation of First Nations and Indigenous topics within open systems like Wikipedia are raising interesting and complex questions as to how Indigenous knowledge systems interact with OP.
By asking students to engage with Wikipedia we found an accessible way to talk about information production communities, the construction of authority, and issues of bias and neutrality in information sources, in addition to a more basic overview of Wikipedia as an information platform. There were a lot of big ideas to cover and we weren't sure how much would land with the students. Ultimately, we found that the students were quick to pick up on the CIL ideas we introduced and were soon critically assessing the ubiquitous OP platform.
The Future
As our research progresses we hope to continue working with David Gaertner in integrating open practice into his courses. We are also investigating ways to extend this project with a specific focus on cross-campus partnerships in the improvement of First Nations and Indigenous representation in Wikipedia.
We are more than happy to talk about our research with anyone who is interested.
Notable quote:
"I feel grateful to be in a library and information studies program at a time when CIL is an increasingly common part of the conversation around how librarians can better their learning communities. Reading James Elmborg and Paulo Freire, I was encouraged at the possibilities for CIL and critical pedagogy (CP) in Library instruction but found it more difficult to imagine what this praxis looked like."

"Working with Erin and teaching in the FNIS 220 class has been an incredibly valuable experience in considering both how OP can facilitate CIL development in students, and how critical pedagogy can inform the planning and facilitation of library instructional sessions. As we met to plan the first session, we found that there was so much rich content that we wanted to cover. – Adair Harper, Graduate Student Librarian for Xwi7xwa Library at UBC, MLIS Student