I recently attended the first-ever Liberating Structures (LS) Global Gathering in Seattle. What a treat to be with 300+ fellow LS enthusiasts!!
Post by Tracy Roberts, Senior Manager, Learning and Teaching, BCcampus
At times it felt like a family reunion, and a conference, AND a giant studio/laboratory for facilitators – lots of experiments and approaches and invitations that may NOT fly in the normal course of our facilitation work, but it was game on at the Global Gathering and off we went boldly in the direction of just trying stuff.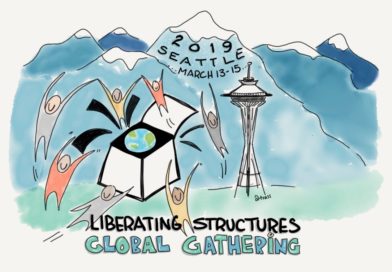 Just a few (of many!) of my takeaways:
I want to attend more to the LS Principles, not just as content in workshops and user groups I support, but in how I show up in the world in general.
LS people are experimenting and inventing ways to create more reflective pauses between the inevitable excitement and energy that LS calls forward from groups. One is spiral journaling and I'm going to weave it in.
Non-LS stuff: SCARF model (so useful!), bring in/use poetry (thanks Neil), 36 questions…, Happiness Hypothesis.
LS Stuff to try, try again, or do more of: Anxiety Circus (25/10 for surfacing worries/concerns), 1-2-4-all dance party (like it sounds), Conversation Cafe (had such a good experience! this is an under-used LS for me), giant Ecocycle on the floor!
Fingers crossed it becomes an annual – or biennial – event. Either way, I'll be one of many, I'm sure, to shoot my hand up to volunteer to help make it happen, I love this community!
Learn more:
Join us for an upcoming Liberating Structures Workshop to discover how you can bring these effective strategies to the sessions you lead.