By Leva Lee, Manager, Learning + Teaching
The BCcampus Online Book Club is back! This free, open, online professional learning event runs September 9th – November 15th, 2019. The book selected for this session is Small Teaching: Everyday Lessons from the Science of Learning by James M. Lang.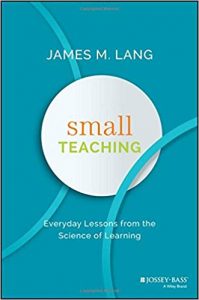 There are nine wonderful and highly knowledgeable facilitators from our post-secondary community that will lead our discussion on each chapter topic: Peter Arthur, Gina Bennett, Asif Devji, Isabeau Iqbal, Laura MacKay, Sylvia Riessner, Keith Webster and Lucas Wright.
In the spirit of continuous improvement, we've incorporated feedback from the first Book Club offering, and will use Mattermost chat and Big Blue button web conferencing, offered by the OpenETC, to provide support for interaction between participants.
Members who are new to this Book Club might find our first selection of interest: How Learning Works: Seven Research-Based Principles for Smart Teaching by Susan A. Ambrose, Michael W. Bridges, Michele DiPietro, Marsha C. Lovett, Marie K. Norman, and foreword by Richard E. Mayer.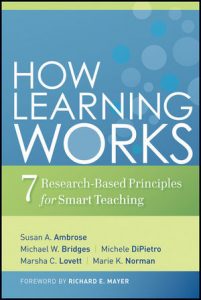 If your interest is piqued, we encourage you get ahead with a summer reading of Small Teaching… which should be readily available from your local campus library.
All are welcome who are interested in teaching and learning, sharing ideas, and exploring our Book Club as an informal and fun way for us to learn together and meet new people in our community.
If you have any questions, send a note to ltet@bccampus.ca or Leva.lee@bccampus.ca
Follow us on Twitter @BCcBookClub #BookClubBC