An excerpt from the BCcampus Open Education Pressbooks Guide by Lauri M. Aesoph
This section defines plugins in Pressbooks and describes how to:
Activate select plugins in Pressbooks
Use the H5P plugin
Use the Hypothes.is plugin
Use the Quick LaTeX plugin
Activate plugins
Plugins are software components that can be added to an existing computer program, such as Pressbooks, in order to provide additional features.1
There are three plugins that account holders can activate for each book within their account: H5P, Hypothes.is, and WP Quick LaTeX. Only the Administrator for a book has the ability to do this. If you are the Administrator of more than one book, you will have to activate the plugins in each book you want them turned on in.
To activate these plugins:
Go to the book's Dashboard and select the Plugins tab from the Dashboard menu. This action will reveal the three plugins available for activation: H5P and WP Quick LaTeX. To activate any of the plugins, click on the Activate link under its name.
To learn more about each plugin, click "Visit plugin site."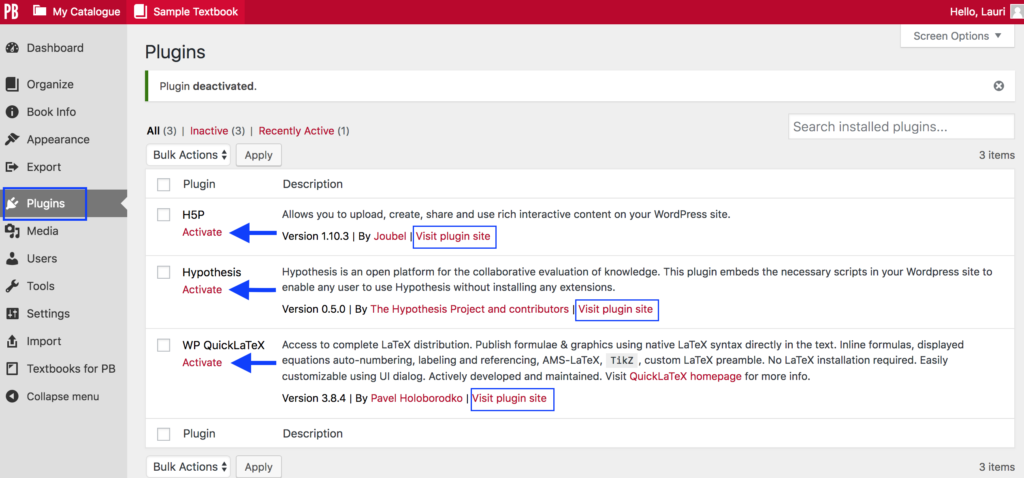 The below video is from the Pressbooks Video Tutorial Series.
H5P for interactive material
The H5P plugin allows Pressbooks users to create interactive material, such as quizzes, timelines, drag-and-drop questions, and more. This free and open-source technology was first released in 2013.2 For more information, visit the H5P website.
For those who chose to use this plugin in a book, be aware that it is not meant to replace a graded or summative test. Instead, H5P activities are most useful for student self-quizzing and encouraging interaction with content.
Once this plugin is activated, two new tabs will be added to the book's Dashboard menu: the H5P Content tab and the H5P link under the Settings tab.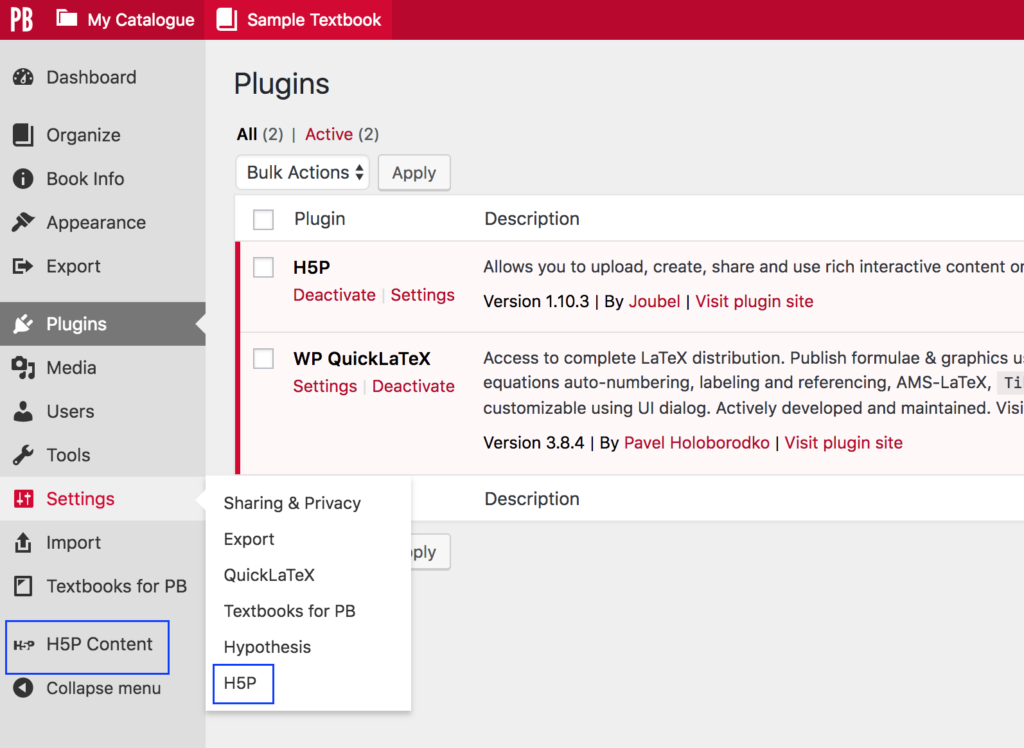 Settings for H5P range from how the toolbar is controlled to whether to automatically share usage statistics with the H5P developers. Click "Save Changes" at the bottom of this page if you make any changes.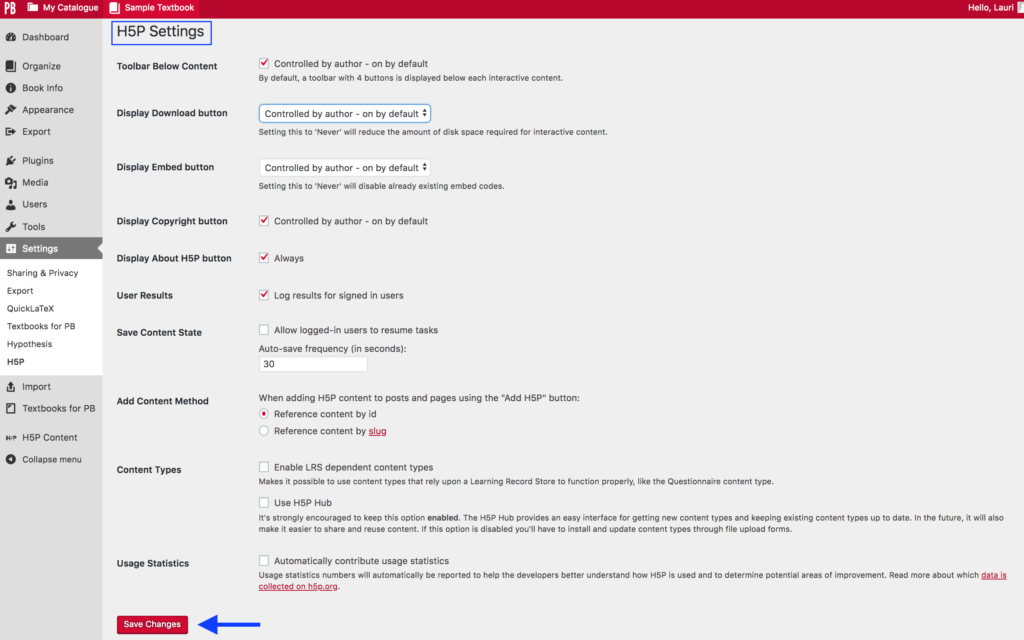 The H5P Content tab is where you can create new H5P activities and manage activities that you created previously.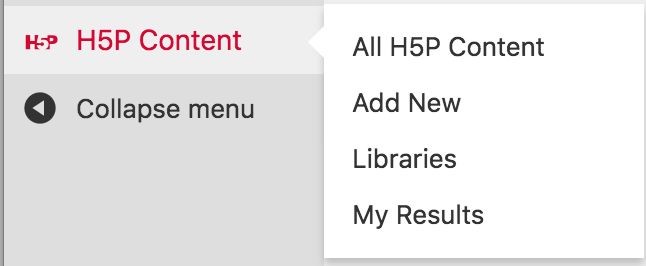 Hypothesis
See Annotation with Hypothes.is.
WP Quick LaTeX
Enabling the WP Quick LaTeX plugin allows authors to type and publish native LaTeX syntax directly into the Visual Editor of book chapters in Pressbooks. No LaTeX installation is required.
When this plugin is activated, a QuickLaTeX link will be added to the Settings tab in the Dashboard menu.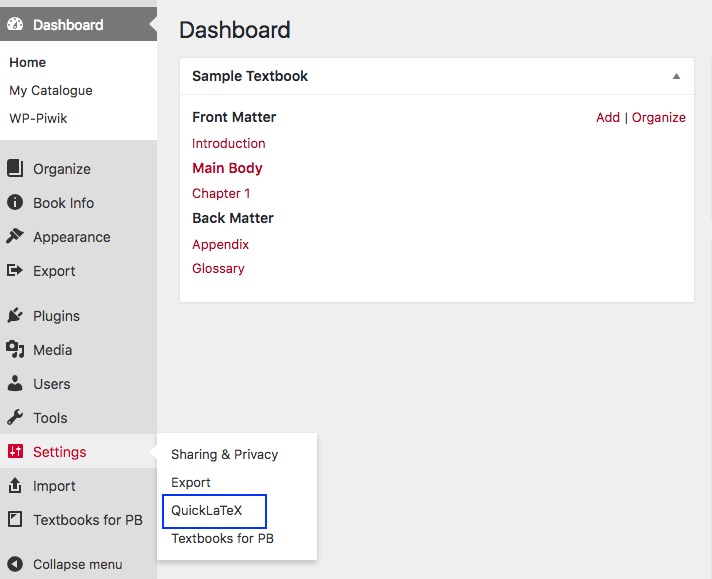 There are five tabs for QuickLaTeX settings. The Getting started and About tabs provide additional information about this plugin. Under the Basic Settings tab, you can adjust things like font size and colour. The Advanced and System tabs include default settings recommended for most users.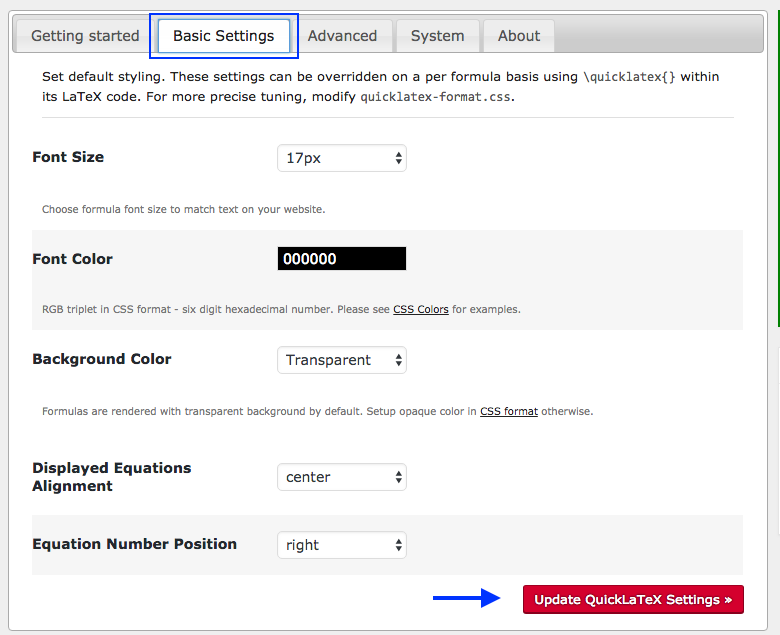 To learn how to use LaTeX, see LaTeX for Formulas.
Footnotes:
1."Plug-in (computing)," Wikipedia, June 24, 2018, https://en.wikipedia.org/wiki/Plug-in_(computing) (accessed August 10, 2018).
2."H5P," Wikipedia, https://en.wikipedia.org/wiki/H5P (accessed August 10, 2018).
Learn more: