An excerpt from the Working Group Guide, by Krista Lambert and Lucas Wright.
Recruit members
When establishing an open working group, a key point of consideration is who could or should be involved. Depending on your institutional context and the purpose of your open working group, an initial recruitment strategy is to reach out to key stakeholders who might influence or impact decision-making about creating, adapting, or adopting open educational resources (OER) on campus. Key allies and potential stakeholders on campus may include the following:
Librarians
Teaching and learning centre staff
Student society representatives
Faculty champions
Bookstore staff
Technology professionals
Administrators
Key Stakeholders and Their Roles in Supporting OER Initiatives
Stakeholder
Key Role(s) in Supporting OER Initiatives
Librarians

Are knowledgeable about educational materials
Work with faculty and students to find, adopt, and adapt OER
Organize and catalogue OER

Teaching and Learning Centre Staff

Work with faculty to train on the use of OER
Support course and curriculum design and pedagogy for open teaching assignments
Support faculty who want to incorporate OER within a course

Student Society Representatives

Advocate as the end user of all educational materials
Inventory OER use on campus
Determine students needs/interest in OER
Connect with other stakeholders on campus

Faculty Champions

Implement open into their classrooms
Lead by example by having an open practice
Encourage colleagues to participate in open
Conduct research about open
Work with articulation committees to include OER in the curriculum

Bookstore Staff

Offer print-on-demand services
Stock print copies
Distribute OER

Technology Professionals

Install and support open technology and websites
Research and integrate open tools and OER within campus systems
Develop open source software

Administrators

Advocate for, promote, and budget for open initiatives
Align OER with strategic and organizational plans
When establishing a group, roles and responsibilities for members may vary—some may be doers, some may be advocates, and some may provide support. Formal groups working towards accomplishing a specific goal or task may have clearly defined roles and responsibilities for members from the outset. In comparison, more informal groups may initially have more fluid roles and responsibilities as members' time and interest permit.
Partner with other institutions
You may want to consider expanding your open working group to include open working groups from other institutions. These relationships can help foster knowledge transfer and staff exchanges, and you may want to work together to develop workshops for online webinars, build subject-specific OER guides, and write grant applications. British Columbia has a number of examples of cross-institution open partnerships. For Open Access Week 2018, open working groups from several institutions collaborated to plan the Open but not Free: Invisible Labour in Open Scholarship panel. Another example would be the B.C. Open Education Librarians (BCOEL) community of practice.
Develop a Common Vision
Sharing knowledge is an act of knowing who will use it and for what purpose. This often involves mutually discovering which insights from the past are relevant in the present. To share tacit knowledge is to think together.[1]
Working to developing a common vision for the group can be a prerequisite for the success of the group. One approach to developing this vision is the CARE Framework. The CARE Framework was developed to support open educational resource (OER) stewards on campus. This framework can guide the group as you consider developing a shared vision.
The CARE Framework
The purpose of the CARE Framework is to articulate a set of shared values and a collective vision for the future of education and learning enabled by the widespread adoption and use of OER. It aims to address the question of how an individual, institution, or organization, seeking to be a good steward, can contribute to the growth and sustainability of the OER movement in a way that is consistent with the community's values.
At the centre of the CARE Framework (see Figure 1) are a wide variety of stakeholders—OER creators and users, working as individuals and as part of organizations, in traditional and non-traditional educational settings—seeking to act as good stewards of the values of a sustainable OER movement. Locating people at the centre of the CARE Framework serves to remind us first and foremost of the broader social context and purpose of the OER movement.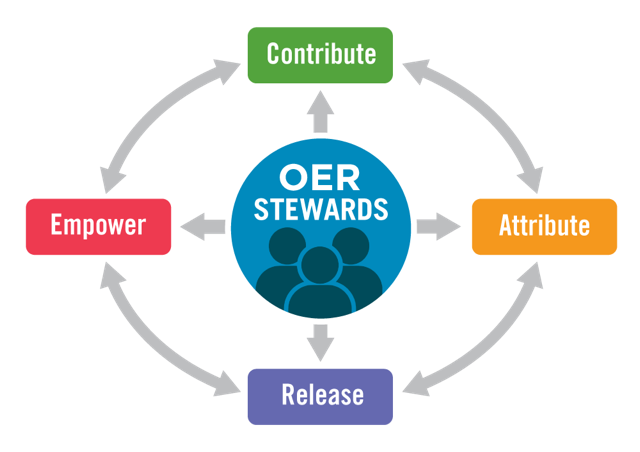 People serving as OER stewards pursue a wide variety of strategies and tactics relevant to their specific context to improve access to education and opportunity over time. Yet, what all good OER stewards should have in common is a commitment to practices that serve to demonstrate their duty of care to the broader OER movement:
Contribute. OER stewards actively contribute to efforts, whether financially or via in-kind contributions, to advance the awareness, improvement, and distribution of OER.
Attribute. OER stewards practise conspicuous attribution, ensuring that all who create or remix OER are properly and clearly credited for their contributions.
Release. OER stewards ensure OER can be released and used beyond the course and platform in which it was created or delivered.
Empower. OER stewards are inclusive and strive to meet the diverse needs of all learners, including by supporting the participation of new and non-traditional voices in OER creation and adoption.
Attributions
Media Attributions
---
R. McDermott, "Knowing in community: 10 critical success factors in building communities of practice." International Association for Human Resource Management 4, no.1 (2000): 19–26. ↵
Learn More: