Post by Selina McGinnis, Lead UX/IA, BCcampus
BCcampus has been tasked to improve the searchability of open textbooks on the Open.BCcampus.ca website.  This work is part of the open education funding announced by Melanie Mark, Minister of Advanced Education, Skills and Training, in April 2019. The development team has gone one step further and reframed the mission to look at reducing many barriers that stand in the way of matching an instructor with the right open textbook for their course where one exists. Whereas the project was initially scoped to fix issues related to the search box and the subsequent results page, the project team saw other equally important opportunities to improve the ability to find relevant textbooks in the collection before (and after) users even type anything into the search box. That is, finding textbooks, is more than just searching for them. It's about how users hear about the book and have the knowledge or tools to find one that is suitable.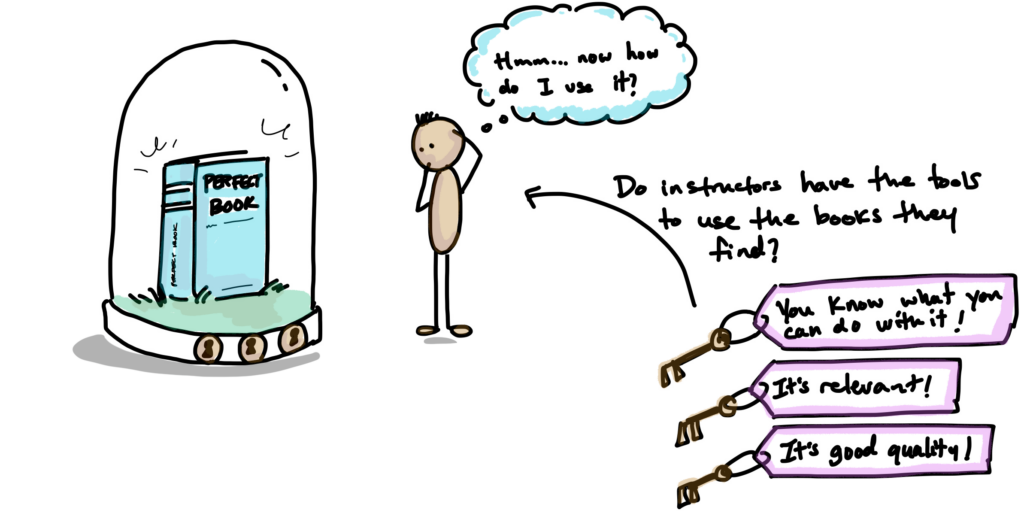 What has been done already?
What are the barriers? Predating the start of this project, research (see 'research used' at the end) has strongly suggested that the main barriers to adopting open textbooks are low discoverability of textbooks and low understanding of the licensing.
Interviews conducted with users — including instructors, teaching support staff, librarians, bookstore staff, and students — support previous research findings. Furthermore, hearing their stories provided further insight as to why these barriers exist and in what context they are experiencing these challenges.
Observations of people using the website and interpreting the language give us insights as to how we can reduce or remove some of the barriers. For example, in an interview, a user may say that the book they wanted didn't exist (so we would cite the issue as material availability), but in an observation, we might find that the search feature doesn't function well enough to surface the book that is in the collection (making the issue more related to search relevancy or sort/filter functions). A combination of research, interviews, and observation are being used to create a well-rounded picture of how we can improve the experience.
The main opportunities for improvement so far revolve around improving the search function to surface more relevant results, improving the language so it reflects what users expect to see (e.g., the term "ancillary resources" is often not recognized by new users), and reducing the effort required to judge a book for quality and relevancy.
What is being worked on
Gathering more information: We're interviewing and observing instructors, students, and support staff to find out what other issues haven't been uncovered.
We have a thorough list of ways to improve the experience so far. Which high-value improvements can we deliver the quickest?
We think we've come up with some bright ideas. Before we deploy them to the site, we'll test with our users to make sure they work as expected.
Nothing is magic. Some of the critical changes to the way searching will work will require a shift in the technological back end. Our development team is hearing user requirements to decide what the best setup is
The development team is on the lookout for technology that will support our ideas in innovative ways.
How can you help?
We need instructors, students, and support staff to help us test our ideas and tell us about their experiences choosing textbooks (both open and traditionally published books, good and bad experiences).
If you or someone you know might be willing to spend an hour helping, please email smcginnis@bccampus.ca and let Selina know you are keen to help (there's a free coffee in it for you!).
Research used
Barker J., Jeffery, K., Jhangiani, R.S., Veletsianos, G. (2018). Eight patterns of open textbook adoption in British Columbia. The International Review of Research in Open and Distributed Learning, 19(3). http://www.irrodl.org/index.php/irrodl/article/view/3723/4641
Hendricks, C., Reinsberg, S.A., Rieger, G.W. (2017). The adoption of an open textbook in a large physics course: An analysis of cost, outcomes, use and perceptions. The International Review of Research in Open and Distributed Learning, 18(4). https://doi.org/10.19173/irrodl.v18i4.3006
Jhangiani, R. S., & Jhangiani, S. (2017). Investigating the perceptions, use, and impact of open textbooks: A survey of post-secondary students in British Columbia. The International Review of Research in Open and Distributed Learning, 18(4). https://doi.org/10.19173/irrodl.v18i4.3012
Jhangiani, R. S., Pitt, R., Hendricks, C., Key, J., & Lalonde, C. (2016). Exploring the use of open educational resources at BC post-secondary institutions. Victoria, BC: BCcampus. https://opentextbc.ca/openedinfo/wp-content/uploads/sites/214/2018/10/BCFacultyUseOfOER-final.pdf
Earle, S. (2019). What students like (and dislike) about open educational resources. BCcampus. https://bccampus.ca/2019/03/12/what-students-like-and-dislike-about-open-educational-resources/#_ftnref1
​Jhangiani, R. S., Dastur, F. N., LeGrand, R., & Penner, K. (2018). As good or better than commercial textbooks: Students' perceptions and outcomes from using open digital and open print textbooks. The Canadian Journal for the Scholarship of Teaching and Learning, 9(1). https://doi.org/10.5206/cjsotl-rcacea.2018.1.5