Following the intense pivot to online learning this spring, a group of local geography educators saw an opportunity to support each other as they prepared for the fall intake. Through a substantial collaboration, they identified the need for an open source lab manual, developed a process to create the content, formed a team to refine the materials, assigned an editor to compile the information, and published the first iteration via Pressbooks. And they did it in less than three months.
Post by BCcampus' editorial team
For many educators across the province and around the world, the summer of 2020 was one of figuring out how to convert programs and courses to an online platform. While some subjects were highly adaptable to an online model, others weren't, due to their typically high-touch, hands-on instruction requirements. This was the case for first-year physical geography, which led to an opportunity for a group of educators to come together to develop an open educational resource (OER) to help local instructors and their students.
"The first-year, post-secondary physical geography course hasn't been available as an online course in most institutions in B.C., Thompson Rivers University being a notable exception," explained Katie Burles, geography instructor at College of the Rockies. "Our initial approach was to find everyone in the province teaching this subject. We ended up having about 20 instructors from across the province, meeting weekly via Zoom to discuss a specific topic or lab, and various ways to bring the learning online."
"We discovered that there was quite a diversity in instructional approaches between institutions," said Stuart MacKinnon, laboratory program manager at the University of British Columbia Okanagan campus. "Some would teach the program over two semesters, and others would do only one semester. Some might need seven or eight labs, while others might need upwards of twenty. We pulled together what everyone was doing to create a plan that covers everything that might be done, and this resulted in about 25 original ideas for labs."
"This was a project where we were all able to contribute based on our own education and experience," said Katie. "In our discipline of physical geography, most of us have a background or an undergrad in it, and then went on to specialize in certain aspects. There are folx who are atmospheric scientists and biogeographers, and others who are geomorphologists and hydrologists with a background in geology or fluvial geomorphology or glaciology. We all got to contribute to the areas that we had more expertise in."
An Adaptable Resource
"Much of what you can typically purchase for a geography lab manual from a traditional publisher is very structured, offering little, if any, instructor flexibility," said Stuart. "You're stuck with what you have, going from lab 1 to lab 20, and that's what the students get. If you don't like one or two of the labs or it's not relevant to you, you have to make something yourself or find a different lab manual. A big focus of making this OER was to put the instructors in the chair of student learning, with the ability to modify the labs to their needs."
"This isn't the type of manual that students would download and do cover to cover," shared Katie. "It's a resource for instructors to adapt the labs and make them work for their learning environments. We all have slightly different learning objectives or course topics that we cover, and this lab manual allows us to have a lot of ingenuity in our development, so we can create unique challenges for our students."
Next Steps
"Now that the manual is available and being used in classrooms across the province," said Stuart, "we don't want to change anything with it for the next eight months or so. We're calling this a beta version, exclusively for institutions in B.C., so that it has a good trial from the authors and the interested users. Over the next while, we'll be gathering feedback to find out who is using the materials to find out what they like about it as well as what they don't like, and then we'll come back together to assemble a more polished version that we can share in the BCcampus open textbook catalogue. We'd like to see this available to educators far and wide for the 2021 academic year."
A Talented Team
"I was quite surprised with the number of people who got back to me as quick as they did to create the content we needed," shared Stuart. "There was a surprising quantity of people who wanted to help. In addition to these lab authors, there were a number of people who kindly dedicated their time with the creation and/or review of the first version of the lab manual."
The lab manual's collaborators included:
Stuart MacKinnon, editor (University of British Columbia Okanagan campus)
Katie Burles (College of the Rockies)
Terence Day (Okanagan College)
Fes de Scally (University of British Columbia Okanagan campus)
Nina Hewitt (University of British Columbia Vancouver campus)
Crystal Huscroft (Thompson Rivers University)
Gillian Krezoski (University of Victoria)
Allison Lutz (Selkirk College)
Craig Nichol (University of British Columbia Okanagan campus)
Andrew Perkins (Simon Fraser University)
Todd Redding (Okanagan College)
Ian Saunders (University of British Columbia Okanagan campus)
Leonard Tang (Langara College)
Chani Welch (Okanagan College)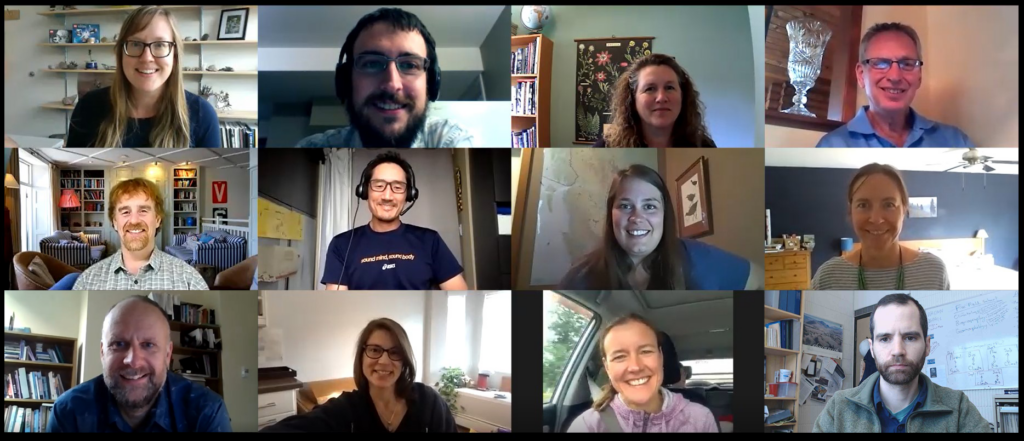 The lab manual will be widely distributed in summer 2021 after completion of the B.C. beta test and subsequent revisions have occurred. If you have questions about the lab manual or the project itself, please contact the editor at stuart.mackinnon@ubc.ca.
Notable Quote
"I don't think we realized how long it would take to create this resource. I assumed it would be a simple matter of making a Word document and then duplicating it on Pressbooks. We underestimated the amount of time it would take to do all of the attribution, image tagging, and behind-the-scenes work that goes into making a valuable OER."


—Stuart MacKinnon, laboratory program manager, University of British Columbia Okanagan campus
"Right from the onset of the project, one of the visions for the lab manual was to move away from the traditional lab structure that focuses on correct or incorrect answers. With this manual, we wanted an opportunity to revamp everything, making the assessments authentic for the students. Now students can download real-time data, collect their own data, and look at virtual globes, then demonstrate their learning by explaining a concept or identifying a feature in a landscape, rather than just regurgitating correct or incorrect answers."


—Katie Burles, geography instructor, College of the Rockies
In response to requests for online learning materials to provide students with practical experience without sacrificing personal safety, BCcampus has curated a substantial list of free resources designed to support remote science education with the Virtual Lab and Science Resource Directory.
Learn More: