We recently completed a newly adapted resource with funding from the Ministry of Post-Secondary and Future Skills to equip post-secondary students with the resources and perspective they need to support their peers struggling with mental-health concerns. While the resource will provide substantial value to students throughout the province, the learnings we took away from this will help us build better — and more inclusive — resources for the entire B.C. post-secondary sector.
Post by the BCcampus editorial team
BCcampus has been working with the Ministry of Post-Secondary and Future Skillsand an advisory group of students, staff, and faculty across the B.C. post-secondary system on various projects to develop resources that support mental health and wellness. 
Starting a Conversation About Mental Health: Foundational Training for Students was adapted from a University of British Columbia resource and consists of presentation notes and slides, small-group and self-reflection activities, practice scenarios, and handouts for a two- to three-hour session, in person or online. This adaptable resource covers foundational mental health and wellness information for post-secondary students and ways to respond to peers who are experiencing distress. It incorporates a decolonized perspective on mental health and wellness and was guided by the following principles: accessible, adaptable, culturally located, evidence-informed, inclusive, and trauma-informed. Handouts include a wellness wheel self-assessment tool, information on coping strategies, mental health resources, and scenarios and responses written by post-secondary students.
The project gave us the opportunity to take a different approach to create the learning materials: co-creating with students to benefit from their lived experiences, insights, perspectives, and cultural understanding.
"One of the gems in this guide," said Michelle Glubke, senior project manager, Indigenous Engagement and Collaborative Projects at BCcampus, "is the practice scenarios written by the students from their lived experiences, knowledge, and perspectives. The scenarios can provide tremendous value to other trainings and curriculum in any faculty or staff training available."
Student author Arica Hsu said, "I would love to contribute to conversations about other topics, such as bullying, racism, discrimination, intersectionality, equality, and equity."
Creating Connections
We asked the students to share their thoughts and expectations coming into this project to inspire us to find new ways to incorporate the student perspective in future projects, where possible.
Dagmar Devine, one of the student authors who contributed to this project, said, "The level of collaboration, mutual respect, and inclusivity I felt while working on this project is unparalleled to any previous collaborations I have done. Connection is a key component to mental health and wellness, and my hope is to see this foundational training for students adopted across all B.C. post-secondary institutions with the view of equipping students with the ability to recognize within themselves their capacity to support their fellow classmates and to stay attuned to their own needs. Being part of this project was transformational, to say the least."
"I came into this expecting that it would be an enjoyable creative writing project, which it was," said student author Jenny Guild, "but I never expected I would grow so much as a person and feel such a sense of camaraderie with my fellow student participants through this experience. They and the facilitators created a safe space where my identity was respected and my voice was valued. I hope people apply the information in this resource to their own lives, to benefit their mental health and that of others."
"Through this project," said Arica, "I learned that I still have a lot to learn, and this project was a great first step to educate and empower youth today."
"I learned that my experiences with mental health can help another person," shared Calla Smith, student author. "That is really valuable to me because I thought of my experiences as very negative: individual and isolating. I also learned that I enjoy writing and helping people."
The Power of Being Heard
"Adding this statement to the expression of interest, 'We invite students who feel that their voice is not always represented and commit to making a safe and collaborative environment,' brought us an incredible response from students across the province," shared Michelle.
"I had no expectations coming into this project," said Arica. "However, it was a lovely surprise to see such diversity on the team. This was very much appreciated. The team made it safe for me to share my experiences without judgement. They were very supportive and valued my input as a trans woman of colour."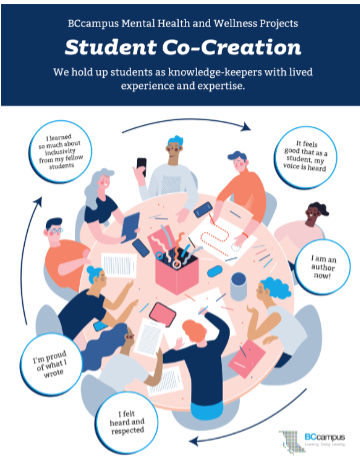 "The team made me feel included every step of the way," said Calla. "They were extremely welcoming and listened to my feedback, they always wanted my input, and they gave me really positive feedback. I think the other students also helped in making me feel included. I was a little worried that I was an outsider because this was my first experience, but everyone involved made me feel like I had something valuable to contribute."
Exceeding Expectations
"My expectations coming into this project were not high because I had never done anything like this before," said Calla. "Honestly, I didn't know what to expect, but I was not expecting to be published, so when I found out, I was very excited."
Hamza Islam, a student author, shared, "As an engineering student, I was unsure about my role in this project. Unfortunately, technical fields, like engineering, lack necessary mental health and wellness practices. With the training provided in the program, I was able to gain the skills to create mental health awareness in my field. I was able to initiate safe dialogue with others about these important topics and have also brought up areas of concern directly to the administration in order to establish these principles. I am thankful to have been part of this learning experience, and I hope my contributions will help many others like me."
Next Steps
When asked what they'd like to see people do with the resource, Arica summed it up perfectly: "Use it. Share it. Elevate it."
Calla wrapped up by sharing, "I would like people to start thinking about their mental well-being and understand that everyone experiences extremely negative feelings at times and that there are people who can support them. I think if just one person starts evaluating their mental status after engaging in this training, that would be considered successful for me."
Notable Quotes
"When my instructor approached me about this project, I thought it would be a good opportunity to gain experience in my field of social work. I had no idea what to expect other than contributing my thoughts and perspectives on mental health training for post-secondary students. Through the process of working collaboratively with fellow students from diverse faculties and backgrounds, as well as with members of the BCcampus organization, I walked out of this project feeling like a part of a greater community of students supporting one another; I realized we could create a foundational approach for students to learn about mental health and wellness, accessing supports, and connecting with each other."

– Dagmar Devine, student author
"I loved working on this project because I got to learn from the other students, and I had the opportunity to give my opinion and be heard in a professional and understanding setting. It was unique and thrilling."

– Jackson Nicholls, student author
"Centring students for me means holding them up and creating space to learn from them. It is also important for us to honour their contributions and ensure they hold copyright and are recognized as authors in this work."

– Michelle Glubke, senior project manager, Indigenous Engagement and Collaborative Projects, BCcampus
Learn More:
---
The featured image for this post (viewable in the BCcampus News section at the bottom of our homepage) is by Keira Burton from Pexels