Warning: This section contains language, images, or content you may find disturbing; the subject matter is highly sensitive and can be triggering to individuals who have experienced trauma.
BCcampus, with support from the Ministry of Advanced Education and Skills Training, has developed a series of resources focused on preventing and responding to sexual violence.
Grace Lore, Parliamentary Secretary for Gender Equity, recently met up with Robynne Devine, senior project manager of Collaborative Projects at BCcampus, to discuss preventing and responding to sexualized violence on campuses throughout British Columbia.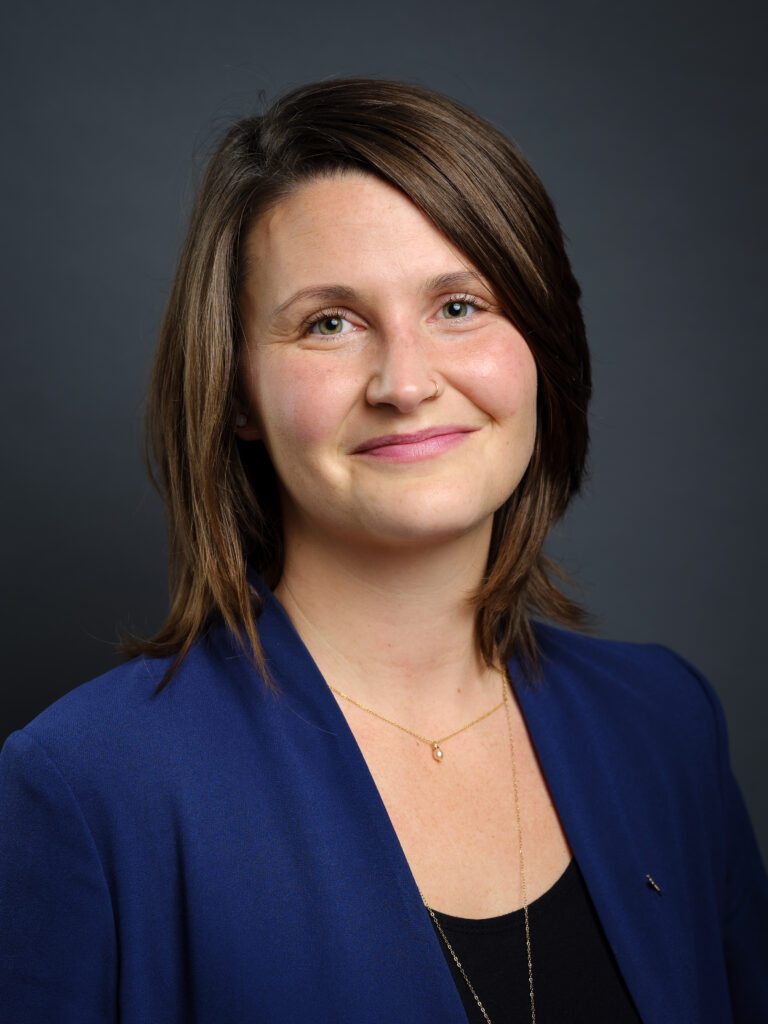 Post by the BCcampus editorial team
A longtime anti-violence advocate and former instructor at the University of Victoria, Grace Lore is now the Parliamentary Secretary for Gender Equity. Her background in social media harassment and online violence, combined with the work she has done with the Victoria Sexual Assault Centre and other anti-violence organizations to support inclusive, accessible, and survivor-centred sexual assault response, informs her perspective on the topic of preventing and responding to sexualized violence in B.C.'s post-secondary sector.
With the recent release of the BCcampus series of open educational resources designed to help faculty, staff, and students implement appropriate resources around this vital topic, we were thrilled to have the opportunity to discuss the matter with Parliamentary Secretary Lore.
Robynne: What do you think is the most important aspect of consent post-secondary students should be aware of?
Parliamentary Secretary Lore: I think first and foremost, consent is the law. It's mandatory. It's ongoing. It's freely given and should be enthusiastic, and also, as importantly, it is revocable. It can be taken away at any time, and all of that has to be voluntary.
What do we mean by that? I think it's worth thinking about the context in which consent is not voluntary: repeatedly asking the same question looking for the answer you want, when someone uses their power or authority to manipulate an answer, or when someone is intoxicated, incapacitated, or unconscious. And the last thing I'll say on this is consent to one thing gives exactly no indication of consent to anything else or at any other point in time. Consenting to kissing or a second date, or even sex at some point, means exactly nothing for any other activity or any other point in time.
Robynne: Why do you think consent, and understanding what it is and what it is not, remains an issue?
Parliamentary Secretary Lore: I think we have to think about this question — and really this whole conversation — with the recognition that sexualized violence is about power and control. It's also why we see disproportionate rates of sexualized violence against individuals who are marginalized on the basis of race, ability, poverty, sexual orientation, gender expression, or gender identity.
We live in a society where rape culture persists. What does that look like? It's about how we think and talk about people's bodies. It's the persistence and presence of jokes around rape or sexualized violence. It is the victim blaming or shaming or minimizing sexualized violence. That's why it's so important to have this conversation — and why this continues to be a conversation on campuses here in B.C. — because consent in sexual relationships is not optional. It's the law. We all have a role in continuing this conversation and providing a counterweight to standards, assumptions, and myths that continue to exist.
Robynne: What responsibility do the B.C. government and post-secondary institutions have in preventing sexualized violence on campus?
Parliamentary Secretary Lore: We all have a responsibility as individuals, as communities, and this is also true in campus communities. Another important part of the context for this question is what we know about the disproportionate rates of sexualized violence for those who are 18 to 24, the most common age category of students on campuses. It makes it all the more so important this work continues to happen in campus communities.
In B.C. all post-secondary institutions are required to have sexualized violence policies and to make sure those policies are public. I know our post-secondary institutions are working to provide resources and supports and accommodations, and as Parliamentary Secretary for Gender Equity, I continue to talk with students and student organizations about what is working, why these policies are important, and what more needs to be done as part of our gender-based violence action plan consultations.
We do have a responsibility, and that's why the provincial awareness campaign that happens every year is so important to provide that message. We know not only the age category that's disproportionately impacted but also the time of the school year where the majority of sexualized violence happens, so we're targeting that time period in ways that reach students. Training and resources continue to be created and made available, and, in addition to preventing sexualized violence by having this conversation around consent in the work we do, we're committed to supporting survivors. That's why we've provided $20 million to sexual assault response around the province, and this year we've turned that grant money into dedicated and ongoing funding because these are essential services survivors deserve. In addition, $44 million is provided annually to more than 400 victim services and anti-violence organizations.
Robynne: Where can students go for assistance and support?
Parliamentary Secretary Lore: People need to know where they can go — where they can turn to — and every institution has resources and supports students can access. Students should check out the Safe Campuses BC website to find information about their institution's resources.
Another vital resource is VictimLinkBC. If folks themselves or people they know have been harmed or are concerned about safety, VictimLinkBC is available by text and phone in multiple languages, and it's a really good doorway into other services.
In addition to your campus's resources and VictimLinkBC is the Ending Violence Association of BC, which can help people identify other community supports, including victim services and counselling in their communities.
Robynne: What would you say to someone who has experienced sexualized violence? What would you want them to know?
Parliamentary Secretary Lore: I want them to know they're not alone, and what happened to them is not their fault, and it is not okay. There are supports available, and they can reach out to VictimLinkBC 24/7 (1-800-563-0808) as well as their available campus resources. They are not alone. Survivors are not alone. And it is not their fault.
Robynne: On behalf of BCcampus, I would like to extend our gratitude to Parliamentary Secretary Grace Lore for taking the time to sit down with us to talk about such an important topic as we head into the fall semester.
Preventing and Responding to Sexual Violence
The open resources developed by BCcampus with support from the Ministry of Advanced Education and Skills Training are available through synchronous training guides that look at consent and sexual violence, supporting survivors, accountability and repairing relationships, and active bystander intervention. An asynchronous guide offers a 75-minute online, self-paced, non-facilitated training resource that can be adapted to a wide range of learning management systems, including Moodle, Blackboard, Canvas, and D2L. As well, there are plain-language resources and downloadable webinars for anyone interested in learning more about responding to and preventing sexual violence in B.C.
Notable Quote(s):
"Sexualized violence is about power and control. It's also why we see disproportionate rates of sexual violence against individuals who are marginalized on the basis of race, ability, poverty, gender expression, or gender identity."

— Grace Lore, Parliamentary Secretary for Gender Equity
"Consent to one thing gives exactly no indication of consent to anything else or at any other point in time. Consenting to kissing or a second date, or even sex at some point, means exactly nothing for any other activity or any other point in time."

— Grace Lore, Parliamentary Secretary for Gender Equity
"We know about the disproportionate rates of sexualized violence for individuals who are 18 to 24, the most common age category of students on campuses. It makes it all the more so important that this work continues to happen on campuses."

— Grace Lore, Parliamentary Secretary for Gender Equity
Learn More: