We recently had the opportunity to discuss the Pulling Together series with some of the phenomenal educators who contributed their experience, insight, and time into the development of these essential resources.
Post by the BCcampus editorial team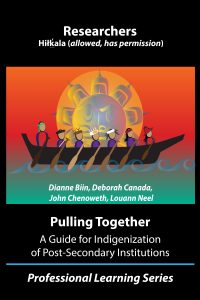 This year we welcomed the release of the final Pulling Together guide, Researchers: Hiłḱala (allowed, has permission). This completes the collection of the Pulling Together Learning Series guided by Indigenous leaders and authored by a large collaboration of Indigenous educators and allies in the B.C. post-secondary system. The series is a living collection, and adaptations are invited, as the local context, traditions, and territories have a place in these resources.
This project began in 2016 and was one of the first projects for BCcampus aimed at transforming the B.C. post-secondary system by supporting individual and institutional efforts toward reconciliation, decolonization, and Indigenization. Funded by the Ministry of Advanced Education and Skills Training, the Indigenization guides provide a set of resources to support learning, reflection, and constructive action.
"The collaborative approach to this project gave us courage," said Marlene Erickson, executive director of Aboriginal Education at the College of New Caledonia. "It was a huge project, with many complexities in terms of defining the target audiences and recognizing that the different sectors of post-secondary intersect with Indigenous students in very different ways. Working with the team — giving each other confidence and supporting each other through the process — was a big learning for me."
"The usefulness of the guides is that they are a place to start," said Kory Wilson, executive director of Indigenous Initiatives and Partnerships at British Columbia Institute of Technology. "When people say, 'I don't know what to do,' this is a place for them to start doing the work on their own, which is vital because often people just want really quick answers and solutions, but that rarely works. Reconciliation can only happen if everybody plays their role, which means everybody has to do some work. These guides provide that starting place."
"In my experience with the delivery of the Pulling Together guides, the Indigenous facilitators have really created and supported safe environments for learning," said Valerie Cross, director of Collaborative Projects and Indigenous Engagement at BCcampus. "The pool of people that have come together to make this happen — they're so reliable, dependable, knowledgeable, willing, and generous with their time and patience. They all have full-time jobs and other commitments, but they saw the value in this project and made it happen, building capacity and providing opportunities for faculty, staff, and students in B.C."
Rebuilding Indigenous Identity
"Identities are crucial," shared John Chenoweth, vice president of Academics at Nicola Valley Institute of Technology. "The identity of people comes from their community, not from us as a school. That's something we, as a system, need to understand as well. Students come to us with their identity intact, and what we need to do is find a way for them to celebrate that, learn from it, and grow from it. We're hoping these resources will help them and that schools recognize the only source of identity for people is their community. Policy has been the main tool to remove the identity of Indigenous people. Through this series, we're offering faculty every opportunity to help communities rebuild their Indigenous identity, and that's a very honourable thing to do."
"The biggest thing is to be very intentional in this work," said Kory. "We have to truly — authentically — action what we are doing. It is not enough for people to say, 'Well, I do not know what to do,' or 'I am afraid of making a mistake.' It is time to figure it out. There are more than enough resources available — like the Pulling Together series — and you have to be bold and courageous to do this work. We are very fortunate to be working in post-secondary institutions, with the opportunity to do this work for students, for Indigenous people, and for a stronger, better British Columbia."
Beyond Academia
If you live in B.C., or anywhere in Canada, these guides can be a great resource to help you embrace reconciliation. "These guides should be required reading for everyone, leading to discussions and working together," shared Kory. "It is not enough just to read the guides and add a section to your content on Indigenous people; it really has to be intentional and actionable in order to make the systemic change that is required. There's room for all of us to work together to do this and advance reconciliation faster. And we cannot wait anymore. We have got to get on with the work of systemic change and full inclusion. Post-secondaries need to lead."
"First Nation organizations have many non-Indigenous staff working for them," said Valerie. "This is a great way to connect leaders and administrators, and maybe even the frontline workers, with these resources. And it can go even further. School boards could use the Foundations and Leaders and Administrators guides to inform policy and for curriculum development, creating opportunities for more awareness and learning. There's something in this series for everyone interested in truth and reconciliation for Canada."
"In a lot of ways, this work was done as an interpretation of the world as we see it around Indigenous ways of knowing," said John. "It's up to the readers to take that interpretation, that philosophy, and change their own world."
Discover the Pulling Together series
Start your journey of discovery into the Pulling Together series by reading the guide that's tailored to your specialty, then branch out into the other topics. We recently concluded our Pulling Together Teachers and Instructors webinar; however, we will be offering a new Pulling Together webinar series this fall. Sign up for our newsletter to stay connected with the most recent information on news and events.
Notable Quote(s):
"There aren't a lot of resources written by us, so we rely on bringing resource people and knowledge holders to provide that perspective in the classrooms."

— Marlene Erickson, executive director, College of New Caledonia
"These resources create an opportunity for more awareness and learning. We're not trying to change people's minds; we're asking them to open them."

— Valerie Cross, director, Collaborative Projects and Indigenous Engagement, BCcampus
Learn More: