When:
May 19, 2022 – June 23, 2022
all-day
2022-05-19T00:00:00-07:00
2022-06-24T00:00:00-07:00
*Note: This session has passed. Please view the recording and resources below.
The Guide for Teachers and Instructors explores how to Indigenize your practice by building new relationships with Indigenous pedagogy and knowledge. This guide mirrors the structure of curriculum design and pedagogical processes to support learning by focusing on three processes — content, context, and application. Content acts as prior knowledge bridges and explores how we got here today. Context grounds you to recognize, respect, and honour Indigenous worldviews and suggests ways to invite into your classroom and practice. Application encourages movement forward by providing tangible ideas and next steps for Indigenization.
The goals of this six-part webinar include:
Learning the importance of Indigenous worldviews and how to incorporate them into your teaching style and practice

Assessing your current curriculum and pedagogy and considering them in relation to TRC, UNDRIP, and other Indigenous policies

Reviewing ethical and relational protocols within your institutions

Locating oneself within the work and what next steps are important to tangible outcomes
Overview
This series requires a commitment of 1.5 hours synchronous learning every Thursday for six weeks and about 30 minutes asynchronous reading and thought outside of class. We strongly advise participants to make time to attend every session in the series. Session dates and times are as follows:
Week 1: Thursday, May 19th 10-11:30am PST 

Week 2: Thursday, May 26th 10-11:30am PST   

Week 3: Thursday, June 2nd 10-11:30am PST 

Week 4: Thursday June 9th 10-11:30am PST 

Week 5: Thursday June 16th 10-11:30am PST 

Week 6: Thursday June 23rd 10-11:30am PST 
The series will be facilitated using a variety of methods. We will host guest speakers that include an Elder, members of academia, and community members. Participants will collaborate with one another in weekly breakout rooms and through interactive apps. Each participant will be mailed their own medicine pouch kit and instructed how to assemble it during one of the synchronous sessions. This communal activity is a unique aspect of the series and provides a way for participants to hold space for themselves and their own self-care during the workshop. We will also be joined by a graphic recorder, who will capture the essence of each session with a succinct visual image that will be shared with participants. Graphic recording is a modern take on the witnessing ceremony, and we are honored to have Michelle with us to witness this community work.
We will cap registrations at 50 participants, so please ensure you register early to attend the entire series.
This event is free. To ensure we have an inclusive and welcoming environment for all, we've added registration to all our sessions.
Participants can access the guide for free via the BCcampus website or opt to purchase a hardcopy via our OER collection.
Facilitators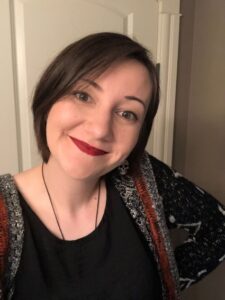 Tanya Ball (she/her) is a Michif woman from Winnipeg, Manitoba, in Treaty 1 Territory. She is currently living in Amiskwaciwâskahikan (Edmonton, Alberta), where she is enrolled in the PhD program with the Faculty of Native Studies at the University of Alberta. Here she is working with her family from St. Ambroise to research the connections between Michif storytelling and experience of religion. She is also a sessional instructor at the School of Information Studies at the University of Alberta, teaching LIS 598 Indigenous Librarianship within a Canadian context, and a co-host for masinahikan iskwêwak: Book Women Podcast.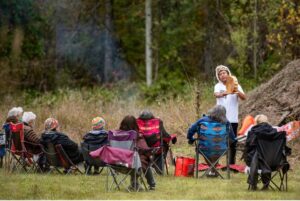 A Salmon Arm Roots and Blues Festival veteran, Kenthen Thomas's past performances have also included stints with Secwepemc Native Theatre, Dreamweaver Theatre (Simon Fraser University), Senclip Native Theatre, Caravan Farm Theatre, and Shuswap Theatre. He appeared in voice in the CBC legends series that aired nationwide in 2006. He now teaches full time with School District 73 as an Aboriginal resource teacher. Kenthen was involved with the roots and blues festival (2007, 2013, 2014, 1015) doing both storytelling and the Secwepemc grand opening for the entire festival. He co-wrote, co-directed, and starred in a play for Shuswap Theatre called Legends in 2012, which had a 22-show run through the summer, and he has been travelling around teaching and telling stories across B.C. He has helped with the Aboriginal celebration and Canada Day festivities in Salmon Arm and schools in the Lower Mainland and Interior. As a First Nations performer, Kenthen captivates audiences with his fascinating retellings of legends of the Secwepemc, his family land for more than 10,000 years. This is where his late grandmother, respected and legendary Secwepemc Elder the late Dr. Mary Thomas, taught him the traditional art of storytelling. Storytelling for the Shuswap people brought entertainment to families during long winter nights. It was also a way to keep history alive, tell important lessons, and share amusing anecdotes about all the creatures found on this land. Kenthen heard from his grandmother Mary how a bear and coyote learned to create a balance between night and day. There are also stories about how trusting the advice of Coyote (Seklep) caused Bear to lose his once long and lovely tail. Tricky Coyote features in many Secwepemc legends and is often the example of how not to behave. Other legends that have been passed down through Kenthen's family for generations feature the animals, birds, and fish that were once integral to the lives of the original residents of this region. Their language, Secwepemctsin, and these stories have become marginalized and even endangered because of the predominance and ethnocentrism of English language and culture in Canada.
This notice is to inform you that this session will be recorded, archived, and made available publicly on BCcampus.ca. By participating in this session, you acknowledge that your participation in this session will be recorded and the recording will be made available openly. 
Archives
Week 4
Week 5
Content Warning: This session discusses the history of scientific racism.
Week 6