Sep
28
Wed
BCcampus Mixtape Podcast: OER to Indigenize Post-Secondary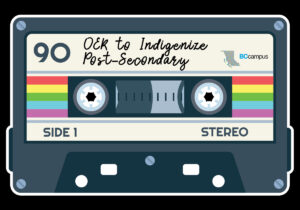 In this episode, Dianne Biin shares a project she led to create a series of open, professional learning guides to support Indigenization in post-secondary institutions. Dianne describes the work and collaboration that went into bringing these guides to fruition. She discusses the decision to publish these guides under an open license and how they thought through what license they wanted to apply. Dianne also offers a critical perspective on openness in the context of Indigenous knowledges.
Biography
Dianne Biin is from the Tsi Del Del community in Tsilhqot'in territory. She holds a Bachelor of Arts degree from Simon Fraser University (1994) and a Master of Education degree from University of British Columbia (2016). Dianne has worked as a community development and revitalization consultant, an Indigenous event planner, and facilitator and educator. She worked at Camosun College from 2011 to 2020 as an Indigenous faculty member and Indigenization Coordinator. Dianne was also the project manager for the BCcampus open textbook series Pulling Together: Guides for Indigenization. She is currently the Manager of Indigenous Education and Engagement at Selkirk College. 
Show notes
Oct
5
Wed
BCcampus Mixtape Podcast: The Ritual of Self-Care
Today's episode features an insightful conversation with Sarah Lefebure on the topic of health and wellness.
Biography
Sarah Lefebure, MA, RCC has been a college counsellor since 2008 and has been working at Okanagan College in Penticton, on the unceded territory of the Syilx Okanagan, for the past 5 years. In addition to individual counselling, Sarah enjoys facilitating group offerings and other projects to further the conversation about mental wellness on campus. She believes we all need a toolkit filled with a variety of strategies to help ourselves weather the ups and downs of life and help ourselves to flourish, especially as we continue to navigate the pandemic.     
Show notes
Canadian Mental Health Association

Listener Challenge:
Set aside 10 minutes a day for self-care. Think what will work for you, what feels good and will nourish you.
Book Recommendations:
Podcasts:
Don't forget to subscribe to the BCcampus newsletter to get all the latest BCcampus information and offerings!