Post by BCcampus Student Research Fellow, Kim Ashbourne
What Is My Research?
As a master's student in educational technology at the University of Victoria, my project aims to curate, contextualize, synthesize, and promote digital accessibility research in education (DARE). Later this year I will begin publishing CanDARE.ca, a digitally accessible website that seeks to model emerging digitally accessible knowledge-sharing practices. It will also share scholarly research, digital accessibility practitioner observations, and post-secondary learner experiences related to
Digital accessibility/inaccessibility
Digital inclusion/exclusion
Accessibility workarounds devised by learners with disabilities to adapt to their learning environments, which increase their academic workload
Accessibility- and health-informed digital work habits used by learners with disabilities that could benefit others in post-secondary learning environments

CanDARE.ca will also share my lived experiences of pursuing graduate studies, research, and publishing opportunities as a white, disabled, queer academic, and mother. My hope is that sharing my experiences alongside my research will paint memorable narratives related to digital accessibility–informed academic praxis.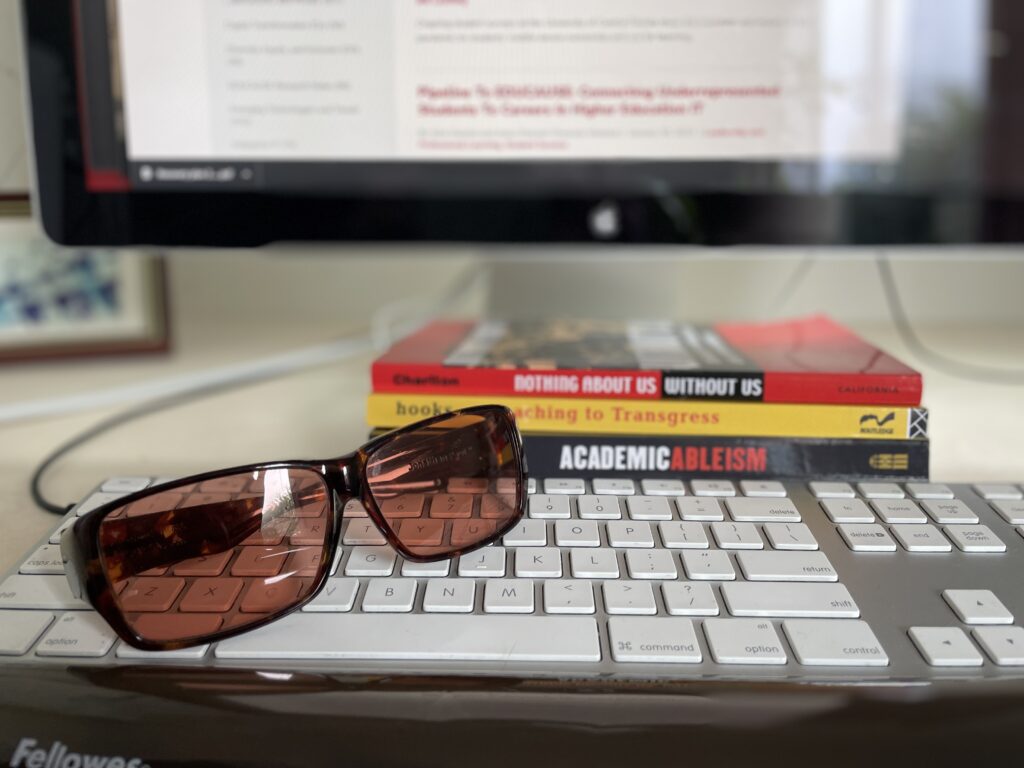 Why Is This Relevant to the Post-secondary Sector?
Many educational platforms (e.g., learning management systems, Microsoft suite applications, etc.) claim to be digitally accessible, but that can offer a false sense of security to educators. Platforms' claims can extend only as far as the platform itself. If educators and learners don't know what makes content digitally accessible, they can use an accessible platform to share inaccessible content.

Thinking beyond basic course content sharing, post-secondary educators and learners must also begin to build familiarity with what makes learning experiences, assessments, and environments digitally accessible. Resources and checklists are widely available, but educators need more than checklists to design inclusive and equitable learning environments (Oswal & Meloncon, 2017).
This research is particularly timely because B.C. recently passed the Accessible British Columbia Act (2021). The province is expected to, among other things, set digital accessibility standards for its post-secondary institutions within the next few years. It is my sincere hope this research assists with educator-readiness to meet the standards and ultimately assists in building more accessible and inclusive post-secondary learning experiences.
Why Is It Important to Me?
As a former educator at Humber College, a former learning experience designer at UVic, and a current learner at UVic, I approach this research in service of finding better ways to
Share digital accessibility practices with educators and learners.
Support educators and learners to incorporate digital accessibility practices into their academic work.
Assist educators to teach and assess learners with disabilities.
My research and praxis are informed by my personal experiences with disability and by the paid and unpaid, centred, and marginalized work of disability rights and disability justice activists and scholars.
Acknowledgements
Two months after being awarded the BCcampus Fellowship, my experience with disability became far more complex. I thought I would have to give up the fellowship and let my graduate studies languish because I could no longer conduct the research I'd proposed. I want to recognize the support of my graduate supervisors, Valerie Irvine and Michael Paskevicius, and of the BCcampus staff, specifically, Leva Lee, who patiently and respectfully found ways forward with me. I also want to acknowledge the learners, scholars and loved ones with disabilities and the Indigenous Elders whose experiences and teachings inform the flexibility and respect for multiple ways of sharing knowledge Val, Michael, and Leva embrace.
This research is supported by the BCcampus Research Fellows Program, which provides B.C. post-secondary educators and students with funding to conduct small-scale research on teaching and learning as well as explore evidence-based teaching practices that focus on student success and learning.
Learn more
---
© 2023 Kim Ashbourne released under a CC BY license
The featured image for this post (viewable in the BCcampus News section at the bottom of our homepage) is by Mohammad Danish