Post-secondary institutions in B.C. are now equipped with a comprehensive toolkit to navigate the emerging world of micro-credentials, with information specific to this province. The BCcampus Micro-credential Toolkit for B.C. was released on September 7, 2023, and is available for download.
Post by Ross McKerlich, project manager, BCcampus
Made possible with funding from the Ministry of Post-Secondary Education and Future Skills, the BCcampus Micro-credential Toolkit for B.C. includes 17 standalone chapters that cover introductory material, implementation, collaboration, and learning design for micro-credentials, an innovative approach to competency-based learning. The toolkit started as an adaptation of eCampusOntario's Micro-Credential Toolkit, but as we progressed in the project, it became evident that a B.C.-specific micro-credential resource was needed. The Micro-credential Framework for B.C.'s Public Post-Secondary Education System is embedded throughout this comprehensive resource, and the toolkit includes over 30 stories from 12 B.C. institutions. It is uniquely B.C.
The BCcampus Micro-credential Toolkit for B.C. is published under a Creative Commons licence, so it will grow and expand as micro-credentials take hold in the B.C. post-secondary landscape.
"As a leader supporting B.C. post-secondary institutions in learning, teaching, and open education, BCcampus is excited to help build capacity for post-secondary institutions across the province to offer micro-credentials to learners who want to upskill and retool in today's changing world."

– Amanda Coolidge, executive director, BCcampus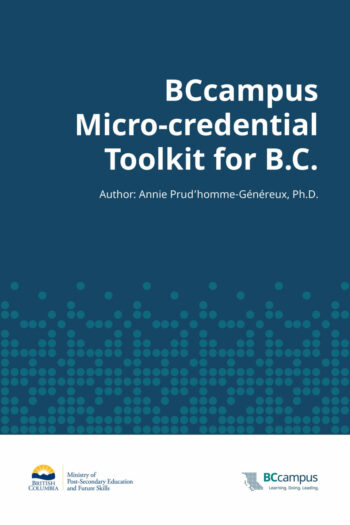 The BCcampus Micro-credential Toolkit for B.C. was made possible with the support of the Ministry of Post-Secondary Education and Future Skills and representatives from 12 post-secondary institutions who shared their micro-credential stories with author Annie Prud'homme-Généreux. "This toolkit is a collection of resources — lessons learned, tools, and templates — developed by micro-credential innovators in our community," said Annie. "Sharing them will amplify the sector's capacity to offer micro-credentials and help learners adapt their work skills in this fast-changing world."
Learn more