---
Micro-credentials recognize standalone, short-duration learning experiences that are competency based; align with industry, employer, community, and/or Indigenous community needs; and can be assessed and recognized for employment or learning purposes.
Micro-credentials are the result of post-secondary institutions working together with industry and non-profit associations. They are flexible, small, bite-size pieces of learning that are highly applicable.
The micro-credential project will benefit many people in our province — people who need to retrain to meet an industry skills gap, those who want to be recognized for skills they already have, and learners who have barriers to access that need to be removed. Stakeholders for this project include learners, industry professionals, post-secondary institutions, and non-profit associations.
Building Capacity in B.C. Post-Secondary Institutions

BCcampus is involved in the third phase of a project with the Ministry of Post-Secondary Education and Future Skills that focuses on building capacity to design, develop, and implement micro-credentials in post-secondary institutions in B.C.
Resources
BCcampus Micro-Credential Toolkit for B.C.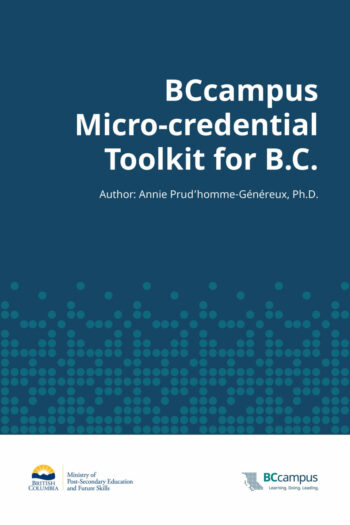 This exciting new resource is based on eCampus Ontario's Micro-Credential Toolkit and written for the B.C. context. It covers introductory information, implementation, collaboration and coordination, and learning design of micro-credentials. Over 30 stories from 12 B.C. institutions are embedded throughout the toolkit making it a truly unique, made-for B.C. resource. To learn more about the toolkit, view the resources and recordings from the launch webinar on September 19, 2023.
Download the BCcampus Micro-credential Toolkit for B.C. now.
Capacity-Building Webinars
Micro-credentials: Competency at the Core
This one-day online event took place on February 22, 2023, and featured a focus on competency-based learning. View the recordings.
Look for our upcoming fall and winter webinar series, which will feature stories from the BCcampus Micro-credential Toolkit for B.C. These will be recorded.
Learn More
Please reach out to Ross McKerlich, project manager, BCcampus Micro-credentials project, if you would like more information.