The Gift We Give One Another: A Collection of Anti-Racism and Anti-Hate Resources
"We mustn't think of antiracism as a burden or obligation but rather as a gift of kindnesses we give one another as human beings."

— Dr. Moussa Magassa, principal strategist, Justice, Equity, Diversity and Inclusion, Anti-Racism Education, & Community Engagement, University of Victoria
This project is now complete.
In collaboration with B.C.'s Ministry of Post-Secondary Education and Future Skills, BCcampus worked alongside a diverse group of racialized and Indigenous experts to develop The Gift We Give One Another: A Collection of Anti-Racism and Anti-Hate Resources. This collection includes an environmental scan of publicly available AR/AH resources from B.C.'s post–secondary institutions, a webinar series focussing on improving equity in post-secondary spaces, an offering of the transformational Equity Sequence training as well as a powerful infographic tool from the BCcampus Anti-Racism Anti-Hate Working Group.
The resulting collection expands on currently available anti-racism anti-hate resources within the education sector as part of the BCcampus mandate to offer open and online educational resources.
Project Deliverables
The Gift We Give One Another: A Collection of Anti-Racism and Anti-Hate Resources is designed to facilitate an interconnected learning journey to guide readers from intention to action.
The materials, available through a range of modalities and to be accessed in no particular order, are as follows:
Explore the environmental scan to discover currently available anti-racism and anti-hate resources you can use to develop your own action themes and next steps.
Check out the Calls To Action Workbook [PDF] developed by the BCcampus Anti-Racism Anti-Hate Working Group to see how these issues affect racialized and Indigenous people in the post-secondary sector in B.C.
Watch the Empty Chair webinar to find case studies with actionable information to improve equitable outcomes for anyone in the post-secondary sector.
Lock in your learnings by completing the Equity Sequence training (more info below) to evaluate the anti-racism/anti-hate projects at your institution.
Anti-Racism and Anti-Hate Resources: Environmental Scan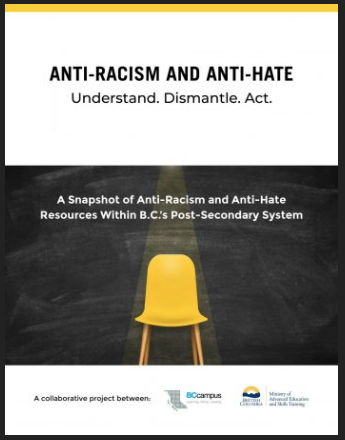 To better understand the anti-racism and anti-hate landscape of B.C.'s post-secondary sector, BCcampus commissioned Rohene Bouajram, associate director of strategic Indigenous, Black, and people of colour (IBPOC) initiatives at the University of British Columbia, to complete an environmental scan. The purpose of the scan was to examine and identify the ways in which tools, resources, and trainings are used in the B.C. post-secondary system to promote anti-racism and anti-hate on provincial campuses.
A secondary goal of the environmental scan was to help BCcampus develop and inform a repository of resources housed within our open educational resources database: the B.C. Open Collection.
To inform the report, Rohene looked at:
The tools, training, or resources on anti-racism and anti-hate that have been developed and made publicly available by B.C. institutions and identified organizations
The emerging framework as a learning pathway for individuals who work in post-secondary to approach this work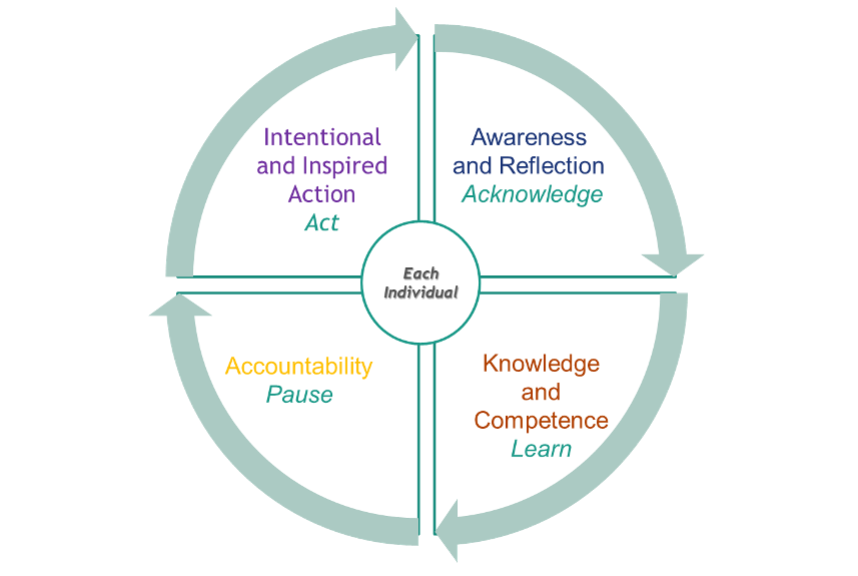 Through a thorough (but not comprehensive) review of journal articles, literature reviews, links to anti-racism and anti-hate materials and reports, and available videos, Rohene discovered a starting point for post-secondary institutions to begin to develop transformational learning strategies that lead to intentional and inspired action to create anti-racist and inclusive on- and off-campus environments.
"The consequences of status quo and inaction are significant: diminished connection and community as well as marked lack of belonging and space for individual and collective celebration of age, beliefs, class, colour, culture, disability, ethnicity, gender, language, nationality, politics, race, religion, sexuality, and socioeconomic status, as well as humanity at large."

– excerpt from anti-racism and anti-hate environmental scan
BCcampus Anti-Racism and Anti-Hate Working Group
The BCcampus Anti-Racism and Anti-Hate Working Group is a community of racialized and Indigenous students, faculty, and leaders from across the province who came together with the shared purpose of informing and shaping anti-racism and anti-hate work. The learnings come from a place of lived experience and collective wisdom, with the intention of providing transformative calls to action.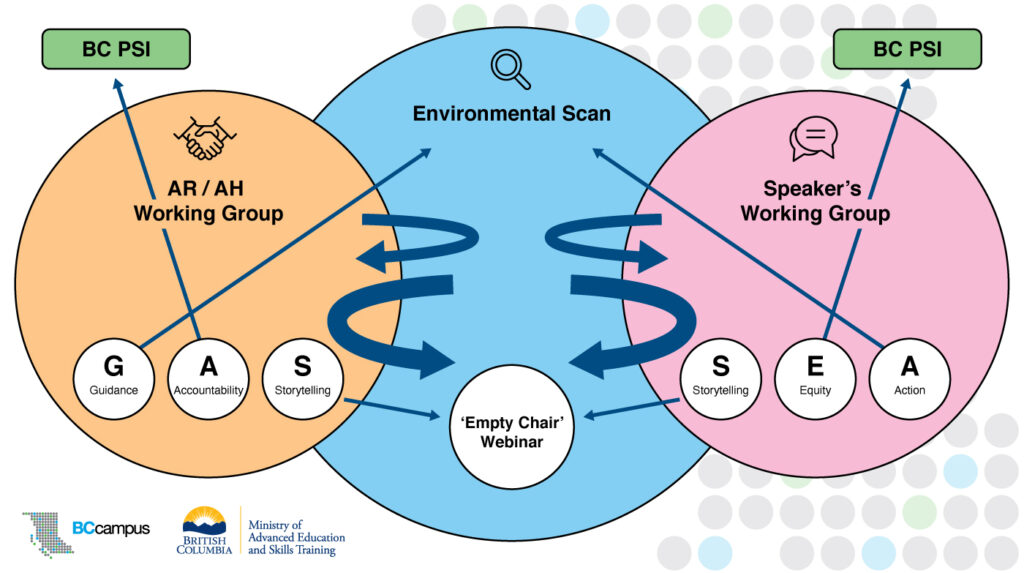 The Working Group developed the Calls To Action Workbook [PDF].
The Empty Chair: From Anti-Racist Intention to Action in B.C.'s Post-secondary System
The final project deliverable includes a webinar titled The Empty Chair: Bridging the Gap Between Equitable Intentions and Equitable Actions in British Columbia's Post-Secondary System, aimed at inspiring and building mental bridges between participants in an effort to work toward an inclusive, accessible, and decolonized future for higher education in B.C. This half-day workshop, delivered in March 2022 with presenters Jennifer Anaquod, Harshita Sandhu, and Olaolu Adeleye, brought powerful stories about their lived experiences to help participants move from well-meaning equity, diversity, and inclusion initiatives and anti-racism statements toward concrete, transparent, and measurable actions that result in equitable outcomes for all.
"Equity work is critical because the system wasn't designed keeping everyone in mind. Expanding equity is key to solving the biggest challenges facing us today, because it is only then that we will all thrive as humankind."

– Harshita Sandhu, strategy, policy, and program analyst, Tidal Equality
View the full recordings of the Empty Chair webinar here
Equity Sequence: Building Equality Better
In partnership with the Ministry of Post-Secondary Education and Future Skills, BCcampus offers free access to Equity Sequence training to anyone in the public B.C. post-secondary sector. Space is limited and provided on a first-come, first-served basis.
The  Equity Sequence training takes place in an online, gamified learning platform and community. The learner encounters informative video content, engages in self-reflection and sharing with the community, and puts their new skill to use on case studies before applying the Equity Sequence to their own work. By the time the learner has completed their training, they:
Understand how everyday decisions contribute to systemic bias
Are able to apply the Equity Sequence to reveal and reduce bias in their work
Are able to innovate their work to make it more equitable and inclusive
For more information about Equity Sequence training offered to folks who work in the post-secondary sector of B.C., please check out the video below:
Get your code to access Equity Sequence training for free by completing this short application. Please be sure to use your institutional email to confirm your association with the B.C. post-secondary sector. Visit Find an Institution for a list of eligible public post-secondary institutions in B.C.
Please check your spam/junk folder for the training access code if it does not arrive in your inbox.
Community Agreement Resource
The Gift We Give One Another: A Community Agreement Resource from the BCcampus Anti-Racism and Anti-Hate Working Group was designed to help you navigate the inevitable challenges and unforeseeable gifts that arise when people gather, work, and build community together. These resources are intended to be "alive" — to change over time and adapt to needs that arise within the social environment of the working group.