At its February 18, 2001 meeting the BCcampus strategic advisory council approved the 2011-2014 version of the organization's "evergreen" (rolling) strategic plan. The plan will be reviewed and updated on an annual basis and published to the BCcampus web site.
The 2011-2014 strategic plan can be found here: http://www.bccampus.ca/strategic-plan/
The plan outlines the systemic focus of BCcampus, its programs and staff activities.
It describes the environmental factors and changes that are affecting BC post-secondary institutions, including:
Increasing interest in mobile and cloud-based applications and services

Taking student and systemic services mobile and in a federated manner
Privacy implications of large-scale cloud-based computing services
Identity management to provide systemic single sign-on capabilities
Rapid changes in educational technology landscape:

Shared service responses to LMS migration pressures and emerging needs
Collaborative program developments and the need to integrate both instructional and student service systems
Call for more "open" and affordable teaching and learning responses

Access Copyright tariff proposals – creating the conditions for an "open" systemic response for institutions
Open textbooks, open access journals, open data initiatives
Leadership, training and community of practice needs
And, the plan describes in detail the proposed BCcampus strategic response to changing conditions within the post-secondary sector through our three lines of business.
Charts and diagrams within the document graphically outline the strategic directions that BCcampus proposes to take over the next three years.
Examples include the integration of activities such as the online program development fund (OPDF), collaborative programs, shared services and federated data services to build an environment that achieves synergies for institutions, instructors and students.
The diagram below** from page 12 is one representation of that model that comes from a Douglas College initiative that BCcampus is supporting. It illustrates how the program synergies flow together to provide an overall better experience for students.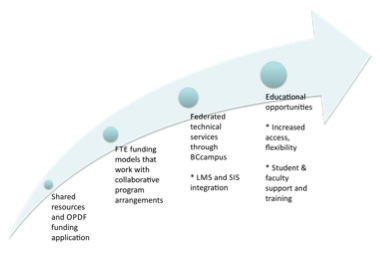 Another diagram in the strategic plan on Page 17 illustrates the range of activities within the BCcampus curriculum development, communities and academic growth business line. It also highlights the potential to enhance this program area by adding a research and an educational technology trends tracking component to provide a coordination point for this vital information for the BC posts-secondary sector.
BCcampus is pleased to post its 201-2014 plan and invites feedback from our system partners as we move forward. It won't be long before our strategic governance council and BCcampus staff begin to assess the educational technology terrain and prepare the next iteration of the plan, for which we invite your suggestions.
** Original diagram from Jan Carrie, Sandra Polushin and Lori Woods at Health and Humans Services, Douglas College. Source was the Community and School Support – Behavioural Interventionist Collaborative Program Proposal. We updated the diagram in a systemic context to generalize this idea across collaborative programs.