There aren't many people in design with economics degrees. Oddly enough, I changed paths because of an economics professor. He was an expert at communicating some of the most complex concepts succinctly, leaving me both impressed and disheartened. How could public discussion of economics improve if only professors with decades of experience and mathematical models could explain it effectively?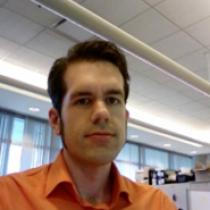 I enrolled in SIAT because I saw an opportunity to use design and interaction to make complex subjects accessible. Two semesters later, I had done well in my courses and I felt like I was on the right path. I wanted to prove myself outside of the classroom. BCcampus seemed like an excellent place to do so, with the opportunity to work on larger projects and to learn how people use them. As well, helping to improve online education and new education delivery methods seemed parallel to my interests in communication.
The bulk of my eight months at BCcampus have been spent working on the SFU application upgrade for ApplyBC. However, that's not to say I've been doing the same thing for the past eight months – far from it. During my time here we've gone through design, development, internal testing, and finally user testing. The kinds of tasks I do each week have shifted depending on what stage we were on. This was reflected in the software I've used. I started off using Balsamiq Mockups, which was used to create the rough prototypes of what the new interface for the SFU application would look like and how applicants would progress through it. Then I moved into Eclipse (which was admittedly overkill) to write the HTML and CSS for the front end of the application. Once the application was made public, we did user testing which was recorded with ScreenFlow screen capture software. Finally, for the past few weeks I've been writing reports on the user test in MS Word and doing the layout in Adobe InDesign.
Every month I'd look back and think "wasn't I doing something completely different a few weeks ago?"
Working at BCcampus was the life of a gofer, in the positive sense. I only once bought a croissant for my supervisor. The flexibility needed from me offered challenges that other organizations might be wary of giving to a co-op student. This is the advantage of working in a small organization, and it was exactly what I needed to fulfill my goal to prove myself. Not only was I working on the ApplyBC upgrade, but there were many side-opportunities that I took up along the way. In late summer, I researched accessibility and was able to take a trip to the Neil Squire Society for a tour of their labs. I also got to create a survey that was given to hundreds of BC post-secondary students. I can barely count how many little new things I've picked up along the way here at BCcampus. There are many online educational resources (notably, access to Adobe Connect) that I'd never heard of before which are available to me. I've learned much about the state of post-secondary education here in British Columbia. Working here at BCcampus has allowed me to greatly expand my skills and knowledge.
However, by the time I reached the user test I started to feel like I had gone back in time. Researching the think-aloud method, investigating research methods, it all felt similar to my life as an economics student. Especially when I started reading papers by Herbert Simon, who did econometrics research before turning to the study of human decision making. I think this is the less obvious advantage of having such a flexible and varied position here at BCcampus. I wasn't just developing my skills, I was learning about myself and which skills I wanted to be using. I found that I didn't want to turn my back on what I had studied earlier, but to find ways to synthesize academic research with design. One of my proudest moments was when I created charts of the paths our participants took through the user test, effectively visualizing eight hours of film and our own notes.
I think that there's a tendency for students when they're taking classes – good ones, at least – to have all kinds of wild ideas about where they could work. There are so many interesting ideas and things to do that it's tempting to want to do them all. But it's not enough for a subject to be interesting to want to do it for a living. You need a drive, an interest in the subject every day.
What I appreciated about my co-op terms at BCcampus is that I got try out so many things that I was able to discover myself what I wanted to do. I have been able to go from having interests in design, interaction, and complexity to using them on projects that will have an impact. For that, I am incredibly grateful.
Finally, I would like to thank my supervisor, Dave Dumaresq, for his help, support, and patience for my eight months here at BCcampus. I'll miss our conversations when I'm back at SFU next year. I would also like to extend a great deal of thanks to everyone here at the BCcampus Vancouver and Victoria offices, plus those work outside the office. They have been an absolute pleasure to work with.
by Patrick Clarke