Working as a co-op student at BCcampus was a great place to learn new knowledge and skills and to grow myself.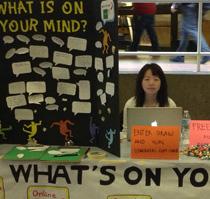 I was hired as a Learner Services Research Assistant, and in the beginning of the work term, I think I was not confident enough in myself. As a non-native English speaker, being a research assistant which requires good communication skills was challenging. However, my supervisor Dave always encouraged me to share my opinion and listened to my concerns. Building self-confidence was one of my learning objectives for my co-op and I think I successfully achieved this over the past eight months.
One of my main projects was to conduct usability testing of ApplyBC-SFU application. Our Learner Services team wanted to find out how usable the application is and how well users are able to complete the task of applying to Simon Fraser University. This user study was a big project with thorough research, planning, and consultations with managers and developers. Prior to the actual testing, we had a lot of things to consider such as: how to recruit participants, what tools to use, how to set up the testing environment, how to record the testing, and what kind of refreshments and rewards we should provide to participants. Through the process, I learned how to communicate with others at work. Sometimes I had to use not just text but also visual images or videos in order to communicate with developers and managers. Recording the monitor screen was especially helpful when I had found some technical errors and wanted to show them to developers. After a successful completion of the user testing, I had felt more confidence in my usability skills as well as communication skills.
Another project I was working on was an online survey concerning B.C. student services for Public post secondary students. The purpose was to understand the needs of post-secondary students and what kinds of challenges they are facing. Instead of just staying in the office and writing questionnaires for the survey, I decided to approach students directly on campus and have conversations with them. It was one of the most memorable experiences during my co-op. I went to SFU Burnaby campus with other co-op students Patricia and Hilda. We set up a table on a campus and asked students what's on their minds, what they want, and what challenges they are facing, using a big display board and sticky notes. Students left their comments in a speech bubble shaped sticky note and attached them on a large display board. It was very interesting to know what other students think about different issues and I learned the importance of listening to others.
Overall, I have grown more over the past eight months of the co-op. My research and usability testing skills have improved and more importantly, now I am more self-confident because of all the valuable experience I gained from BCcampus. I would like to thank my supervisor Dave for his support and everyone else at BCcampus. BCcampus is a great place to learn and grow!
– Sung Lee