Arts One Digital was launched at the beginning of the 2012-13 academic year as a supplement to the existing Arts One program. UBC's Arts One began more than forty years ago as an interdisciplinary alternative for first year students blending History, English and Philosophy into one intensive program. In the past decade, half the winners of the Governor General's Silver Medal for the academically outstanding student in Arts have been Arts One graduates.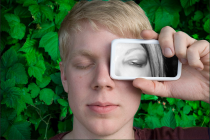 The program is divided into two independent groups each with its own theme, about 100 students in total and 5 faculty members. For 2012-13, the teaching teams and students are exploring either Explorations and Encounters or the Monster In the Mirror. The common thread between each of the groups: the exploration of the individual and society.
The idea is simple: to create a physical space where students meet each other and talk face-to-face. The program allows a lot of contact time through lectures, seminars and tutorials. Students have an extensive reading list and are required to submit 10 – 12 essays, plus write a final exam. Arts One is well suited to the intellectually curious.
Breaking down boundaries between the university and the public
Very much in the early stages of its development, Arts One Digital can be considered a DIY alternative to open learning when compared to the university's more capital-intensive MOOCs and Coursera pilot program. The instructors themselves are navigating and exploring new technologies like Soundcloud, to tape and share their lectures. They have made the commitment to make their content available under a Creative Commons License. Students are encouraged to publish their thinking online. And that's on top of the traditional paper requirement.
Opening the door for constructive engagement
Jon Beasley-Murray, one of the Arts One Instructors tell us this first year of Arts One Digital seems to be about building a critical mass of content. There's also a strong desire for the Arts One Digital team to engage the public in specific ways.
Notable Quotes:
'It's the beginning of an attempt to think through the possibilities of massive online learning outside of the Coursera model. It's also a way of breaking down some of the boundaries between the university and the public or the "common."' – Associate Professor and Arts One Instructor Jon Beasley-Murray
' We've been determined that everything should be portable, not restricted by gatekeeping technology, and as far as possible published under a Creative Commons license. I think such openness is an almost ethical responsibility for those of us who work in the university today.' – Associate Professor and Arts One Instructor Jon Beasley-Murray
'Arts One Digital is simply a way of giving back to those who do not have that same luxury of time and space. It's saying that what we've got is something special, and we want to share.' – Associate Professor and Arts One Instructor Jon Beasley-Murray
For further exploration:
Posted by BCcampus Editorial Staff