It's the third Friday of the month and we're trying something new here at the BCcampus blog.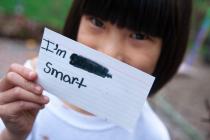 Beginning with this blog post, the BCcampus editorial staff will be sharing their latest and greatest education-related finds from the Web.
We're starting with YouTube – where over 72 hours of video are uploaded to the site every minute. And, over 4 billion hours of video are watched each month.
It may seem a tad audacious, but we've landed on seven of our favourite channels to make you smarter.
We're sure there are many, many others out there and we'd like to hear from you. What are some of the YouTube channels you frequent and why?
In no particular order, here are the ones that feed our imagination, spur our thinking and increase our understanding of the world around us:
1. SPOKEN VERSE
One of the richest resources on YouTube is an extraordinary channel named Spoken Verse. It offers 466 readings of great poems in English, from Shakespeare to present day. Their reader is a pleasure to listen to. The anonymous reader signs himself: Tom O'Bedlam, a name taken from a 17th century poem about a lunatic.
2. BRITISH FILM INSTITUTE NATIONAL ARCHIVES
Transport yourself to another culture and era. The BFI National Archive holds a magnificent collection of film and television. Hundreds of free films, plus expert commentary and interviews. BFI Films concentrates on British titles, preserving, restoring and interpreting its collections to ensure they are widely accessible. Spend some time online here and the cultural/historical references on Downton Abbey will make more sense, we promise.
3. COUNCIL ON FOREIGN RELATIONS  
The Council on Foreign Relations is an independent, nonpartisan think tank, and publisher dedicated to being a resource for its members and interested citizens to help them better understand the world and the foreign policy choices facing the United States and other countries. Latest video entries include discussions on Israel's new government and a film screening of 'Girl Rising.'
4. KHAN ACADEMY
With a library of over 4,000 videos on everything from arithmetic to physics, finance, and history, the Khan Academy wants to offer a 'free world-class education for anyone anywhere'.
If you are curious about how the world works, then New Scientist is for you. Their international team of expert journalists brings you the latest innovations and ideas in science and technology, from the wonderful to the worrying to the weird. Videos and vodcasts covering science, technology, space, the environment and a whole load more.
6. EDUTOPIA
Their tagline is: Inspiration and information for what works in K-12 education.
Edutopia shines a GLOBAL spotlight on schools and districts that use evidence-based strategies to improve learning and engagement for students. The channel also highlights researchers, change agents, teacher leaders and curriculum experts that are helping to transform learning.
7. TED-Ed
TED-Ed's videos aim to capture and amplify the voices of the world's greatest educators. The bright minds behind Ted-Ed pair extraordinary educators with talented animators to produce a library educational videos.  What differentiates TED-Ed from TED.com is the inclusion of lesson plans with each video.
Here's one of our recent favourites: How simple ideas lead to scientific discoveries by Adam Savage. Yes, the same Adam Savage who is the co-host of the Discovery Channel television series, MythBusters.
[iframe src="http://www.youtube.com/embed/F8UFGu2M2gM" width="400″ height="225″ frameborder="0″]
Got any favourites to share? Include your picks in the comments below.
Photo credit: stevendepolo via photopin; cc
Posted by BCcampus Editorial Staff