Last month, we told you about our top 10 picks for education and literacy apps. This month, we want to share 10 productivity apps that will make your post-secondary experience a little more fun and a whole lot easier.
Dictionary.com is the world's largest online dictionary. It includes features such as voice-activated search and audio pronunciations, example sentences, and word origins. In addition, the entire dictionary, as well as the added thesaurus, is available offline. This free app is available for iPad, iPhone, and Android.
Dragon Dictation speech recognition app will create instant transcripts of your own lectures and make it faster and easier to whip through written assignments. You can also dictate and send statuses straight to your social networks. This free app is available for iPad, iPhone, and Android.
Dropbox is a free service that allows you to collect your photos, documents and videos so they can be accessed anywhere. Create a document in class, save it to your Dropbox, and then view it from any device.
EasyBib is an automatic bibliography and citation generator. You can create accurate MLA, APA, and Chicago style citations in seconds by scanning a book bar code or by typing the name of a book. Build a list and manage the works you've cited. The app is available for Mac devices, as well a Google app. EasyBib has also published a free MLA citation basics e-book
Saves and manages your digital life across all of your devices. Instructors can use it to organize and share classroom content. Post-secondary students can use Evernote for group work, keeping on top of research, and organizing their time. It is available for PCs and Macs, Androids and apple devices. Read the beginners guide to Evernote.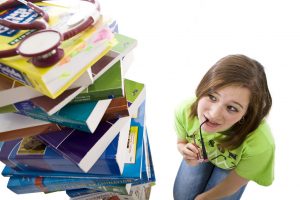 PDF reader for iPad, iPhone and iPod Touch has a lot more features than your typical reader. You can add your own mark-ups to PDFs; as well as manage, transfer and sync files and folders.
Use iBooks with eBooks Search to find free books and download them to your e-reader app. The free iBooks Author app lets you create your own book for iPad— complete with rich graphics, movies, photo galleries, math expressions, Keynote animations, and 3D objects.
The Pocket (formerly Read It Later) bookmarking tool lets you save web pages to read later (even if you're offline). You can view or add to your reading list on any computer or mobile device. It's available as a web tool and as a free mobile app for iPhone, iPad and iPod Touch.
SelfControl is a free Mac application that helps you avoid distracting websites, mail servers or anything else on the web so you can do things like study or finish creating that lesson plan. Just set the timer on your "blacklist" and until that timer is up, you won't be able to access those sites even if you restart your computer.
Speak It! text to voice application can be used for a variety of purposes including as a speech assistive app for people with vocal disabilities or a personal document reader.
Learn more
"Last Day Before Final Exam" © 2008, Svein Halvor Halvorsen, available under aCreative Commons Attribution-NonCommercial-NoDerivs license.
"Contemplate" © 2009, Walt Stoneburner, available under a Creative Commons Attribution license.