Dr. Alec Couros is a professor of educational technology and media at the University of Regina's Faculty of Education.  As part of his job, he analyzes, develops and helps to implement new tools and methods of enhancing learning.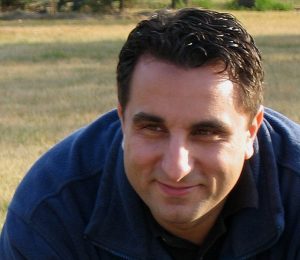 BCcampus caught up with Alec this week to ask him about how technology influences his back to school prep and teaching.
How do you incorporate technology into your teaching?
While I'm a fan of open-source learning management platforms like Moodle, LMS in general is not the most authentic way of having students learn. LMS like these don't allow the students to own their own spaces, or to have the material available for access after the course has finished.
I strive to make the learning environment more authentic by using tools that students already use in their online lives. This approach has been referred to as "small tools, loosely joined."
Blogs
For example, students have their own blogs. They may choose to host or rent server space or use platforms like Blogger, WordPress or Edublogs. What excites me is that many students continue to use their blogs even after the course is finished.
I want my students who are pre-service teachers to use their blogs as portfolios and to impress their future employers. For my active-service teachers, I want them to use the blog to record their reflections with an aim of becoming truly reflective practitioners.
Aggregators
Students also need a way to curate information and bring the voices together. I usually recommend they use an aggregator for this, and Feedly is a popular choice.
Twitter
I ask that all students have a Twitter account. We use a Twitter hashtag specific for the course and we also have a weekly Twitter chat. This allows us to learn in the open, and expand the conversation beyond just the students in the class.
Google + Communities
Rather than having all of our conversations occur in networked publics, sometimes we use a more private space like Google + Communities. It allows us to have forum discussions, and to more easily share links and resources. Conversations are different in these two spaces and students learn to negotiate their conversation in private vs. public. By modeling this with my students, they can then see the implications public discussions may have on K-12 children.
How do you decide what technologies will be used and how you'll use them?
Rather than use rubrics to help me choose tools, I look at emerging trends. For example, this fall I will be testing out Google Classrooms, a brand-new CMS-like tool that is integrated with Google Drive and Google Docs.
But it's actually my students who will evaluate Google Classroom and then recommend whether we should use it in future courses.
How do you think technology has changed how instructors prepare for back to school?
In the past, you used to prepare for your courses by using whatever resources you could find in the school basement. Now we're seeing teachers and professors on social networks sharing their resources and ideas, and even arranging to meet on Twitter or Google Hangouts so they can add context to their lesson plans.
If you're interested in creating open courses and using open educational resources, you should check out a new MOOC I'm helping to organize. It's designed to get instructors ready to teach open, connected courses no matter what kind of institution you're working in. The MOOC on Connected Courses begins in September 2014 and you can learn more about it here.
Notable quotes
In the past, you used to prepare for your courses by using whatever resources you could find in the school basement. Now we're seeing teachers and professors on social networks sharing their resources and ideas, and even arranging to meet on Twitter or Google Hangouts so they can add context to their lesson plans. – Alec Couros
The more that we share openly in open spaces, the better we all become. And the better the things we create become as well. – Alec Couros
Learn more
Photo credit: alec couros © alec couros, cc by-nc-sa 2.0