Cable Green, the director of global learning for Creative Commons, believes that publicly funded education materials should be freely and openly available to everyone.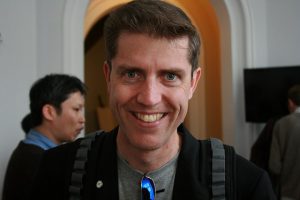 He shared his thinking on Open Educational Resources: Sharing, Open Policy and Creative Commons at the 7th annual Walls Optional conference, which took place at Victoria's Camosun College in May.
When work is either in the public domain, or released under an open license that permits its free use and re-purposing by others, it can be used as an open educational resource (OER).
It's all about the four Rs
If you're able to reuse, revise, remix and redistribute work you can turn it into to free customizable curriculum, teaching materials and textbooks using the appropriate Creative Commons license.
Increase access and remove barriers for students
Let's face it, education is expensive and anything we can do to lower the cost for students is a good thing. Take textbooks, for example. A US study shows a direct correlation between textbook costs and student success: more than 60 per cent of students do not purchase textbooks at some point due to cost, 35 per cent take fewer courses due to the cost of textbooks and 14 per cent have dropped a course due to the cost of the textbooks.
Three years ago the Washington State Board of Community and Technical Colleges launched its Open Library Project, which ended up saving its students $5.5 million in textbook purchases over three years.
Removing the cost barrier, and making education more accessible, is just one reason the B.C. Open Textbook project, led by BCcampus, is such a big deal.
Work smarter
Why reinvent the wheel when open copyright allows you to repurpose existing work? Think of it—now you can use as much or as little as a resource as you like. You can take a bit of one resource and mix it with another. You can even customize it to your geographic area.
Here are six ways to use Creative Commons and promote open education

When you create, share your work openly so that others may use and share it too.
Take what you need from the work that is already licensed under Creative Commons, so you can build on it and increase its value.
Choose to use OERs in your classroom.
When you fund a project, make it a condition that a Creative Commons license is applied.
Make it a policy that publicly funded resources should be openly licensed resources.
Notable quotes
The most common misconception is that when you put a Creative Commons license on whatever you want to share, a lot of people think that you give up your copyright you give up your ownership. But that's not true. You get to choose what you want to share and what you don't. – Dr. Cable Green, director of global learning, Creative Commons
No harm is going to come to you when you do share, in fact quite the opposite. If you're not sharing today on the web, you're obscure, you're unknown and you frankly don't matter nearly as much as if you do share. – Dr. Cable Green, director of global learning, Creative Commons
Learn and explore:
[iframe width="560″ height="315″ src="//www.youtube.com/embed/up-QhNSc3-Q?rel=0″ frameborder="0″ allowfullscreen]
Photo Credit: CC BY Bilal Randeree